Sale points to consolidation and integration trends in the digital marketing and traditional media sectors.
SC&H Capital, a leading investment bank specializing in M&A advisory for middle market companies, is pleased to announce it served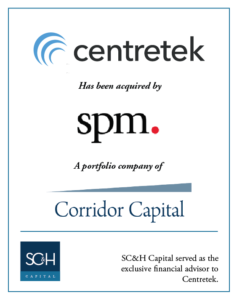 as the exclusive financial advisor to Centretek Solutions, LLC on the divestiture of its digital strategy and development division ("Centretek") to SPM Marketing & Communications ("SPM"), a portfolio company of Corridor Capital.
Centretek is a leading digital marketing and web design firm with over a decade of extensive experience delivering solutions for large, highly-matrixed healthcare systems. They have consulted with innovative and leading healthcare organizations, including Johns Hopkins Medicine, University of Massachusetts Memorial Health Care, Rush Health Systems, University of Missouri Health Care, Inova, and Froedtert.
"From day one SC&H Capital acted as an outstanding partner to our agency, navigating us through what was sometimes a complex divestiture process. Their M&A experience and extensive knowledge of the healthcare sector was invaluable," Jay Miller, CEO, Centretek shared. "SC&H meticulously guided us through the process, from determining a strategy, identifying potential buyers and negotiating the transaction. Ultimately, they identified the perfect buyer for Centretek, which allowed us to achieve our divestiture goals while providing a future path for success for the division."
"The Centretek transaction is representative of the increasing buyer demand for digital marketing agencies who provide outstanding services with intimate industry knowledge," notes Matthew Roberson, Managing Director, SC&H Capital.
"Marketing agencies are constantly navigating the complex and evolving customer journey; and the healthcare sector in particular requires thought leaders who are differentiated, strategic and creative. Centretek's unique approach and expertise were important factors to SPM acquiring the digital marketing group," comments Craig Bowden, Senior Vice President, SC&H Capital.
Centretek has received numerous industry awards for its work with healthcare clients and is considered a leader in the execution of digital marketing strategies for healthcare organizations. Through the acquisition, SPM Marketing will extend its range of creative and technology-based digital services and expand the combined agency's reach across the health sector.
Centretek Solutions, LLC will continue to provide IT consulting and solutions under Centretek IT Services.

About SC&H Capital

SC&H Capital, an affiliate of SC&H Group, is an investment banking and advisory firm providing merger and acquisition (M&A), employee stock ownership plan (ESOP), special situations, and business valuation solutions to middle market and growth companies nationwide. SC&H Capital delivers investment banking and advisory services across numerous industries including technology, healthcare, manufacturing, business and professional services, and government contracting to help owners achieve their exit planning goals and liquidity objectives. To learn more visit www.schcapital.com.