If you've never worked with Oracle's Account Reconciliation (AR) – formerly known as ARCS – and are looking for helpful tips on how to get started, you've come to the right place! AR may seem confusing when you first create an application but with a little guidance, you'll find yourself feeling like a pro in no time.
How Does Account Reconciliation Work?
Let's start with a quick recap of the different components of AR and how they work together: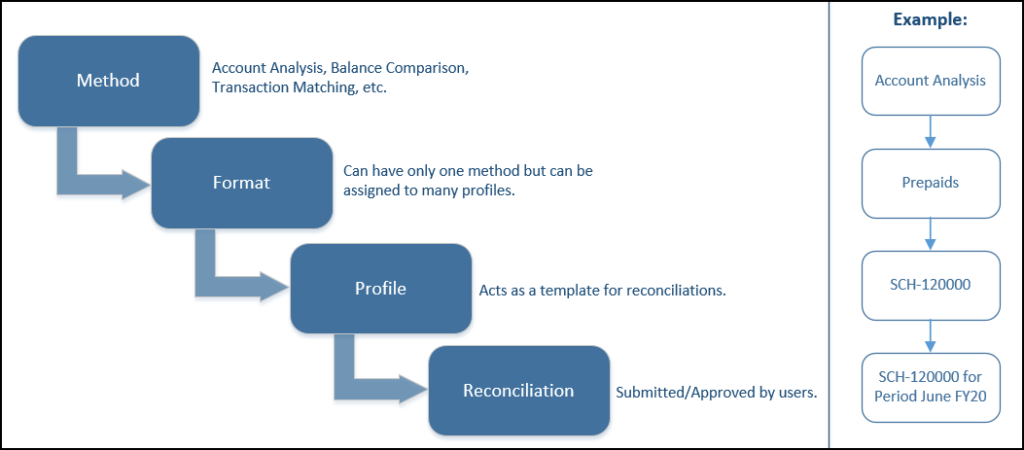 What's the Best Configuration for Oracle AR?
You've created a new Account Reconciliation application, now it's time to configure your AR. There are many features and settings in AR but the best place to start is with the System Attributes on the Configuration tab. Segments must be set up within the application before reconciliations can be created. Once you've created segments, you can move on to the remaining system attributes:

Next on the Configuration tab is Currencies. Even if your application will have only USD data, you will need to set up Currency Buckets and Rate Types.

Now that the basic application configuration items are out of the way, it's time to tackle Formats. Formats are important because they dictate exactly what an end user will see when interacting with reconciliations. There are no rules on how many formats you should have or how they should be set up.
For example, you can create only one format to capture all reconciliations, as long as they will all have the same core properties. However, you could create separate formats based on account groupings or other criteria. One thing to keep in mind is that formats can have only one method. You cannot have one format that is both Account Analysis and Balance Comparison.
When you've decided how many formats you would like, you can create them and fill in the various properties that include columns to display, attributes, questions, and more.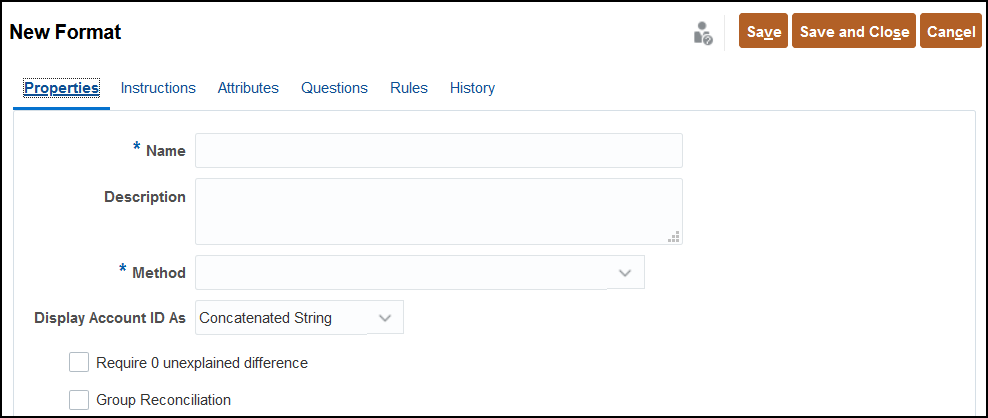 The final step within the Configuration tab is to create the periods. Creating periods is as simple as naming them and adding a start, end, and close date. You will also want to check the checkbox for whichever frequency applies for each period. For example, if you have a quarterly frequency, you will want to check that checkbox when creating a period that is considered quarter-end.

Profiles and Reconciliations
After the basics have been set up, you can begin setting up profiles. Profiles are essentially the template used to create reconciliations for each period. Profiles must have a Format assigned to them as well as a few additional properties. You'll want to fill out as much information as possible to ensure the profile can be considered valid. Specifically, you'll need to address items on the Properties, Workflow, and Currency tabs to complete the setup.
Then it's time to create reconciliations. First, you'll need to visit the Periods screen to open the desired period. Then, you'll create reconciliations for the same period. If you've monitored the job and the results are successful, your end users can now interact with your successfully created profiles!
Data
You can't complete reconciliations without data, right? There are two main options for getting data into the application:
Pre-Mapped Data: If you have a flat file that is ready to be loaded as-is, you can use the Pre-Mapped Data functionality for quick import. The file will need to be in a specific format and can be loaded as many times as desired. One thing to keep in mind is that the file should be cumulative of balances because when data is loaded, all existing data is first deleted based on security.
Data Management: If you have a file that will need some transformation before load, it is best to create an integration using Data Management. If you choose to go this route, keep in mind that only administrators can access data management to load data files.
Optimize Oracle AR with an Experienced Partner
Learn how our team can help maximize your investment
Send Us a Message