By Chris Rossi | Principal, Technology Advisory Services
How we design, architect, and optimize technology and digital products is changing at a breakneck speed. It's no longer sufficient for organizations to cling to systems and software that stopped serving them years ago, yet the impulse to do so is understandable. Selecting new software and implementing new systems is a complex undertaking that involves a multitude of technologies and partners to get it done and done right. It can be daunting, highly involved, and costly.
However, as most leaders come to find, aging systems and antiquated infrastructure are the biggest constraints to business transformation and scalable growth. Legacy systems typically lack the integration, speed, capabilities, and sophistication required to handle customer expectations and evolving demands. This is further complicated when IT is detached from the overarching strategy or employees are ambivalent to new technologies.
When the time comes to invest in your business and modernize and integrate your systems, the help of external experts is critical for creating a defined, flexible, and profitable technology ecosystem. Yet, it's important to understand that the first step in the process—selecting the best-fit ERP software—is only the tip of the iceberg.
Dissecting the ERP Iceberg | 7 Steps for a Successful Implementation
The goal of an ERP system is to optimize business operations and improve process inefficiencies. It's designed to resolve many, if not all of your challenges associated with legacy systems from customer loss and cost overruns to technology limitations and a lagging competitive advantage.
When implemented properly, and regularly optimized, an ERP system becomes an invaluable asset for any organization and enables short- and long-term operational goals to be met with greater ease.
So, we're breaking down the seven steps that are most critical to a successful outcome.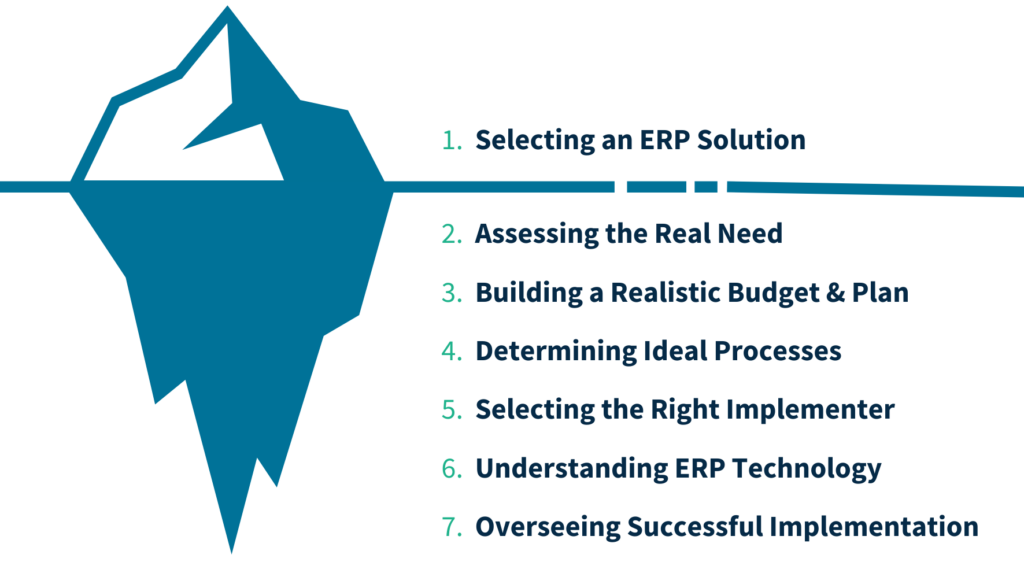 1. Selecting an ERP Solution
Many business leaders tend to believe that the decision about what to buy is the most important given the initial investment, but that's only the beginning. Selecting a best-fit solution may seem like a simple process but it can vary greatly in complexity and duration based on a company's requirements. For example, while most outdated ERP systems are nearing their end of life, newer systems may not meet all of the functional demands. Matching business processes with system functions takes in-depth insight and solution expertise.
The role of an advisor: An experienced team can support this step by first understanding your business demands, processes, and protocols then identifying the appropriate software to enhance your business practices and realize your objectives.
2. Assessing the Need
To ensure all of your needs are met, it's important for your organization to identify the gaps, limitations, and challenges that are preventing your business from operating like a well-oiled machine and easily meeting your customer demands. This includes clearly defining your business requirements and vision, aligning on specific goals, and gaining leadership buy-in to launch the initiative. To start, we recommend discussing the following questions:
Does our legacy ERP system integrate with other key business applications?
Are we able to easily meet customer, vendor, and employee demands with our existing applications?
Is our current ERP system negatively impacting our ability to efficiently do business?
If your legacy system is impeding your business operations, now is the time to consider a modern ERP solution and technologies aligned with your strategy and overarching goals.
The role of an advisor: Based on the obstacles surfaced, an advisor can help uncover a few challenges and propose solutions and technologies to address and resolve them. This includes outlining clear goals, estimating costs, and mapping out an initial project scope.
3. Building a Realistic Budget and Plan
Clear expectations at the onset of an engagement are essential to achieving the desired outcome, and this starts with total transparency surrounding the financial implications of an ERP implementation project. While it may seem more palatable to lean more towards conservative projections, under forecasting will impact the bottom line and could be a catalyst for delays (or failure). ERP systems are only replaced on average every 10 or so years, so focus on the long-term benefits, functionality, and flexibility. The ultimate goal is to ensure your solution can scale with your organization, while understanding if there will be additional, future costs if or as your needs change.
The role of an advisor: When compiling implementation expenses, a technology advisory professional should consider all items on your P&L and analyze the risks, assess potential delays, and account for training and change management resources. Timeline and migration phases should also be methodically calculated to be achievable and consider all variables. This approach provides a realistic forecast, yielding a close-to-accurate budget.
4. Determining Ideal Processes
From conception to final deliverables, an effective ERP implementation can take six months to three years to complete. As such, determining the ideal business processes is critical to achieving the desired outcomes while diminishing the risk of the initiative stalling or failing.
To start, it's important to ask yourself: Irrespective of existing limitations, how do we want our ideal system, specifically each of our core processes, to function? When considering your current core processes—like order to cash, plan to produce, procure to pay, etc.—create a list of all the improvements you'd like to make to achieve a desired state.
The role of an advisor: Oftentimes, business leaders find it difficult to determine what's actually possible. An advisor can help articulate the ideal state, what the new system is intended to do and how it should look, to the vendors so that they have a clear understanding of the defined end goal and can determine how to accomplish it.
5. Selecting the Right Implementer
Whether you select your implementer before your system or your system before your implementer, having the right partner is vital because that team is with you throughout the duration of the implementation process. If they can't deliver or don't work out, you risk losing valuable time and money.
Depending on your solution, the vendor representative (the team recommending your solution) may not always be the implementation manager. Regardless, the key is to produce a short list of solutions (usually two to three) quickly. This will help determine, in a sea of potentially hundreds of options, who is best qualified to implement your specific solution before you enter the sales process.
The role of an advisor: An advisor will develop a list of potential implementers, vet them against your defined criteria (expertise, time, etc.), narrow the list down to the most ideal options, review and discuss the finalists with your team, and recommend the preferred partner. Ultimately, an advisor can help ensure that you're happy with your end choice.
6. Understanding ERP Technology | Legacy and Modern
When it comes to ERP technology, there are many different solutions that span both legacy and modern options, or even a hybrid between the two. On the one hand, legacy solutions—which tend to be standalone—have been around for decades and therefore offer a sense of familiarity. However, whether or not they'll serve future purposes, particularly as various functions and features are phased out or become obsolete, varies per platform. On the other hand, modern platforms, albeit newer and maturing, offer advanced capabilities and an "ecosystem" of add-on solutions that are often more flexible, less obscure, and the most likely to meet the evolving demands of your business.
The pertinent, but sometimes daunting question to ask is: Five to 10 years from now, what do you hope to accomplish with technology? Having a general understanding of your preferred capabilities, both in the short- and long-term, is going to help ensure you secure a platform that will enhance over time and grow as you grow.
The role of an advisor: Knowledge is power. An advisor will provide information to educate you on all facets of technology—the good, bad, and ugly—to help ensure you make a confident decision that will mitigate future complications.
7. Overseeing a Successful Implementation
When you're implementing an ERP, you're redesigning how you do what you do. The outcome is going to be significantly different than what you already have from both a system and business standpoint and there are a lot of moving parts. As such, it's imperative to consider all components—people, processes, and systems—and how they influence one another.
A designated representative from the organization is essential to managing the transformation, which includes driving accountability, maintaining deadlines, coordinating with both internal and external players, and leading change management. When partnering with of a technology advisory team, you get access to experts who can mastermind the project alongside your internal team to help navigate all components of the project and ensure the design/architecture comes together seamlessly to achieve the desired result.
The role of an advisor: An advisor will provide a project management office (PMO) throughout the implementation process. This includes things like oversight, tactical project management, working with the executive and in-house project teams, and engaging implementation vendor(s).
Still Looking to Gather More Information?
We've compiled a series of informative videos to help guide you through the process of defining your ERP strategy to optimize your business operations and improve process inefficiencies.
Ready to Discuss Next Steps?
Maybe you've had a failed implementation, or perhaps you know your company needs to make a change but is unsure where to start. Our Technology Advisory professionals are available to answer your questions and propose a path forward that seamlessly aligns with your business goals. Contact Us >