SC&H Capital Advises Allergy & Asthma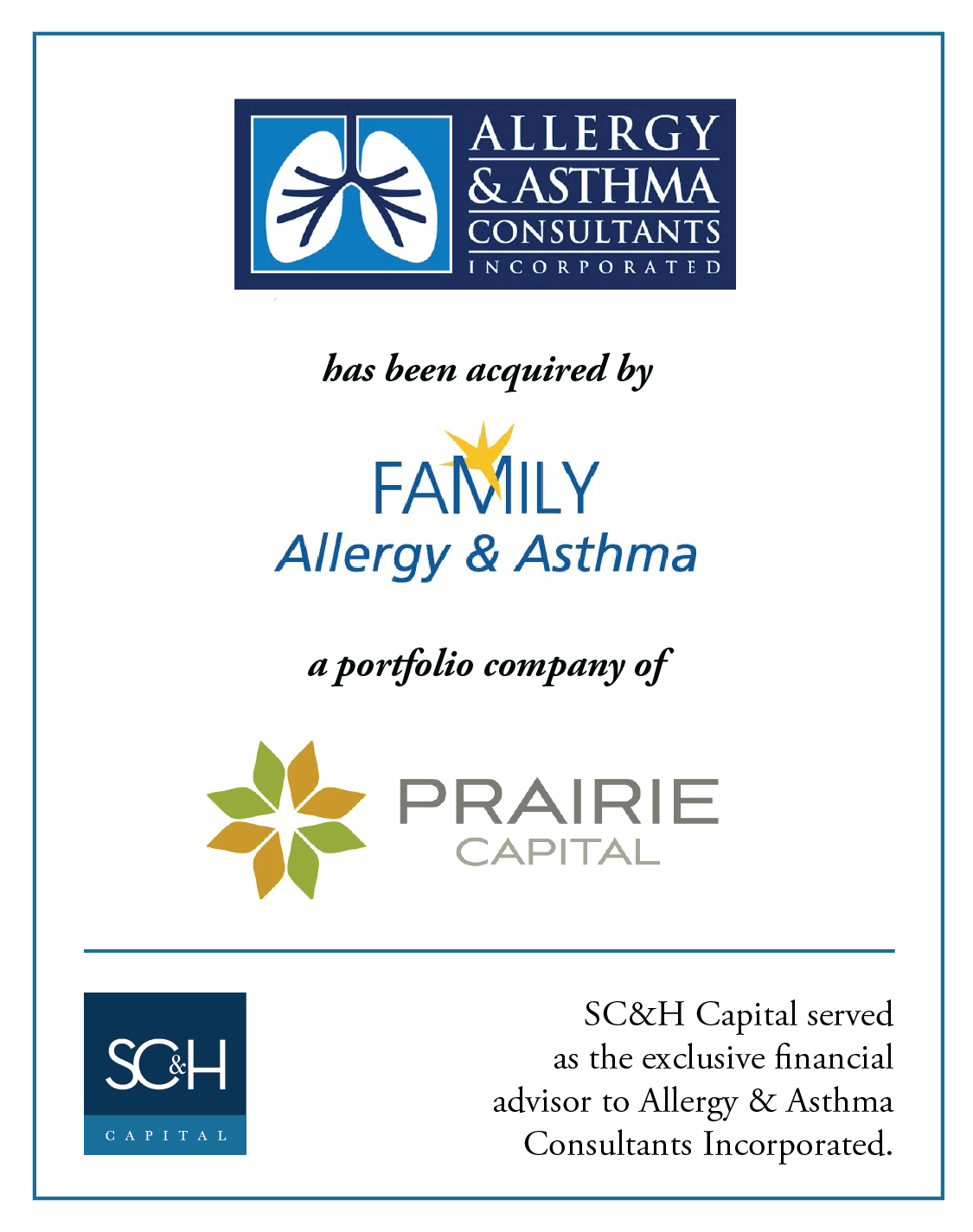 TRANSACTION LEADERS
"

SC&H Capital designed a process to find an acquirer that would fit our provider, staff culture, and most importantly, feel familiar for our patients and allergy community. I am thrilled with the outcome and, as a long-term client of SC&H Group, appreciate the care, expertise, and measured approach they bring to every engagement."  

Karen Lanpher

President

Allergy & Asthma Consultants and Lanpher Management Company 
SC&H Capital served as the exclusive financial advisor to Allergy & Asthma Consultants Incorporated on their sale to Family Allergy & Asthma. 
Allergy & Asthma Consultants has been treating patients in Greater York and Hanover, Pennsylvania since its founding in 1986 by Dr. Gregory Lanpher. The practice is made up of allergy and immunology providers who diagnose, treat, and manage multiple conditions in adults and children, including but not limited to asthma, food allergies, environmental allergies, and sinusitis. The practice was affiliated with Lanpher Management Company, serving as a management services organization ("MSO") providing management and staff support and owned by the Lanpher family. 
SC&H helped the owners to define their objectives which included the desired transition in practice management, alignment with successor physician practice via a similar approach to clinical treatment, and most importantly an emphasis on serving patients in the community.  
SC&H worked with management and ownership to prepare the business for sale, designing a process to validate potential acquirers as both viable in strategic alignment and as having sufficient access to capital. The SC&H team approached a carefully selected group of these potential acquirers and after receiving multiple competitive bids, SC&H negotiated with ownership's top strategic fit, Family Allergy & Asthma and Prairie Capital.