Authored by Catherine Knobel | Manager, Business Performance Management
Swift and well-informed business decisions are essential for success, especially in today's fast-paced financial landscape. Access and visibility to enterprise data—including master data, reference data, and reporting structures—play a crucial role in achieving this. Enterprise data management (EDM) is the key process that inventories data, establishes data governance, and instills data confidence within organizations.
However, a recent survey indicates that one in three organizations doesn't have a data governance framework in place. Without proper data governance, organizations risk data integrity erosion, increased errors, and significant time and cost expenses. The most common challenges include:
Manual and duplicative efforts: System administrators maintain enterprise data in disparate offline applications. This approach is time-consuming and error-prone. According to a recent study, poor data governance and management can consume 30% of employees' total enterprise time with non-value-adding tasks.
Misaligned master data: A decentralized method of maintaining enterprise data means applications can easily become out of sync and shared data is inconsistent, leading to inaccurate reporting.
Lack of traceability: Administrators are unable to trace changes to enterprise data over time and have no trustworthy method to satisfy audit requirements.
An effective EDM process serves as an invaluable asset that ensures enterprise-wide data accuracy, integrity, and accessibility. However, data management and data governance are often overlooked until existing processes fail to meet organizational requirements, errors or omissions in reporting are discovered, or acquisitions necessitate the need for better data management.
As such, we're discussing a robust cloud solution that will help you proactively address your current data challenges while building a data management framework to ensure long-term success.
We Boosted a Global Client's Data Integrity by More Than 80%
See how SC&H optimized a multi-brand restaurant enterprise's Oracle EDM application to transform its data for the better.
Learn More
How Oracle EDM Can Enhance Your Data Management Process
Oracle EDM Cloud is a scalable solution within the Oracle EPM platform that manages and synchronizes records, relationships, and properties of hierarchies across business systems. It connects disparate enterprise applications and streamlines enterprise data into a centralized platform to help organizations collaborate, adapt, and respond to change faster. Oracle EDM boasts key benefits including:
Automated maintenance: Maintenance and reconciliation of enterprise data is performed automatically and disseminated to all downstream applications as needed, eliminating the need to duplicate efforts.
Single source of truth: Oracle EDM Cloud centralizes and standardizes master data across disparate systems. Its advanced reconciliation capabilities give clients the assurance that their enterprise data is aligned across the enterprise and reduces the risk of errors.
Data governance framework: Workflow and validation capabilities available in Oracle EDM Cloud provide leadership confidence in the organization's data integrity and reporting. Properly managed data governance eliminates inconsistencies across the enterprise.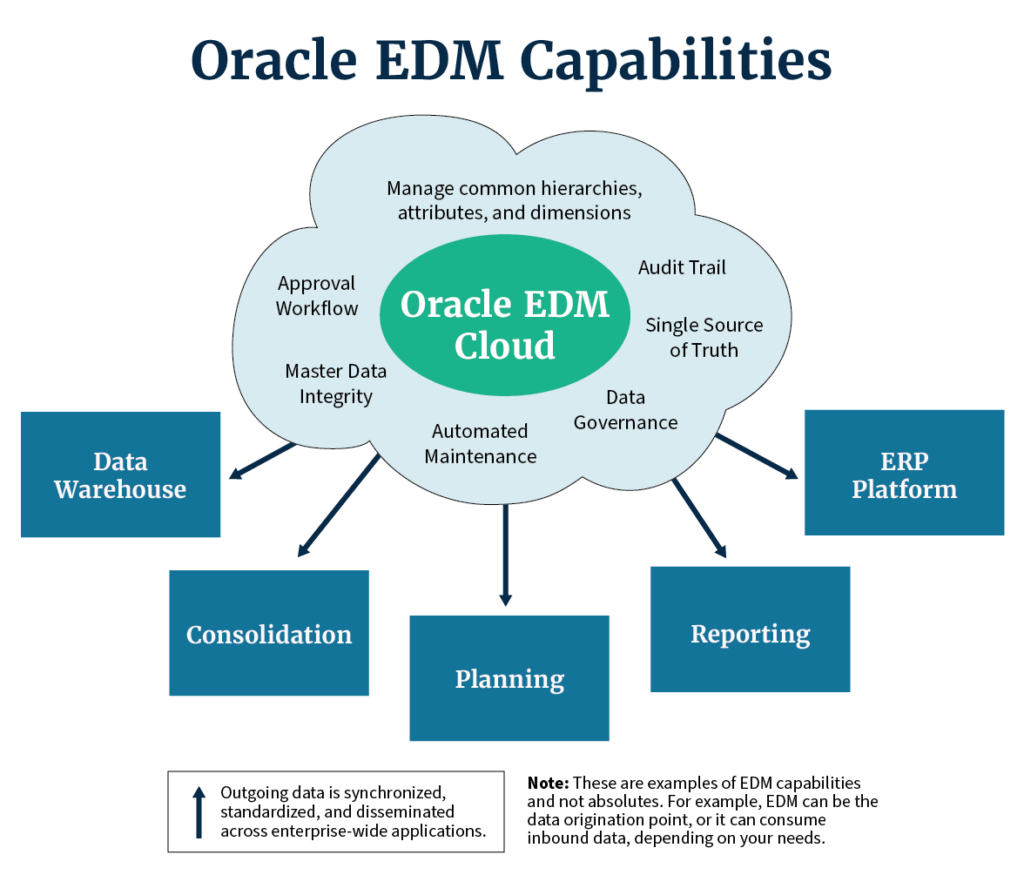 This powerful solution also offers advanced features for additional use cases beyond standard EDM processes, including:
Application adapters: Oracle EDM Cloud provides adapters to seamlessly connect with Oracle ERP and EPM products, as well as third-party applications.
Subscriptions: Applications can be connected via subscriptions to minimize duplicative efforts by streamlining enterprise data maintenance.
Workflow: In-app workflow capabilities can provide approvals and "checks-and-balances" to ensure the appropriate users are involved throughout the EDM process.
Validations: This feature enforces data integrity by ensuring enterprise data conforms to specified standards.
Audit trail: Oracle EDM Cloud provides a thorough audit trail and methods to track request history to enhance traceability.
Oracle EDM Cloud can also help your organization streamline M&A activities, facilitate chart of account redesigns, manage location data, and maintain mappings.
Implement Oracle EDM Cloud to Ensure Data Integrity and Mitigate Risk
To effectively manage data and ensure data integrity as the business grows, organizations need a flexible, agile, and streamlined process. Oracle EDM Cloud offers a scalable solution that centralizes data management and establishes a risk-averse data governance framework. By leveraging this powerful solution, organizations can respond to change faster and make better business decisions to maximize the value of data.
Ready to implement Oracle EDM Cloud? Here are the paths to get started:
Consider professional guidance: Learn how the SC&H team of Oracle EDM experts can design and implement a customized Oracle EDM Cloud solution to ensure data integrity across your enterprise.
Get started with SC&H's experienced team: If you're ready to hit the ground running, so are we. Message our team today to start the conversation and begin maximizing your investment in the Oracle platform.