SC&H Capital Advises DuClaw Brewing Company in Sale to River Horse Brewing Company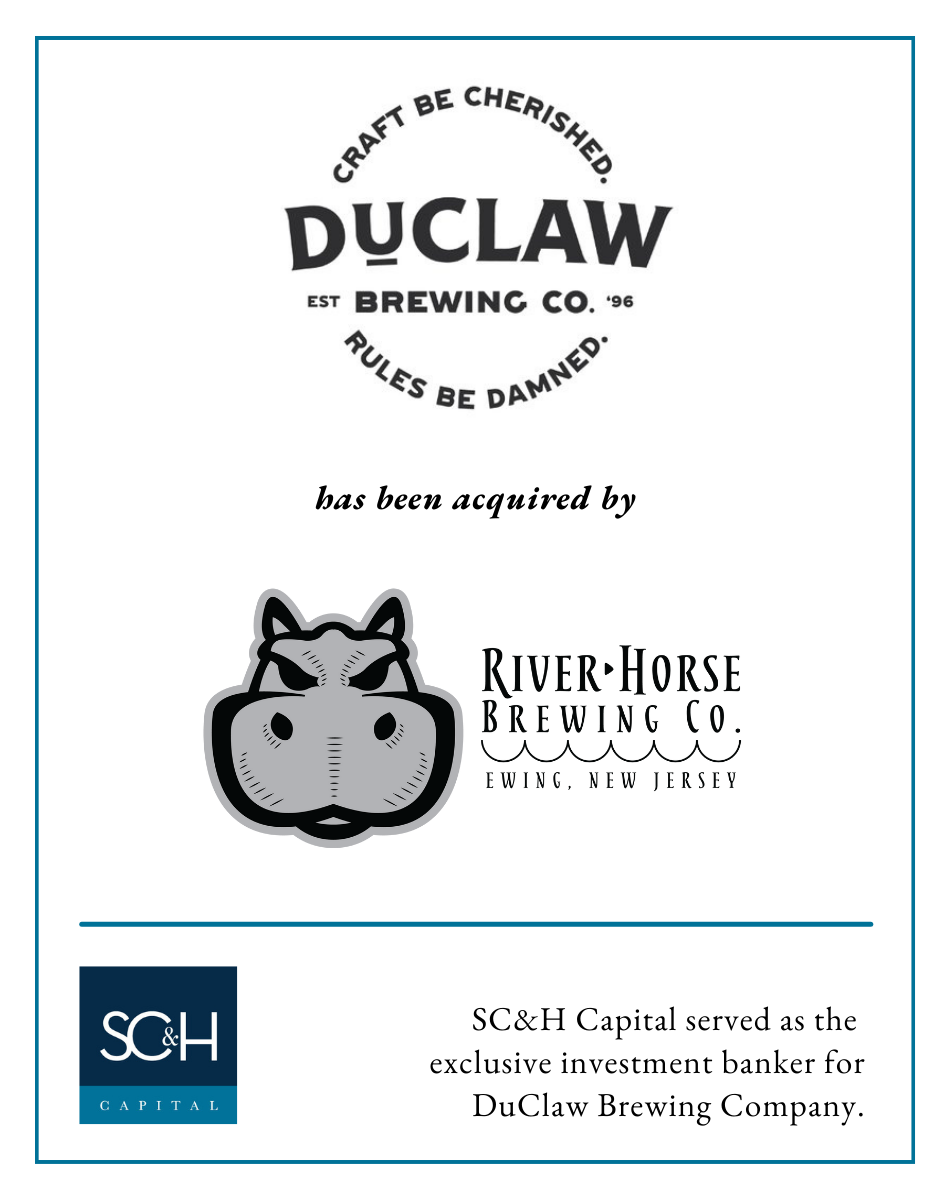 TRANSACTION LEADERS
"

Many thanks to Matt LoCascio and his team at SC&H Capital for getting the transaction done. I worked with Matt for years leading up to this and, while we explored many options during that time, the deal with River Horse made the most sense for DuClaw. I'm excited to be a part of this next chapter for DuClaw and believe River Horse is the right partner to carry the brand forward.

Dave Benfield

Founder and President

DuClaw Brewing Company
DuClaw Brewing Company has been a Maryland-based, mid-sized, award-winning craft brewery staple for over a quarter century. With cans and kegs found in 21 US states and internationally in Canada and France, the cherished brewing company carries a rich history. Founder, Dave Benfield, followed his vision to create quality, home-brewed beer with a mounting success that saw four brick-and-mortar locations and 200 signature brews. One unique beer in particular made headlines for raising money and awareness for the Colon Cancer Foundation as part of DuClaw's, "Give a Crap Challenge."
In the spring of 2022, DuClaw ownership engaged SC&H Capital to explore strategic options for the company given its absence of a succession plan. SC&H Capital presented numerous options aligned with its founder's objectives for consideration. The resulting transaction, a sale to Ewing, New Jersey's River Horse Brewing Company, allowed production to be relocated and streamlined while maintaining the DuClaw brand. River Horse is a well-positioned brewery that complements DuClaw's existing offerings and geographic reach. Benfield will remain actively involved in production and innovation, allowing the founder to focus more on his passion for strategy and sales over daily operations.
"The operations side of brewing is challenging, and at the end of the day, I was spending too much of my time and energy chasing the latest mechanical, supply, or logistical issue, and was taken away from driving the brand the way I wanted," said Benfield. "This partnership will allow me to focus on what I am best at."
While each brand will be separately managed, the efficiencies created by combining facilities and sharing production and various distribution partnerships will strengthen the two entities. River Horse will be expanding capacity in its Ewing, NJ facility to meet the demands of DuClaw's national distribution footprint.