SC&H Group Invites You to Join Us for an Evening of Music, Food, and Fun!
October 10, 2014 SC&H Group
Don't Miss Out on "a night of doing good. better." Supporting Business Volunteers Maryland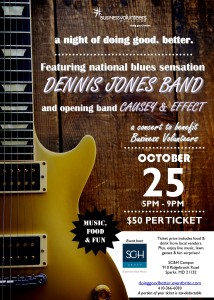 Community support is a key pillar to SC&H Group's growth and long-term success. The firm makes it a priority to contribute to a wide range of charitable programs and events through volunteer activities and donation opportunities.
SC&H Group's leadership also believes that it is possible to give back to the community, while also having fun.
This is why the firm is hosting Business Volunteers 1st annual fundraiser – a night of doing good. better. Taking place at the scenic SC&H Group Sparks, Md. campus on October 25, 2014 from 5 p.m. to 9 p.m., this celebratory event includes savory eats from local food trucks, luscious libations, lawn games, memorable musical performances, and the opportunity to support a worthy cause.
The goal of the event is to raise $50,000 in support of Business Volunteers Maryland's vital mission of creating a stronger community through inspiring volunteerism, developing civic leaders, and increasing business engagement.
Throughout the last 10 years, Business Volunteers Maryland has become a powerful community catalyst, matching individual and business volunteers with nonprofit partners to provide the resources and manpower needed by regional nonprofits to succeed in their respective missions.
By the way, did we mention that there will be world-class music at the event?
Born in Baltimore and now a sought-after LA-based musician, Dennis Jones Band will bring his high-energy stage performance with sizzling guitar solos, smooth, soulful vocals and a rhythm section.
The opening band will be none other than Causey & Effect, featuring musicians from SC&H Group, including Ron Causey, CEO and Co-Founder.
Don't miss out on this opportunity to "do good, better."
Tickets are $50. Attire is casual. The event will be held at the SC&H Campus, located at 910 Ridgebrook Rd., Sparks, MD, 21152.
Click here for more information and to buy tickets, or call 410-366-6030.