Authored by Catherine Knobel | Manager, Business Performance Management
Case Study Overview
A multi-brand global restaurant corporation engaged SC&H's team of Oracle implementation experts to replace an outdated metadata management system and build a unified data governance strategy.
By implementing Oracle Enterprise Data Management (EDM) across Oracle ERP and EPM Cloud applications, SC&H streamlined disparate data sources, established enterprise-wide governance rules, and eliminated duplicative manual tasks.
This drastically improved operational efficiency and increased data integrity by more than 80%.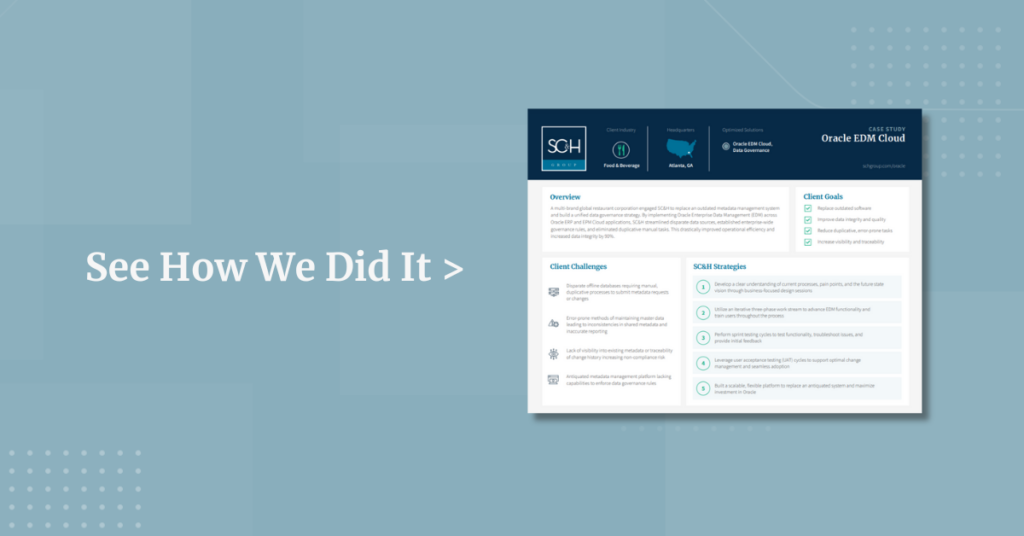 Client Challenges: Unreliable Data and Tedious Processes
Disparate offline databases requiring manual, duplicative processes to submit metadata requests or changes
Error-prone methods of maintaining master data leading to inconsistencies in shared metadata and inaccurate reporting
Lack of visibility into existing metadata or traceability of change history increasing non-compliance risk
Antiquated metadata management platform lacking capabilities to enforce data governance rules
SC&H Strategies: Rebuilding Data Management
Through business-focused design sessions, SC&H developed a clear understanding of the client's pain points and goals. We used this insight to optimize the client's Oracle EDM functionality and train users in an iterative three-phase workstream. Our team then performed sprint testing for troubleshooting and feedback, while leveraging user acceptance testing (UAT) cycles to support seamless change management. We ultimately launched a new EDM solution that provided unparalleled scalability and flexibility and optimized the client's investment in the Oracle platform.
Key Outcomes: Improved Efficiency and Data Accuracy
100% reduction in duplicative communication with systematized metadata requests in Oracle EDM
90% reduction in time spent reviewing requests
Saved 30 hours per month in tedious approval processes
Established an effective data governance framework that increased data integrity by more than 80%
Software Featured: