Authored by John German, CPA | Manager,  Contract Compliance Audit
Consumers are sharing more personal data with companies than ever before. This puts pressure on companies to manage data in a secure, responsible way—and also opens the door to increased cybersecurity risk. Recent high-profile data breaches have eroded consumer confidence, prompting a flurry of laws that impose tightened regulations of data privacy and severe consequences for non-compliance. Violations of these laws come with a hefty price tag. Research shows that data breaches and regulatory infractions can cost businesses nearly three times more than implementing proactive compliance measures.
A single non-compliance incident costs over $14 million on average, and the average fine for GDPR violations starts at 2-4% of a company's annual revenue.
Despite increasing scrutiny of data privacy, some of the largest enterprises across the globe have made headlines with staggering regulatory violations, including:
Meta, $1.3 billion: In 2023, this American tech giant was charged with the largest GDPR fine to date.
Equifax, $700 million: In 2019, the FTC fined Equifax for failure to take adequate data privacy measures, resulting in the historic 2017 data breach that compromised the personal information of approximately 147 million people.
Epic Games, $520 million: In 2022, the creator of Fortnite was charged with the largest fine recorded in violation of the Children's Online Privacy Protection Act (COPPA).
Additional consequences of non-compliance with data privacy regulations often extend beyond financial penalties and can have a large impact on an organization's future, such as:
Loss of consumer trust: Both data breaches and privacy violations erode customer trust which can be difficult to regain. A study conducted by Wakefield Research found that 60% of consumers believe threats to their personal information are growing faster than businesses can keep up, and 87% will cut ties with an organization if they have concerns about its data security practices.
Reputational damage: Data violations committed by an enterprise, or its third-party suppliers can lead to devastating financial and PR backlash. A 2021 study by IBM found that lost business due to diminished reputation accounts for 33% of the cost of a data breach.
Significant business disruptions: Expensive and time-consuming lawsuits, system downtime, and processes needed to correct non-compliance issues can bring operations to a halt. Research estimates that the cost of business disruption alone after a violation or breach can exceed $5 million.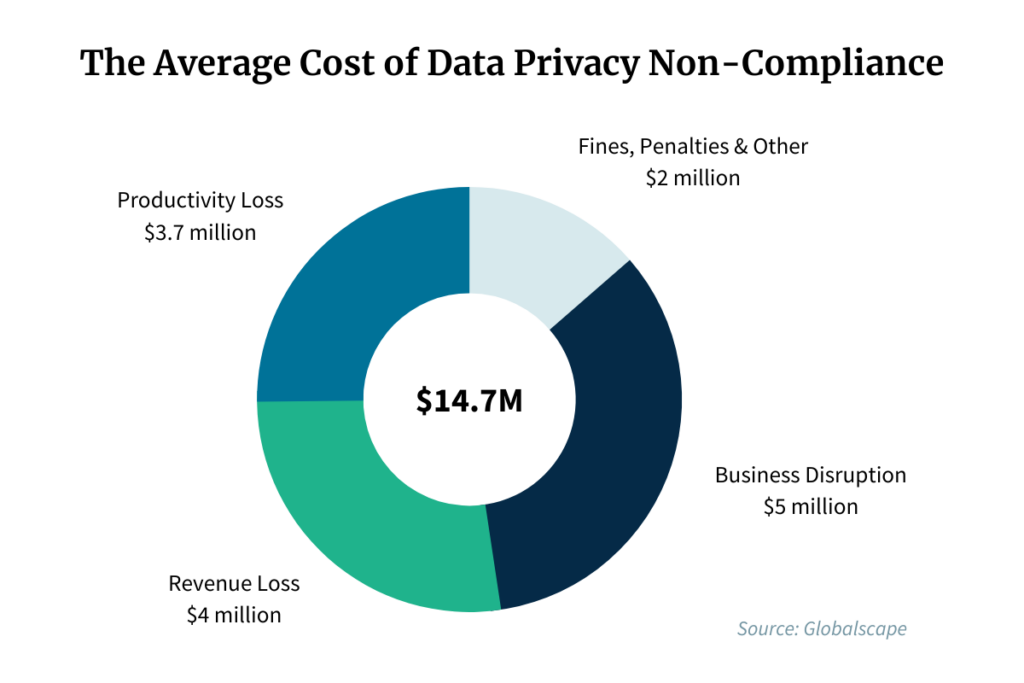 With the increased risk of cybersecurity threats and tightened regulations of data privacy, organizations must have effective data protection controls in place to protect both the business and its consumers. Implementing these controls requires organizations to look beyond internal processes and assess potential risks within third-party suppliers. Accountability for data privacy compliance flows down the supply chain—in other words, a large enterprise can be accountable (and fined) for a breach by a supplier. As such, organizations must incorporate data privacy regulations and compliance audits into their supplier validation program.
Privacy Laws Are Evolving Quickly, and Data Localization Adds Complexity
The recent boom in data privacy laws began with the introduction of the EU's GDPR in 2018 and California's CCPA in 2020, setting a high bar for data privacy and protection in the age of digital sharing. This trend continues as new laws emerge—five new laws are going into effect across the United States in 2023 alone, while 23 more states consider similar regulations. With regulations evolving rapidly, studies project that 75% of the global population will have their personal data protected under a data privacy law by the end of 2023. Organizations must proactively navigate the complex web of overlapping local, regional, and international regulations to ensure contractual compliance within each jurisdiction they operate.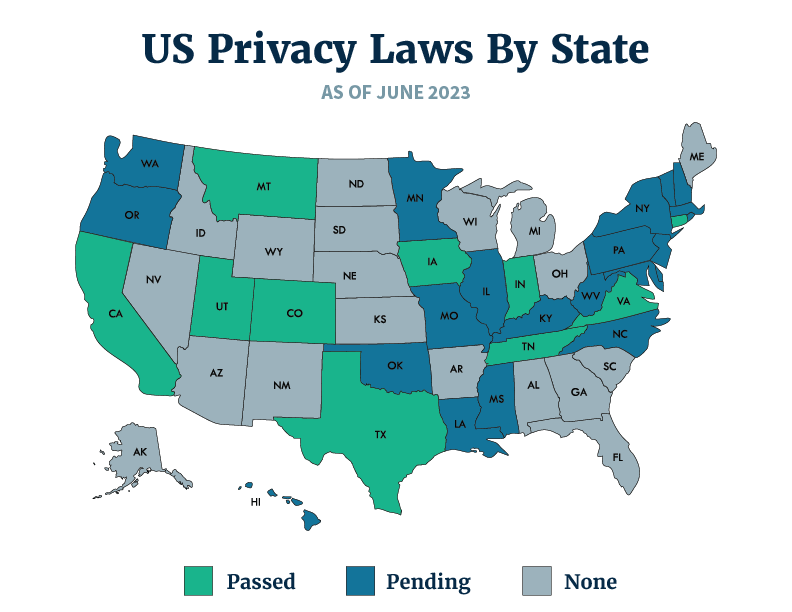 How to Ensure Data Privacy Compliance Within Your Supplier Contracts
To stay on top of the dynamic landscape of data privacy regulations and avoid the risk of non-compliance, organizations must define a clear framework to ensure data is properly managed within third-party suppliers. We recommend leveraging the following strategies to mitigate potential issues:
Establish expectations for data handling: Clearly define the type of information that will be shared and the permissible uses of that data to prevent unauthorized sharing or misuse of information. Additionally, organizations should require regular reporting from suppliers regarding their data handling practices and any security incidents or breaches that may occur.
Shift liability of data protection to the supplier: When a company shares data with suppliers, it is no longer in full control of how that data is managed. Contracts should be designed to transfer the responsibility of data security practices through specific indemnification clauses that hold the supplier accountable for any breaches or non-compliance.
Require suppliers to maintain predefined data security measures: Contractual provisions can mandate that suppliers maintain measures such as encryption and access controls and carry comprehensive cybersecurity insurance to provide an additional layer of protection in the event of a security incident.
Ensure responsibilities flow down to subcontractors: It's a common practice for large-scale suppliers to employ subcontractors. However, as the supply chain gets longer, the company is at increased risk of regulatory non-compliance—or worse, a data security breach. As such, contracts should include specific clauses that require the supplier to ensure that any subcontractors they engage also adhere to the same standards. Additionally, enterprises can require the approval of all subcontractors in order to assess the subcontractors' capabilities and compliance practices before granting consent.
Conduct periodic audits of suppliers to ensure compliance: Enterprises should conduct periodic audits of suppliers and their corresponding subcontractors to ensure compliance with data security regulations. Conducted by a third party, these audits evaluate the effectiveness of existing policies, identify potential non-compliance issues within their supplier contracts, establish stronger controls, and reduce the risk of data security breaches or violations.
The bottom line: the consequences of non-compliance far outweigh the cost of a well-governed supplier validation framework. However, many of these actionable steps to compliance are tedious and time-consuming tasks that require extensive expertise and can have severe consequences if handled improperly. Partnering with a team of third-party experts can help ensure compliance throughout your supply chain and enable thorough supplier audits to protect your organization from breaches or violations, without disrupting business operations.
Are your contracts and supplier relationships putting you at risk of non-compliance and costly fines? We're here to help. Our team will dig into the details so you don't have to—allowing you to rest easy knowing your contracts and your suppliers are set up to protect your bottom line – as well as your data. Connect with our team today and take the first step towards stronger contracts, reduced risk, and long-term relationships with suppliers where both your data, and your reputation, are safeguarded.