Authored by Harris Gofstein | Director, Business Performance Management
Case Study Overview
During a pivotal transition from public to private ownership, a national hotel brand recognized an opportunity to modernize its legacy financial systems and optimize outdated business processes. The CFO leadership team engaged SC&H's ERP implementation experts to lead a comprehensive financial systems planning, strategy, and transformation initiative. Our informed end-to-end strategy ultimately enabled a successful cloud-based ERP and EPM implementation completed in less than 12 months.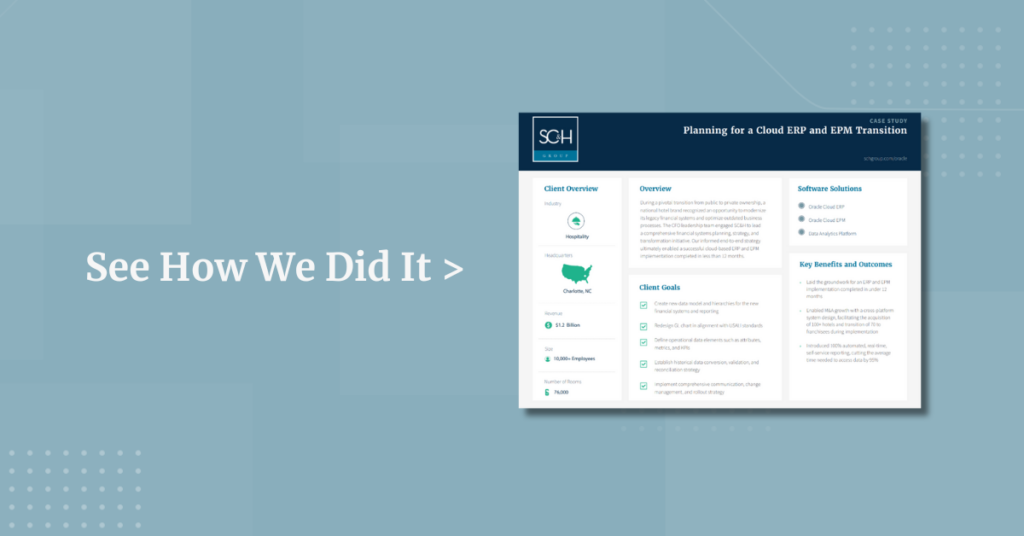 Client Goals: Modernize Legacy Processes and Reporting
Create new data model and hierarchies for the new financial systems and reporting
Redesign GL chart in alignment with USALI standards
Define operational data elements such as attributes, metrics, and KPIs
Establish historical data conversion, validation, and reconciliation strategy
Implement comprehensive communication, change management, and rollout strategy
Key Outcomes: Accelerated ERP and EPM Cloud Transition in Under 12 Months
SC&H's comprehensive planning process set the stage for a swift ERP and EPM implementation in less than a year. The scalable cross-platform system that our team designed enabled the seamless acquisition of over 100 hotels and transitioning of 70 to franchisees during implementation, without disrupting the transition process. This new system will offer lasting ROI for the client with 100% automated, real-time, self-service reporting, cutting the average time needed to access data by 95%.
SC&H Process: Laying the Groundwork for a Seamless Implementation
Led project planning and strategy, creating a new data and reporting framework and establishing a data conversion strategy compatible with Oracle
Defined and designed key elements for the cloud ERP and EPM systems, including a USALI-compliant chart of accounts and new reporting hierarchies
Streamlined monthly close and consolidation, planning, and reporting across corporate and hotel-level operations
Minimized disruption through effective change management, ensuring quick adoption and usage of the new systems
Supported the client throughout implementation and deployment, collaborating closely with the System Integrator responsible for the technical delivery
Rigorously tested and validated five years of historical data to ensure a smooth data conversion process and a successful go-live
Software Featured