If asked, would you be able to clearly articulate your daily business routine and how it impacts the greater organization? Organizations and their employees may claim that they know their processes inside and out, however organizations can be surprised at the insights and benefits gained from building visual tools/flowcharts documenting their business functions. Flowcharts are powerful and useful tools that offer an illustration to a seemingly straightforward and established business processes.
What is a flowchart and how can it help my organization?
A flowchart is a tool that can be across industries and processes to help maximize efficiencies, identify high-risk business areas, and pinpoint bottlenecks that impact the ability to operate at full capacity. Flowcharts are beneficial in a variety of ways, providing an easy-to-use visual representation of an organization's current process (from both a macro and micro level), showing areas of risks or inefficiencies that may not have been realized before. Below lists just a few of useful flowchart functionalities:
High-level overview for management: Having a holistic view and overall understanding can lead to new insights that were previously overlooked. A quick and accurate resource to view organizational processes may lead to improved decision making.
Onboarding and instructional document: Flowcharts can help streamline the onboarding process of new employees. Rather than learn their new role from on the job training or lengthy policy and procedure documentation, employees can use flowcharts to understand their role within the larger organization.
Identify risks and controls to complete a risk assessment: Flowcharts serve as a key starting point to build a comprehensive risk and control matrix (RACM). Flowcharts allow users to identify various risk areas, then a RACM will allow the user to drill down to the specific likelihood and impact that those risks may have on the organization.
Additionally, flowcharts can document any business function from the seemingly simple to the extremely complex, but they are particularly effective when there is a clear scope and the time is taken to meticulously outline the process under review. Processes can range from the common (e.g. Accounts Payable, Procurement, Human Resources, etc.), to niche areas e.g. (Fleet Management, Contract Management, Grant Administration, etc.).
Components of a Flowchart
Several flowchart types, variations, and identifiers can be used, but the following represent simple yet encompassing and useful symbols that allow for consistent diagraming.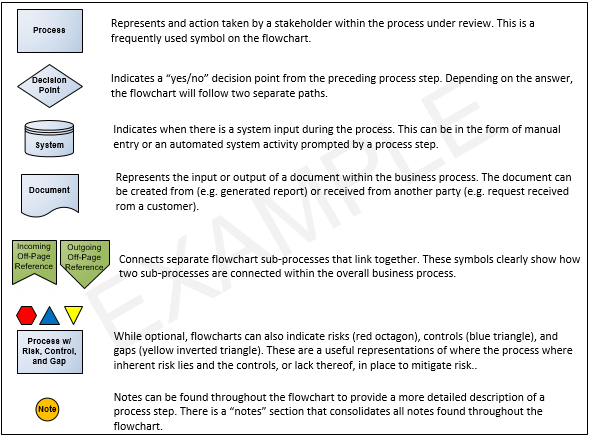 The following is an example of a flowchart to show how a business process can be visually expressed in a direct manner.  The example is presented as a "cross-functional" flowchart which creates a grid-like structure that organizes the position/department performing the action. Business processes typically include multiple stakeholders and departments, so a cross-functional flowchart is a useful tool type that can outline a complex process in a user-friendly way.
The flowchart enables users to digest and understand the process in its entirety, using symbols that drive readers to understand the process from beginning to end. For example, the flowchart documents the risks and controls within the process, highlighting the "at risk" areas as well as the current mitigating factors in place to prevent the risks. As demonstrated below, flowchart offers the ability to look at a process from a new angle, consolidating what may take pages of procedures and/or narratives to explain.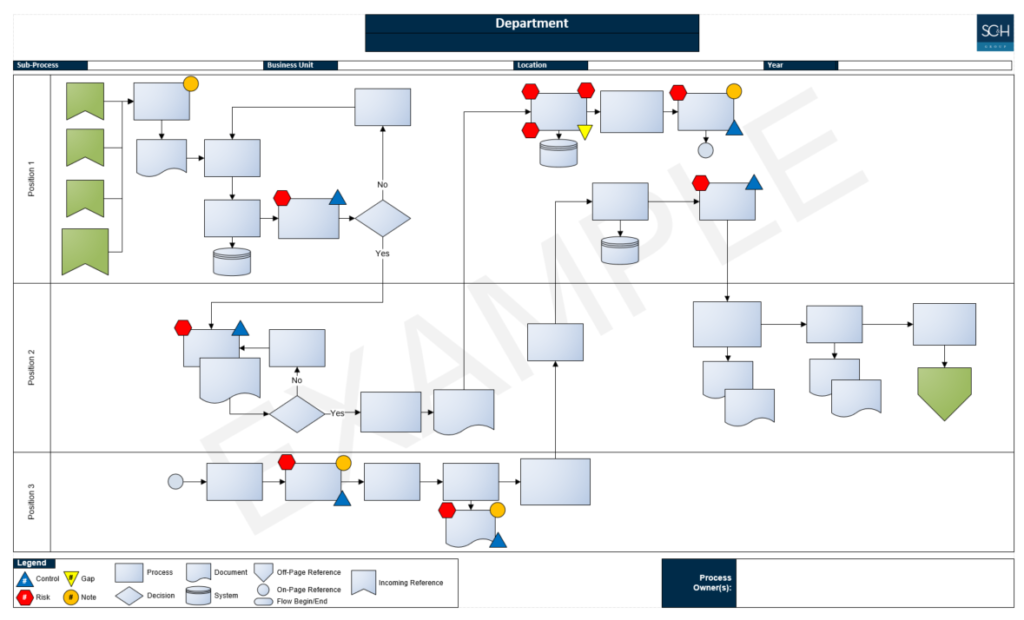 A complete flowchart workpaper will typically consist of multiple pages that represent a sub-category of an existing process. The above example represents one page (or sub-process) within a larger business division or process.
Having the ability to visualize an entire process gives individuals the power to review, understand, and question if their current process truly is the most efficient. Flowcharts can lead to unique insights that have the power to truly optimize a business in areas that may have not been questioned before.