Last week's proposed merger between CVS Health Corp. and Aetna is indicative of the dramatic change surrounding the payer-provider conversion paradigm—a trend we expect to continue and even accelerate.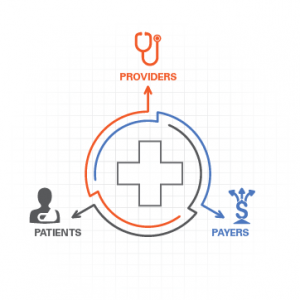 This paradigm supports the ultimate objective of the heathcare marketplace today: reducing the cost of care, while increasing its overall quality.
Historically, the flow of capital into healthcare has not correlated with the quality of the care being delivered. Insurance companies have been seen as the ultimate winner economically, while the patient is forced to pay more every year.
In a world of increasing costs and decreasing revenues, the desire of health care providers to enter the risk side of the healthcare care equation is imperative for increasing cash flow. These providers have historically been in conflict with the payers who question their processes, their claims and how much they are willing to pay for the services that are provided.
The need to enhance the patient experience and interaction is a primary driver to increase the quality of healthcare and many believe this will also reduce the cost of care.
If approved, the CVS/Aetna merger has the potential to deliver incredible benefits to the marketplace—namely the ability to drive down drug prices at a time when consumers are paying for an increasing share of their overall cost.  In buying Aetna, CVS is seeking to replicate the success of UnitedHealth Group Inc., which has built a dynamic operation through Optum—the insurer's health services arm that includes a pharmacy benefits management (PBM) program and a growing number of clinics and physician practices.
With drug prices accounting for approximately 10% of the overcall cost of healthcare delivery, CVS can provide better management to Aetna's customers with pharmacy benefits by being in a position to negotiate better prices from drug makers. For example, with the marketplace placing more emphasis on results, this could allow for the negotiations between drug prices and clinical outcomes.
Given that the average deductible for people with employer-provided healthcare coverage rose from $303 to $1505 between 2006 and 2017, a consumer friendly healthcare delivery system is critical. CVS has a strong consumer brand and provides a highly scalable model given that 80% of the U.S. population resides within 5 miles of one of CVS' 10,000 retail stores and 50% of the population within 10 miles of a MinuteClinic.
Integrating disparate aspects of patient care can enable better clinical management, improved coordination of member care thus driving increased identification and closure of gaps in each patient's individualized care.
A real potential patient benefit could well be hidden in a deal such as this.  With the world rapidly shifting to the benefits of artificial intelligence and predicative analytics, patient care data can lead to better disease and chronic care management.  By integrating more patient data into analytical tools could very well produce breakthroughs in formularies of care and truly allow for increased service quality at lower costs.
Finally, we continue to anticipate increased activity in the healthcare industry, including mergers and acquisitions. The Wall Street Journal reported that CVS' take over offer for Aetna was motivated, at least in part, by speculation that Amazon might enter the pharmacy benefit management space—conjecture supported a recent press report that the company has gained approval from several state pharmaceutical boards to become a wholesale distributor.