SC&H Capital, a leading investment bank specializing in M&A advisory for middle-market companies, is pleased to announce that its client, Shank's Extracts ("Shank's"), has been acquired by Universal Corporation (NYSE: UVV, "Universal").
Founded in 1899, Shank's has been a long-time leader in flavoring and extracts, with significant expertise in vanilla flavorings. Shank's sources, produces, and bottles high-quality flavoring, extract and food coloring products for blue-chip retailers, spice companies, and food manufacturers across the US and worldwide. Headquartered in Lancaster, Pennsylvania, USA, Shank's employs more than 200 people and has a 191,000 square foot manufacturing campus.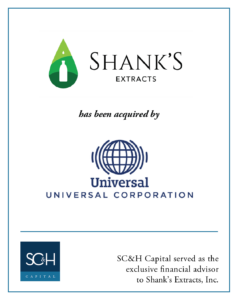 "SC&H impressed us out of the gate with their industry knowledge and creative thinking," said Bill Hauber, CFO. "They were great to work with, and we got insightful, senior-level attention every step of the way. We are thrilled with the results and are excited for the future of Shank's in the Universal ingredients platform."
"It was a pleasure advising the Shank's leadership team in this transaction. We knew it was important to find a partner that would appreciate both the legacy and the growth potential of the Company," said Matthew Roberson, Managing Director at SC&H Capital.
"Our experience in the food ingredient industry enabled us to run a very competitive process that yielded multiple options, allowing Shank's to select the absolute best partner," added Craig Bowden, Principal at SC&H Capital.
The transaction was signed on September 6, 2021, and closed on October 4, 2021.
About SC&H Capital
SC&H Capital is an investment banking and advisory firm specializing in mergers and acquisitions (M&A), employee stock ownership plans (ESOP), distressed M&A, and business valuations for middle-market companies nationally. SC&H Capital delivers services across numerous industries including technology, healthcare, manufacturing, business and professional services, and government contracting. We are recognized for delivering relevant market insights and tailored solutions to help owners achieve their true strategic value. To learn more, visit www.schcapital.com.