SC&H Capital Advises Shank's Extracts in Sale to Universal Corporation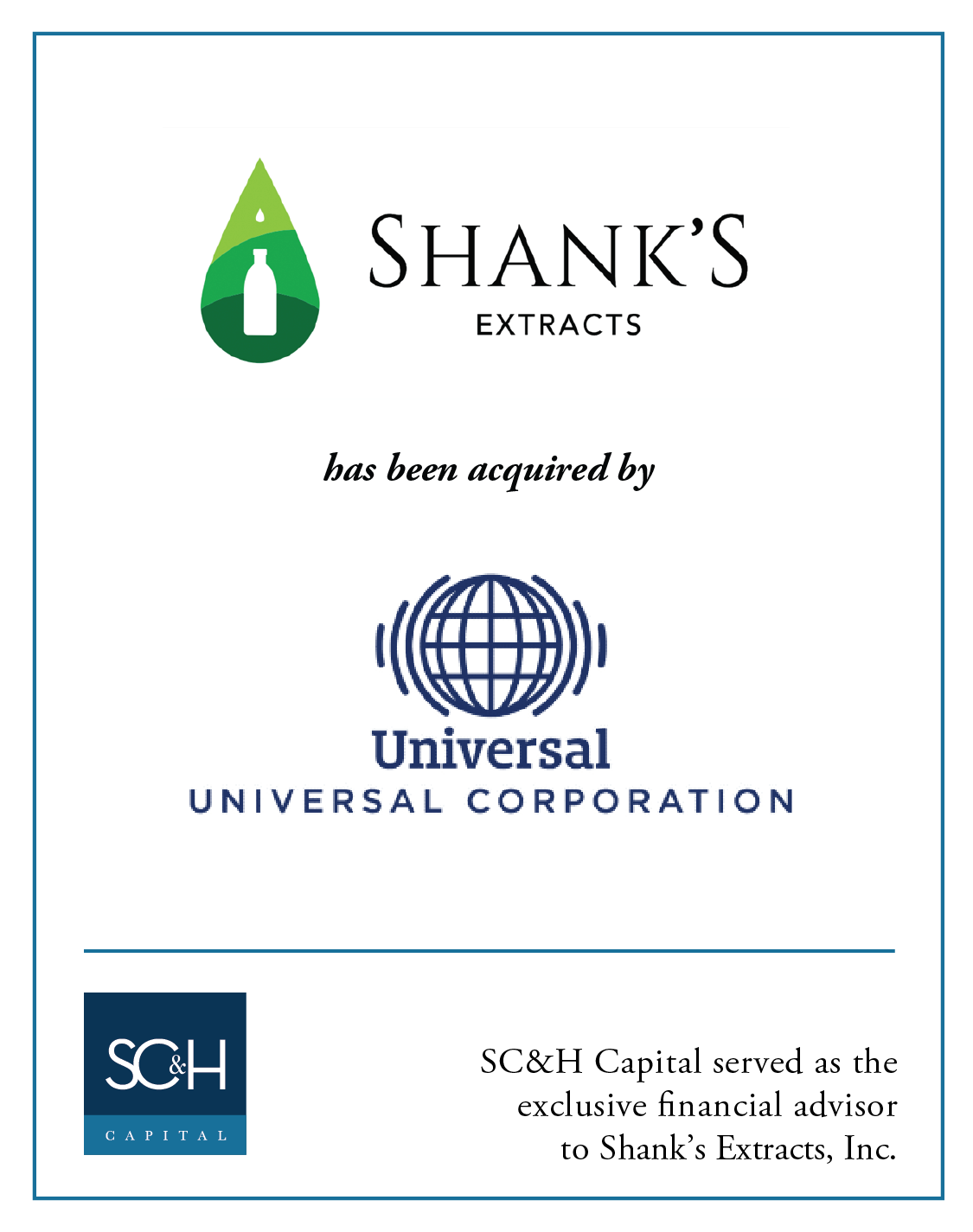 TRANSACTION LEADERS
"

SC&H Capital demonstrated a clear understanding of Shank's unique core value proposition and executed a great process with multiple potential interested buyers. Shank's is a logical fit within Universal's strategy to broaden and enhance its plant-based ingredients platform."

Jeffrey Lehman

President and Owner

Shank's Extracts, Inc.
Founded in 1899, Shank's Extracts, Inc. ("Shank's") has been a long-time leader in flavoring and extracts, with significant expertise in vanilla flavorings.
Shank's owner, Jeffrey Lehman, built the infrastructure and a management team, as well as manufacturing and bottling capabilities, to support the extraction and flavor needs of many of the largest blue-chip retailers, spice companies, national and international food manufacturers, and beverage retailers in North America.
For years, Mr. Lehman proactively worked with his personal financial advisors to craft a "life plan" to prepare for the eventual sale and exit of his business. He interviewed multiple investment banks, including SC&H Capital, to propose an M&A strategy to help him achieve his goals.
SC&H Capital was selected due to our immediate understanding of Shank's value proposition in both flavors and manufacturing, as well as our ability to directly and confidentially access key industry buyers, providing insights into market trends. 
SC&H Capital leveraged our depth of industry relationships and expertise in the ingredients and food and beverage markets to design a process to find the best acquirer for Shank's. In advance of marketing the deal, the SC&H Capital deal team worked intimately with the management team to develop materials and a strategy to best position Shank's for these potential buyers. SC&H Capital delivered multiple competitive bids from several parties which created significant negotiating leverage. 
Ultimately, Shank's was acquired by Universal Corporation, a global business-to-business agri-products supplier to consumer product manufacturers that sources and processes leaf tobacco and plant-based ingredients.
The partnership with the buyer proved to be the best possible outcome for all parties. Shank's will continue operations on its 191,000 square foot manufacturing campus headquartered in Lancaster, Pennsylvania, USA.