SC&H Capital, a leading investment bank specializing in sell-side M&A advisory, is pleased to announce it acted as the exclusive investment banker to CCX, Inc., dba Braeburn Alloy Steel ("Braeburn"), in the sale of substantially all of its assets to a G.O. Carlson subsidiary ("Carlson") in the United States Bankruptcy Court for the District of Delaware.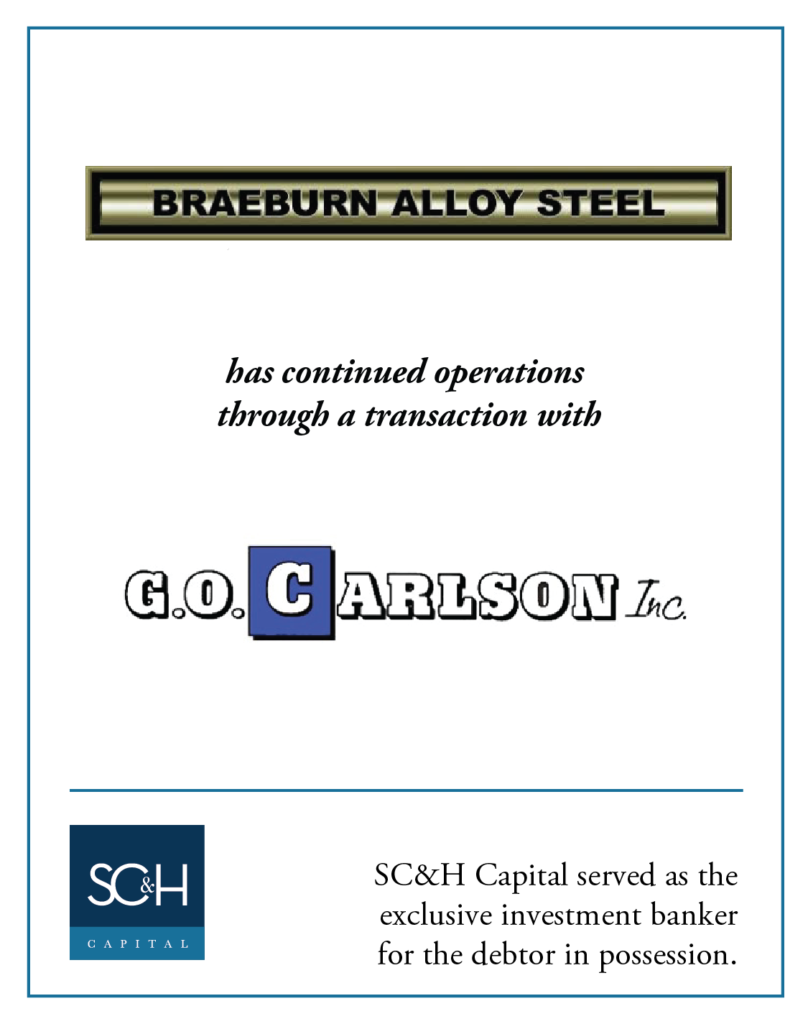 Since 1897, Braeburn has specialized in converting metal and customer-owned raw materials into forged and rolled products. Operating out of its 220,000 square foot facility on the banks of the Allegheny River, just northeast of Pittsburgh, the company processes metal alloys including titanium, refractory metals, high-end nickel alloys, and stainless, tool steel, carbon steel, and alloy steels.
Faced with reduced sales tied to the COVID-19 pandemic and rising expenses associated with its main processing equipment, Braeburn filed a voluntary petition for relief under chapter 11 in March 2022 to effectuate a going concern sale of its assets. Braeburn continued operations through the chapter 11 filing and the sale provides the opportunity for continued employment for the 40-plus employees.
"G.O. Carlson is a recognized world leader in providing high-performance corrosion and heat-resistant materials making the Braeburn operation an excellent fit for them," said Matt LoCascio, Principal at SC&H Capital. "We are thrilled that a company with as much history as Braeburn will continue to serve its clients and vendors as a result of this sale."
Other professionals who worked on the transaction include Eric Monzo, Brya Keilson, Brian Ellis, Jason Levin, and Sarah Ennis of Morris James, counsel to CCX, Inc., and Sam Becker and Jose Bibiloni of Blank Rome, counsel to G.O. Carlson.
About SC&H Capital 
SC&H Capital is an investment banking and advisory firm specializing in mergers and acquisitions (M&A), employee stock ownership plans (ESOP), distressed M&A, and business valuations for middle-market companies nationally. SC&H Capital delivers services across numerous industries including technology, healthcare, manufacturing, business and professional services, and government contracting. We are recognized for delivering relevant market insights and tailored solutions to help owners achieve their true strategic value. To learn more, visit www.schcapital.com