Ken is a Managing Director with SC&H Capital, where he provides M&A advisory to private company business owners. He specializes in distressed situations and has personally handled unique sets of circumstances and found appropriate, innovative solutions for more than 300 middle-market businesses.
With more than 25 years of experience, Ken specializes in everything from driving go-to-market strategies for engagements, interfacing with lenders and attorneys, negotiating offers and purchase agreements, conducting auctions, to testifying in court in support of the firm's clients' transactions.
Ken is most passionate about having the privilege of getting to know entrepreneurs' stories of how their business came to fruition and evolved. He appreciates being a part of a team that works together to maximize returns for owners and to find solutions for troubled companies that help a business save jobs, survive, and thrive. His favorite part of working with these organizations is earning the trust and respect of what may be strangers at the start of a transaction, converting them into trusting advocates of SC&H Capital.
Outside of the office, Ken is extremely active in the community. He serves as a member of the Salisbury University Executive Advisory Council and is on the Chesapeake Bay Maritime Museum board, where he serves on the Finance Committee. He is the Founder/Chairperson of the Tour de Talbot and the Chesapeake Tour de Cure cycling events, which benefit the Juvenile Diabetes Research Foundation and the American Diabetes Association. In addition to his board involvement, he is an active volunteer with the YMCA of the Chesapeake, where he previously served as board chair.
Ken is an active member of the American Bankruptcy Institute (ABI), Turnaround Management Association (TMA) and International Women's Insolvency and Restructuring Confederation (IWIRC).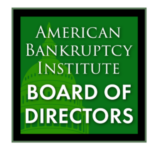 In May 2022, he was elected to ABI's National Board of Directors and in April of 2021 was named a Chairperson of ABI's Financial Advisor and Investment Banking Committee. Ken was recognized as ABI's 2021 Committee Member of the Year for his efforts and will continue to serve on the committee alongside his Board of Directors position.
In January 2021, he was appointed to the Board of Directors of TMA's Chesapeake Chapter. He is a Vistage CEO peer group member and was recognized as Member of the Year in 2019 and 2020. Ken has served on speaking panels for conferences hosted by ABI, TMA, the Florida Bar, and Mississippi Bankruptcy Conference. He has been published in the ABI Journal, TMA's Journal of Corporate Renewal, ABL Advisor, and the ABF Journal, among others.
Ken earned his bachelor's in business administration with a marketing concentration from Salisbury University. He is a licensed Real Estate Agent in Florida and holds hundreds of hours of continuing education related to commercial real estate, bankruptcy/insolvency, and maximizing return in the sale of troubled companies. He has testified in numerous cases as an expert witness in bankruptcy courts regarding bid procedures and maximizing value in a sale.
When he's not with his team or clients, Ken is an avid cyclist who loves to travel, read, and participate in anything on the water, whether cruising, fishing, paddle boarding, etc. He and his wife have two grown daughters and live in Easton, MD and Naples, FL.
Ken is a FINRA Registered Investment Banking Representative (Series 79).

Back to Leadership Directory