Taking a Strategic Approach to M&A, SC&H Capital Advises Planning Solutions Group on its sale to Wealth Enhancement Group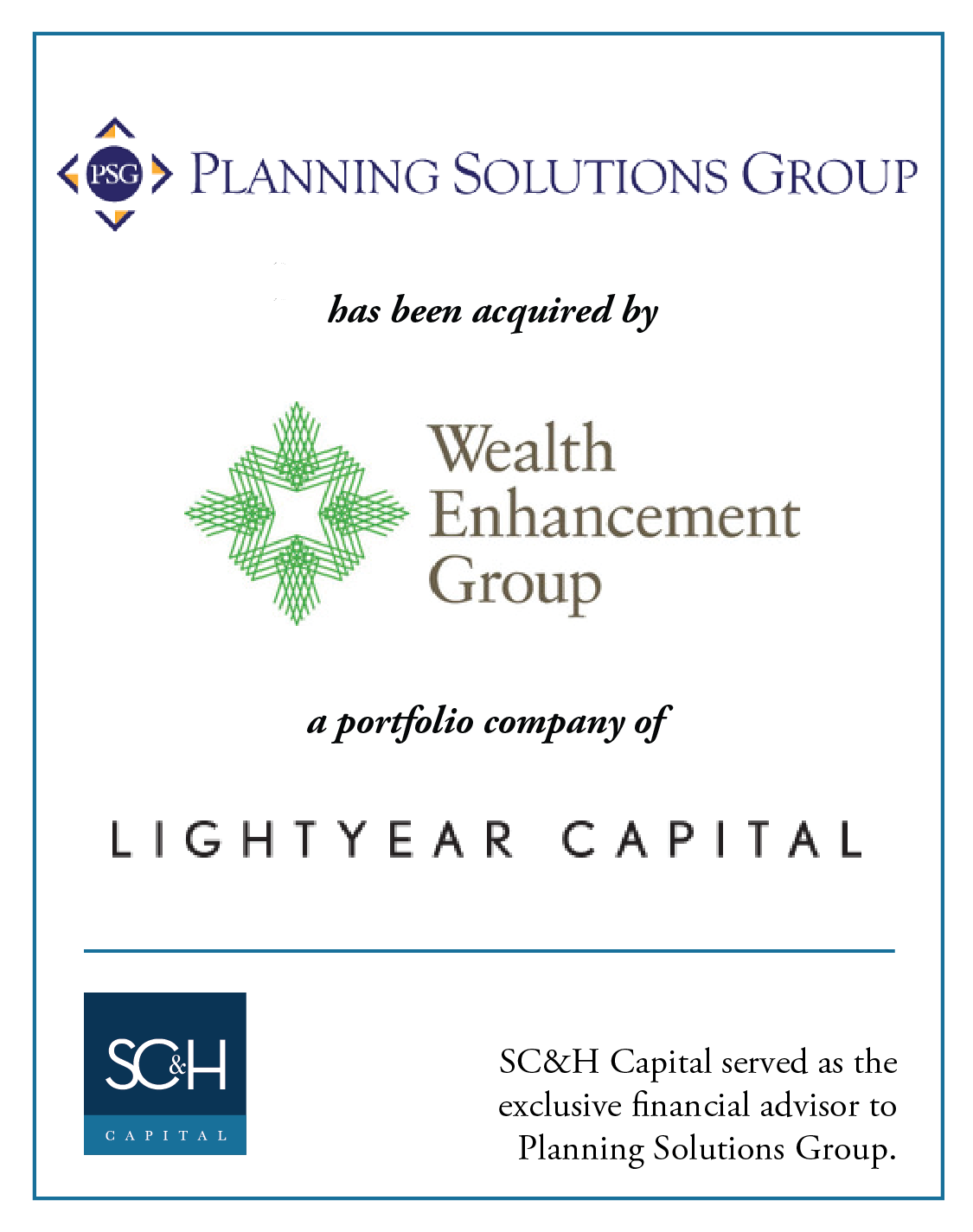 TRANSACTION LEADERS
"

SC&H Capital was the guiding force helping us to identify potential partners, evaluate over 20 initial offers and ultimately choose the right growth partner to help take our company to the next level."

Tim Kvech

Founding Partner
Planning Solutions Group is an independent financial advisory business based in Fulton, Maryland. For nearly 20 years, the partners of Planning Solutions Group have developed customized solutions for wealth creation and preservation to suit the needs of business owners, executives, retirees, and high-net-worth individuals.
As a part of the Company's strategic planning process, SC&H Capital consulted with the partners of Planning Solutions Group to keep them apprised of current M&A market dynamics. SC&H Capital identified a significant increase in wealth management M&A activity in the market and presented their analysis as a potential strategic path to facilitate growth and to help the partners continue to meet the long-term goals and planning needs of their clientele. Noting the surge of independent financial advisory firms seeking partnerships with established and highly reputable groups in strategic geographies like the Mid-Atlantic, SC&H Capital urged Planning Solutions Group to explore its strategic options as a tool to proactively secure the firm's future.
SC&H Capital worked with the Company to develop a highly targeted group of potential partners that aligned closely with the core values of the Company and its clients. Ultimately, the highly competitive process that yielded multiple compelling offers resulted in Planning Solutions Group partnering with Minnesota-based Wealth Enhancement Group, an independent wealth management firm that oversees $13.8 billion in client assets. The partnership brings two like-minded firms together to create a win-win solution for both companies and their clientele.