Southern Apparel Corporation has continued operations as Manitee Bay, LLC through a joint venture partnership with Screen Works USA, Inc.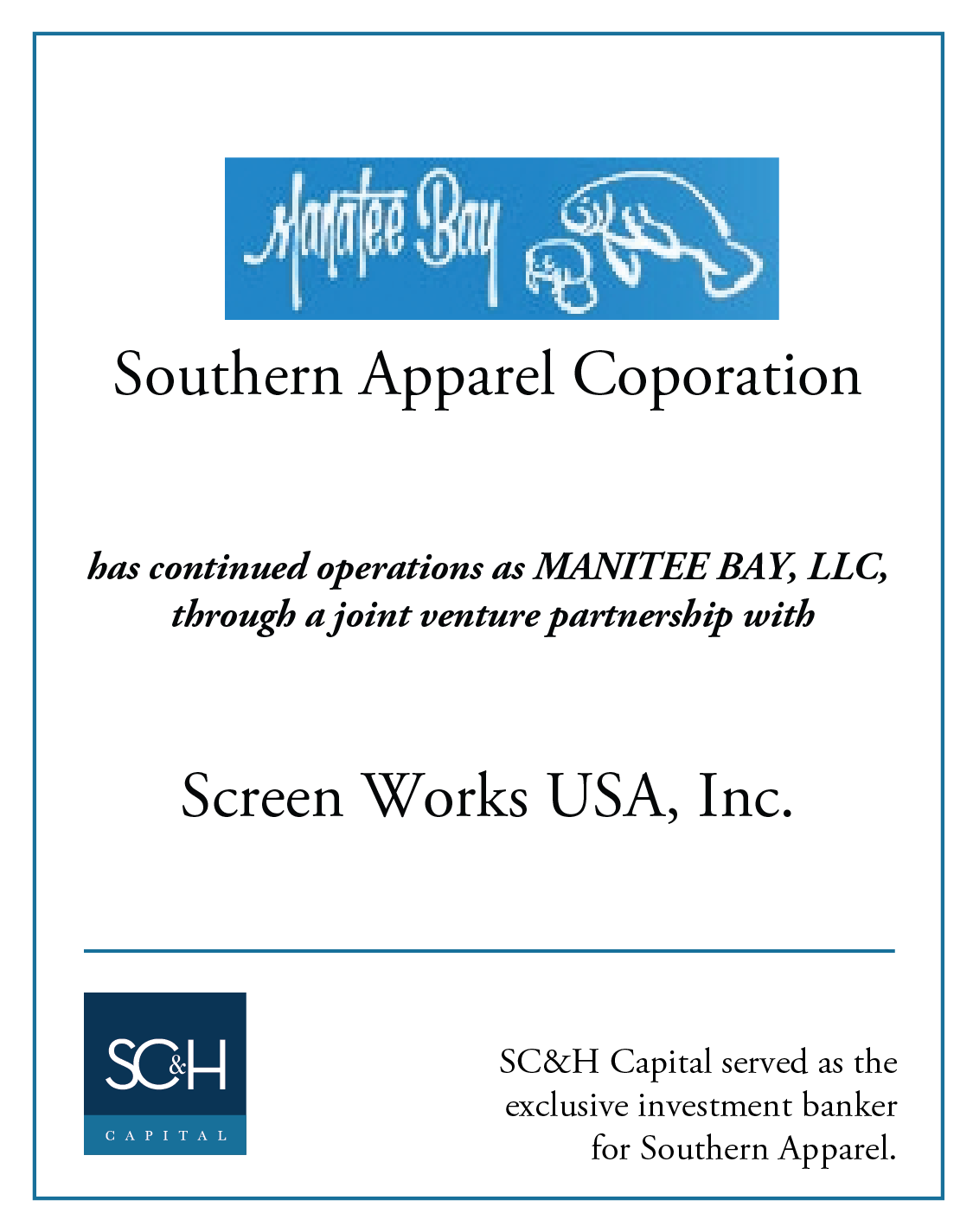 TRANSACTION LEADERS
SOUTHERN APPAREL CORPORATION (SAC) – This company designed, marketed and manufactured top quality decorated active-wear and corresponding promotional merchandise. SAC also had a well-established sales organization servicing the mass gift/resort and promotional merchandise markets throughout the U.S. The company experienced significant cash constraints caused by its manufacturing operation, the acquisition and creation of several new divisions, as well as the use of high interest receivables factoring. Creditors cut off financing and the company was quickly being forced to close its doors.
The perceived best solution for the company was to eliminate in-house manufacturing, allowing the company's management to focus on sales and product development, downsize their facility, and replace the current factoring arrangement with conventional bank financing.
SC&H Capital was retained and quickly identified a successful apparel manufacturer, Screen Works USA, Inc. (SW), seeking entre into the markets being served by SAC. SW was also looking for a partner to compliment their existing sales efforts.
SC&H Capital structured a joint venture partnership between the two companies creating a "Newco", Manatee Bay, LLC (MB) where SAC management was given an equity interest in the Newco. MB now focuses strictly on sales and product development, and SW handles manufacturing and provides operating capital to MB. The SAC management and employees were hired into MB, and a percentage of profits from MB are to be used to pay down the SAC outstanding debt. The company continues to operate in a newly leased sales facility in the Tampa Bay area.