SC&H Capital Serves Graybill Processing, Inc. in Recapitalization by NCKCapital and Graycliff Partners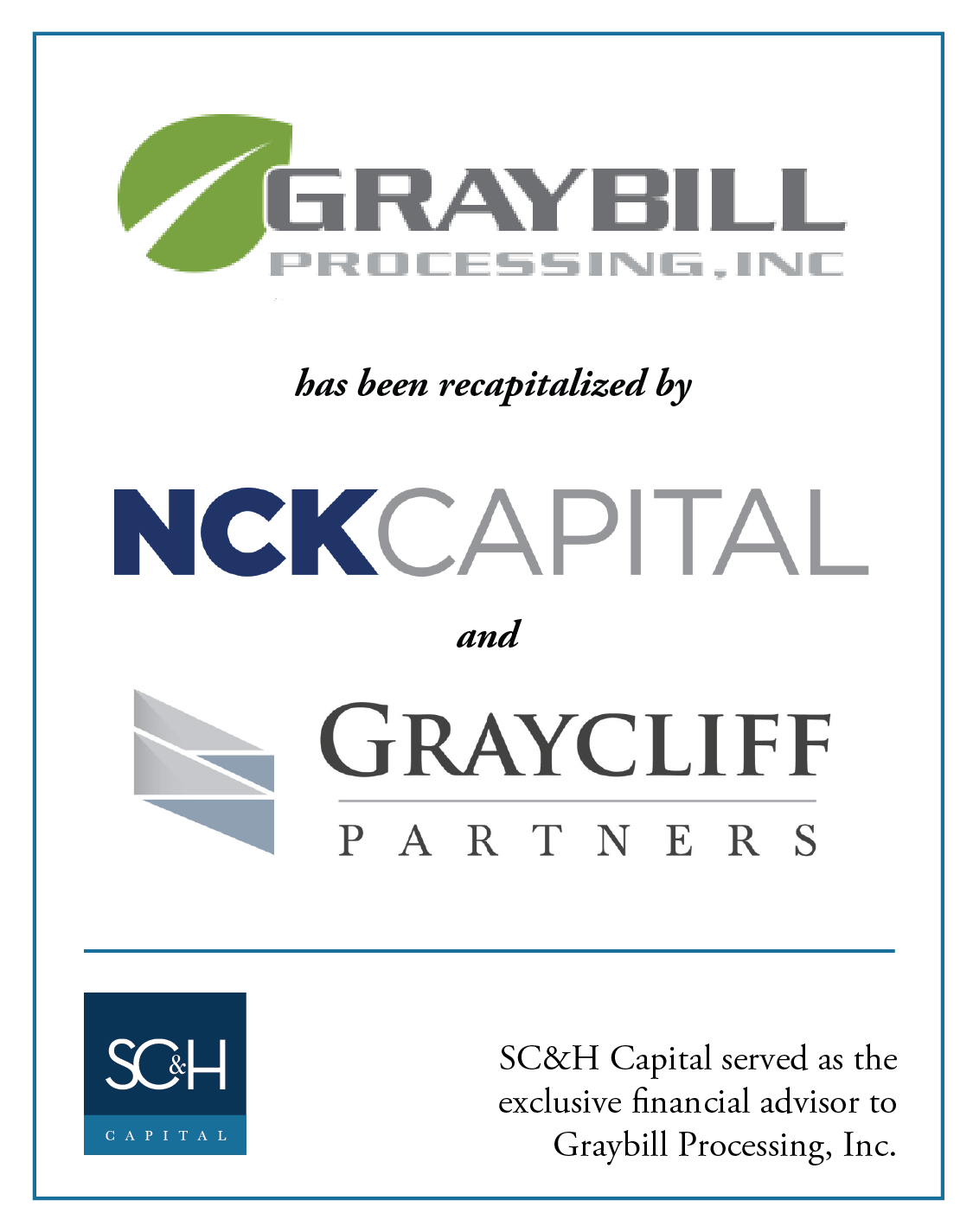 TRANSACTION LEADERS
"

"SC&H Capital's market insights and expertise were invaluable to us during this process. We considered multiple options for advisors and were pleased to find an experienced and highly capable team here in the Mid-Atlantic. [Matt] Roberson and his team provided us with senior level, hands-on guidance, and advice we needed to identify the best cultural and capability fit in a partner. We are thrilled with the results that SC&H Capital delivered."

Matthew Petersen

President

Graybill
Transaction Highlights
Graybill Processing has been a premier recycler of human grade food by-products into a top quality, high-energy animal feed supplement for over 25 years. The Company collects food manufacturing by-products such as packaged candy, raw candy inputs and bakery goods and processes it into quality, high-energy animal feed for hogs, dairy cattle and beef cattle.  In addition to its core business, the company also provides logistics and hauling, paper and cardboard recycling, and cocoa shell mulch production.
The Company was a second-generation family-owned and operated business headquartered in Elizabethtown, PA.  The husband and wife running Graybill had bought the business from her father, and had spent the last decade investing in processes, infrastructure and quality assurance to further professionalize the business and prepare it for growth.  The owners wanted to find a financial partner to recapitalize the business, allowing the owners to take some chips off the table, but also to continue to invest in growth.
SC&H helped the owners to define their objectives, and worked with them for 6 months to prepare the business for sale, designing a process and buyer strategy to both maximize value and seek a financial partner who could meet the stated objectives. The SC&H team approached a carefully selected group of private equity firms with interest and experience in agribusiness and service markets in the food industry. After receiving multiple competitive bids, SC&H negotiated with ownership's top strategic fit, NCK Capital and Graycliff Partners, with whom the owners re-invested.