SC&H Capital Advises Jamison Door Company in Merger with BMP Door Group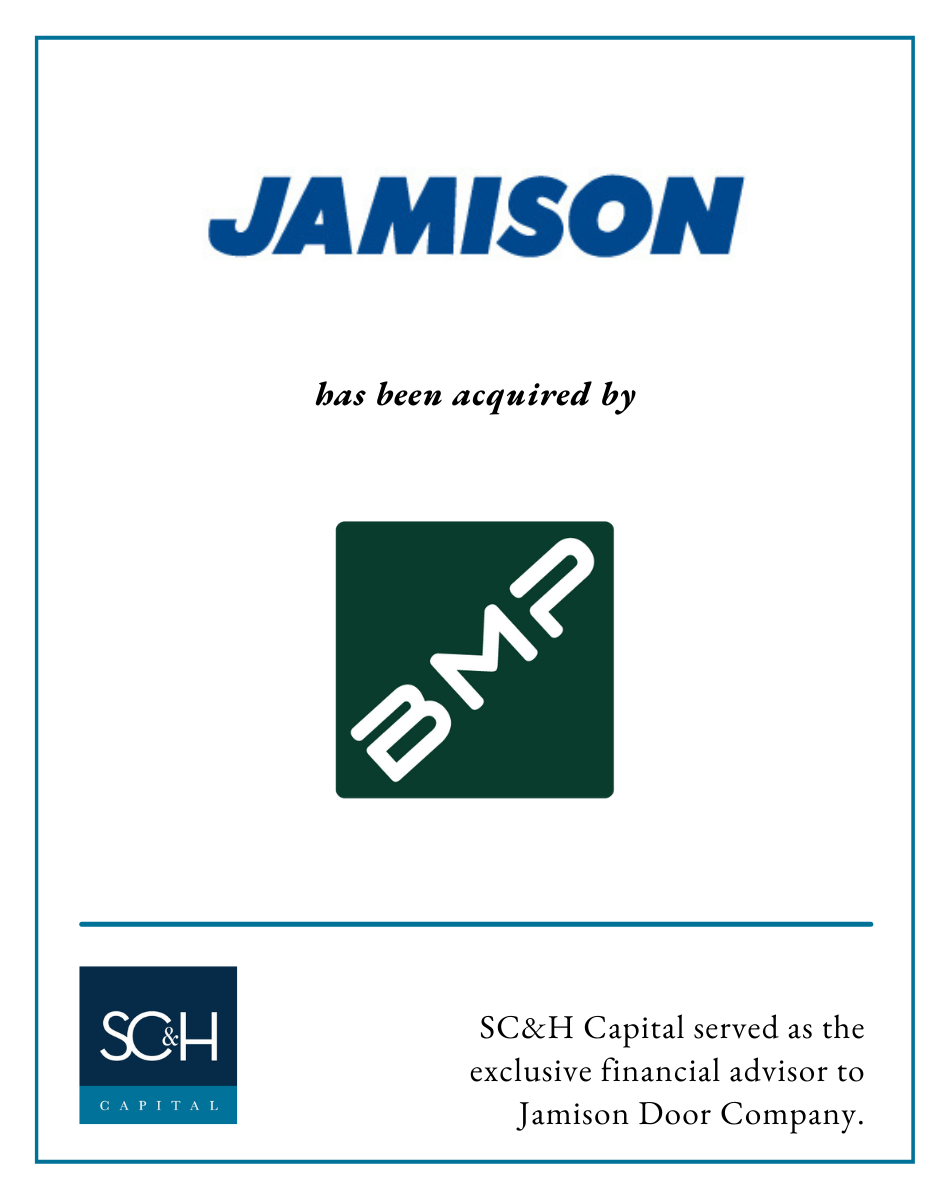 TRANSACTION LEADERS
"

The SC&H Capital team understood our goal to create the next great worldwide high-performance and specialty door company. They worked tirelessly with Jamison management to help us assess our options and ultimately close our deal with BMP, the best partner imaginable."

Dwight Clark

President and COO

Jamison Door Company
Jamison Door Company ("Jamison") was founded in 1906 and evolved over generations of ownership to be the leading solutions provider in cold storage doors and entryway solutions. Jamison's unwavering standards for quality, durability, and innovation—with 80+ patents and trademarks—made its brands, like HCR Air Doors, the most sought after in the industry. Their products are highly engineered, critical components for food, beverage, and pharmaceutical customers who pay for the value of having Jamison products in environments with a high cost of failure. 
SC&H Capital advised the Jamison board and management team for almost a decade, providing strategic guidance on M&A markets and advice on exit planning. Management used SC&H's counsel to influence the company's growth initiatives and optimize its potential value to buyers. In 2021, SC&H was asked to run a targeted sales process to find the best potential buyer to achieve the Company's goals. SC&H leveraged its deep knowledge of the company and industry growth drivers to quickly develop materials and design a tailored process for Jamison. 
SC&H accessed the landscape of both private equity and select strategic acquirers to select a targeted group of buyers with the highest probability of achieving both the desired financial outcome and maintaining the Jamison brand and culture. BMP emerged as the ultimate acquirer, bringing along significant potential revenue synergies with Jamison and placing significant value on the team responsible for Jamison's success. 
The transaction will provide BMP additional access into the North American market through Jamison's five locations.  
"The merger of Jamison Door Company with BMP Door is very complementary and positions both companies for continued success," said John Williams, Chairman and CEO of Jamison. "We are grateful for the deep level of insight and support provided by the SC&H Capital team during this important process."