SC&H Capital Advises in the Sale of Marine Technologies to Ballard Marine Construction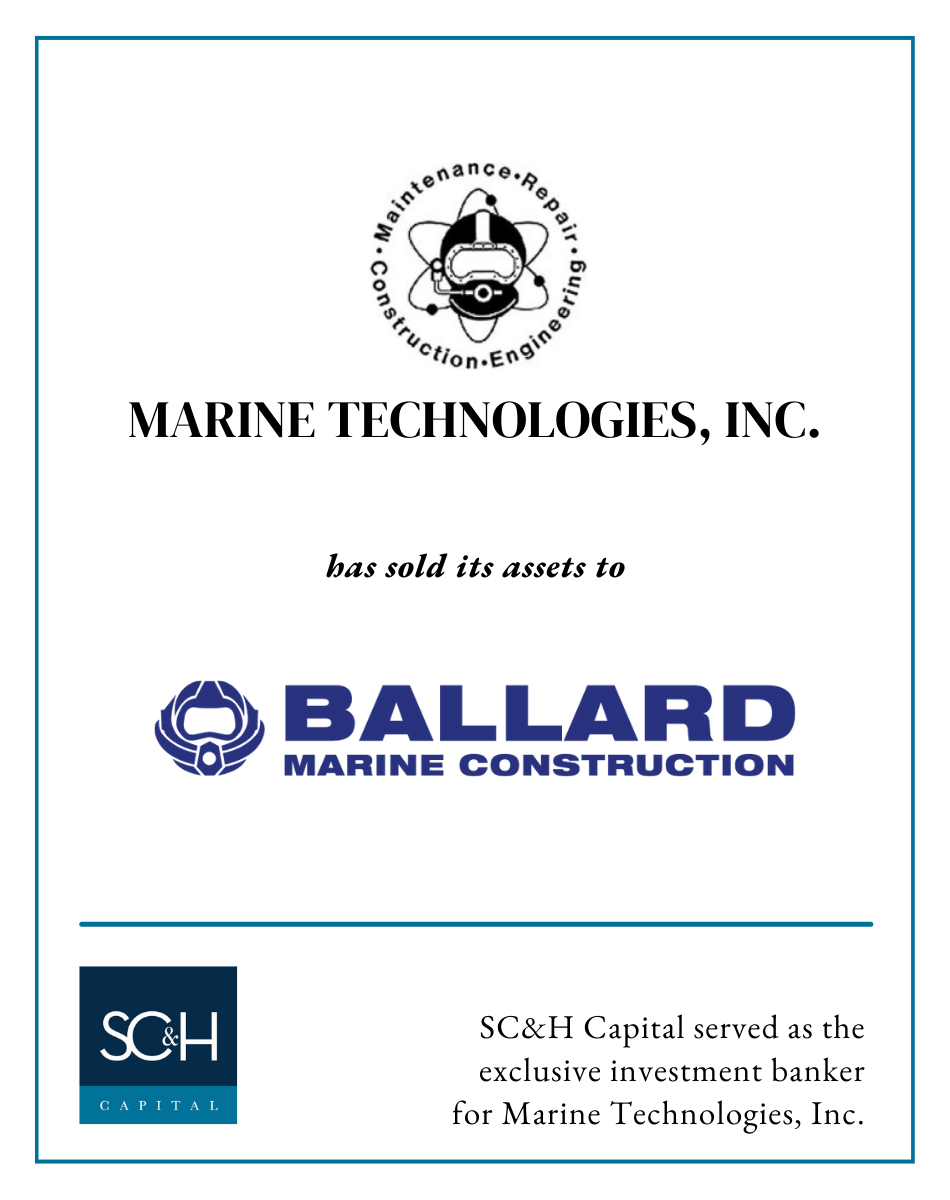 TRANSACTION LEADERS
Marine Technologies, Inc. ("MTI") is a 30-year-old Baltimore, Maryland-based marine services company that provided heavy, marine, and underwater construction services to government agencies, municipalities, and a host of other private and industrial clients in the Baltimore/Washington area. After the CEO's passing in 2017, his wife, Lisa Clarke, assumed the role of CEO while the existing management team continued business operations.  
From 2017 to 2020, the primary objective for MTI was to fulfill the contract backlog; however, in their efforts to execute customer service, not enough emphasis was placed on bringing in new contracts. Between 2020 and 2021, Clarke's daughter joined the team and the two brought in a new COO. With additional leadership, they experienced some success reducing overhead and winning more profitable contracts. Nonetheless, a large portion of the contracts in place were with public agencies, which meant in excess of $5M in bonding liability. Clarke was not inclined to maintain or increase that figure for MTI to continue to operate.   
As such, in January 2022, MTI engaged SC&H Capital to find a buyer that would complete all existing contracts, eliminate the outstanding bonding liability, and provide continued employment for the MTI's 60-plus loyal employees. 
SC&H conducted an exhaustive marketing process that identified over 45 interested buyers. Over the course of the sale process, SC&H generated letters of intent (LOIs) from several potential buyers and MTI ultimately chose to sell to Ballard Marine Construction, LLC, a Washougal, Washington-based specialty marine and underwater contractor. With a history of working in the heavy civil marine construction industry since the 1970s, Ballard was best suited to continue MTI's legacy and operations in the Baltimore area, including hiring the majority of MTI's employees. 
The transaction helped to preserve a family's 30-year legacy while maximizing the return from the business the CEO and her husband built.