Helping Expand Shreveport Medical Center's Resources to Regional Patients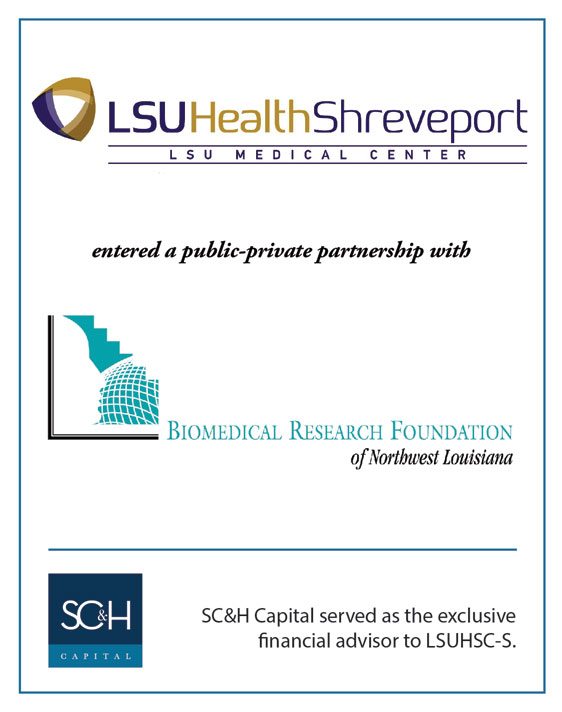 TRANSACTION LEADERS
Transaction Highlights
SC&H Capital served as a financial advisor to Louisiana State University's Health Sciences Center at Shreveport (LSUHSC-S) through its privatization deal in Louisiana.
In light of provisions within the Affordable Care Act, SC&H Capital helped LSUHSC-S enter into a public-private partnership with the Biomedical Research Foundation of Northwest Louisiana (BRF), a knowledge-based economic development initiative.
SC&H Capital also created a strategic plan with management and the acquirers for areas of potential increased revenues and identifiable cost saving opportunities under a new structure. This helped the hospital maintain operations and fund staff through new payment mechanisms and accelerated processes.
Shreveport Medical Center is one of two acute care hospitals, including the E.A. Conway Medical Center, for which SC&H Capital provided strategic planning for a public-private partnership.
About Our Client
Louisiana State University Health Sciences Center at Shreveport is Louisiana State University's regional medical center and teaching hospital comprised of three acute care hospitals: LSU School of Medicine, LSU School of Allied Health Professionals, and LSU School of Graduate Studies. Shreveport Medical Center was a 459 licensed-bed hospital.
Client Experience
"SC&H Capital and i3 Healthcare Consulting provided the critical insights and advice to LSU which enabled this complex process to be successful for the multiple constituents involved; the educational leaders, governmental agencies, and several very concerned and involved communities."
-Dr. Hugh Mighty, Vice Chancellor for Clinical Affairs, LSU School of Medicine