SC&H Capital Advises Blue Jay Consulting on its Acquisition by Philips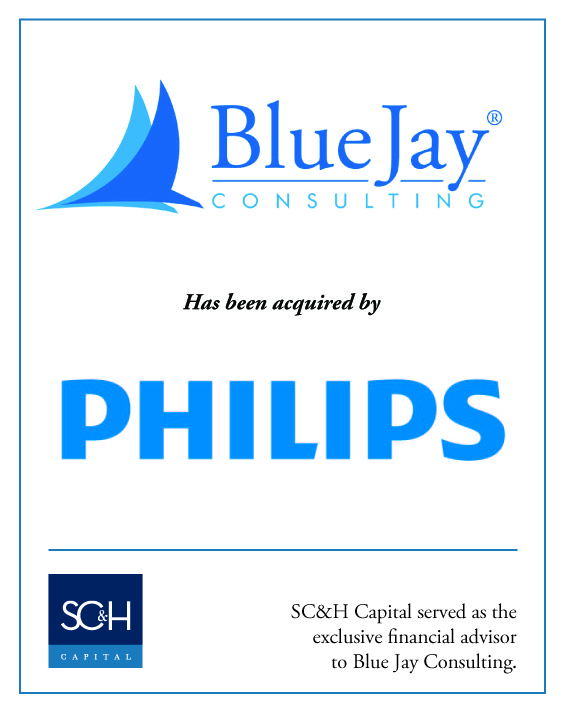 "

We are very thankful for the advice and expertise provided by SC&H Capital during the entire acquisition process. Greg Hogan and his team provided us with the guidance we needed to reach a successful transaction for Blue Jay Consulting, our clients, and our employees."

Mark Feinberg

Managing Partner

Blue Jay Consulting
Headquartered in Orlando, FL, Blue Jay Consulting is a leading provider of consulting services to hospital emergency departments in the U.S. The Company's highly successful consulting practice offers its clients a comprehensive suite of outcome-oriented solutions including performance assessment, process improvement, interim staffing and coaching services.
In order to take the Company to the next level, the partners of Blue Jay Consulting needed to find a larger platform that would help accelerate growth and provide additional depth to their organization. SC&H worked with Blue Jay Consulting to identify potential strategic partners that not only provide a platform for growth but enhanced the Company's capabilities and services. Royal Phillips, a leading health technology company, provided the perfect partner and created a win-win for both companies.
This acquisition will strengthen Phillip's healthcare consulting services in the U.S. Following the closing. Blue Jay Consulting will become part of Philips' Healthcare Informatics, Solutions and Services business, which offers hospitals and health systems leading consulting, education and design services, customized clinical programs, advanced data analytics, and interoperable cloud-based platforms necessary to implement new models of care.
SC&H Capital served as the exclusive financial advisor to Blue Jay Consulting, LLC in its acquisition by Royal Philips (NYSE: PHG, AEX:PHIA).