Next-Level Insights within Near-Term Reach
Implementing a new cloud ERP system requires in-depth considerations beyond just the technology itself. It is a far-reaching, organization-defining event where you transform your current processes into an ERP system built around best-in-class processes
Our Accounting Solutions team takes the time necessary to understand your organization's short- and long-term objectives, and requirements, to configure Sage Intacct to work in the most effective and efficient manner possible.
We understand that your system needs to be able to adapt to ever-evolving and place an emphasis on delivering a product that is built to your specifications.
OPTIMIZING PERFORMANCE: Make your team more insightful, and more productive.
DRIVING RESULTS: Be in a position to drive growth, not just observe it.
GAINING SOPHISTICATION: Access anywhere, from any device, that easily connects with other solutions.
Your needs may change as your business grows, but, with Sage Intacct's open API and robust Marketplace, you will have the choice of seamless integrations that are all "true cloud" technologies – including payroll, HR, CRM, a driver-based budgeting and planning module, and more.
Our Team
Through our partnership, you gain access to seasoned professionals that have led hundreds of implementations for start-ups to Fortune 1000 companies, in industries spanning everything from professional services to non-profits.
We bring the best of all worlds to your SMB's finance operation: coverage on the fundamentals, clarity on complex rules, and cohesion to the process. Our team will help you gain the speed, accuracy, visibility, and flexibility required to take your organization to the next level of financial management.
Our Proven Process
While we're working with accounting and finance systems, the core of our focus is on your strategic business objectives – we work inside out from there. We don't just implement a technology, we build a solution.
To start out, we'll review your current processes and agree on a path that affords you the ability to operate with a level of sophistication previously unattainable using spreadsheets or entry-level or outdated accounting solutions. By leveraging our business process improvement experience, we are able to fine tune practices that meet your evolving needs.
We've built an implementation framework that is based on a proven methodology consisting of phases, tasks, and key milestones throughout the project. With a plan rooted in definition and discovery, we're able to identify the highest-value approach to implementing the solution tailored to meet your organizational needs.
We understand the organizational impact of transformational finance projects of this nature, and when we're doing our job, it frees you up to do yours.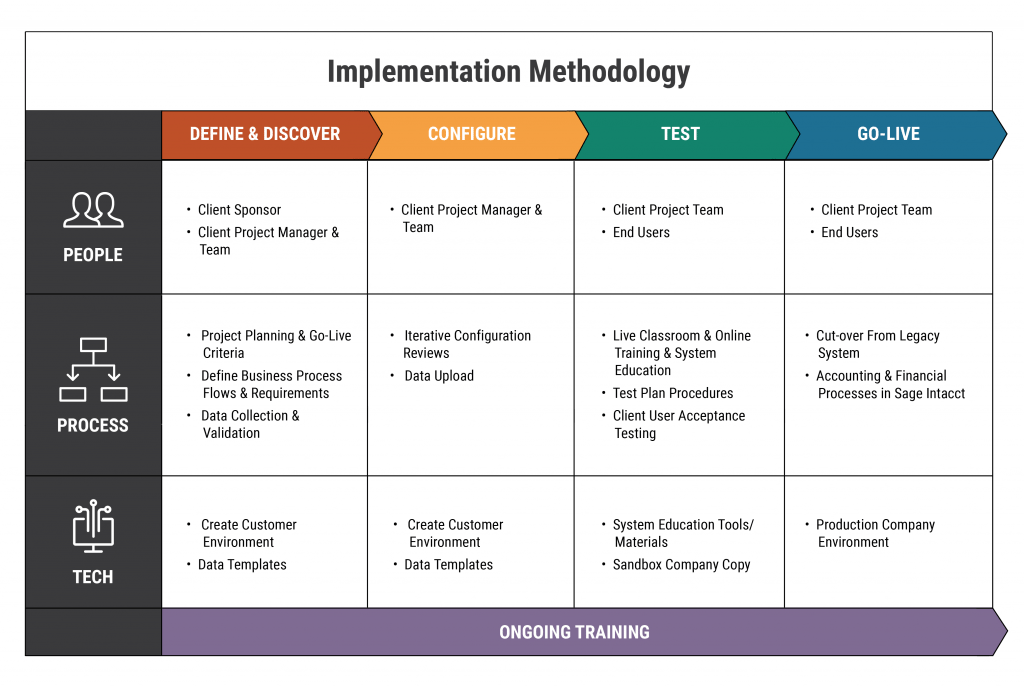 Transformational Benefits
Backed by a tailored approach and depth of experience, we arm you with insights and information throughout the project's lifecycle to deliver a dependable, long-term ERP cloud solution that suits your business needs and desires.
We've seen many of our Sage Intacct clients experience the following benefits when engaging SC&H as their implementation partner:
Increased employee productivity
Shortened financial cycles
Tighter financial controls
Better audit trails
Reduced time to find information and attachments
More in-depth reporting and analysis resulting in better decision making
Reduced risk of user error and incorrect information
Ability to keep up with the latest technology due to a true cloud platform
Streamlined processes, integrated across departments