The 7 Myths of Contract Compliance Auditing Every Procurement Professional Must Know [Infographic]
By: SC&H Group
While many organizations are fully embracing the use of contract compliance audits, just over 50 percent are still holding back, according to a recent Aberdeen Group Research report. The reason? Widespread misconceptions exist regarding contract compliance audit requirements and results. The Infographic below separates myth from reality to help procurement professionals maximize supplier efficiency, communication, and savings.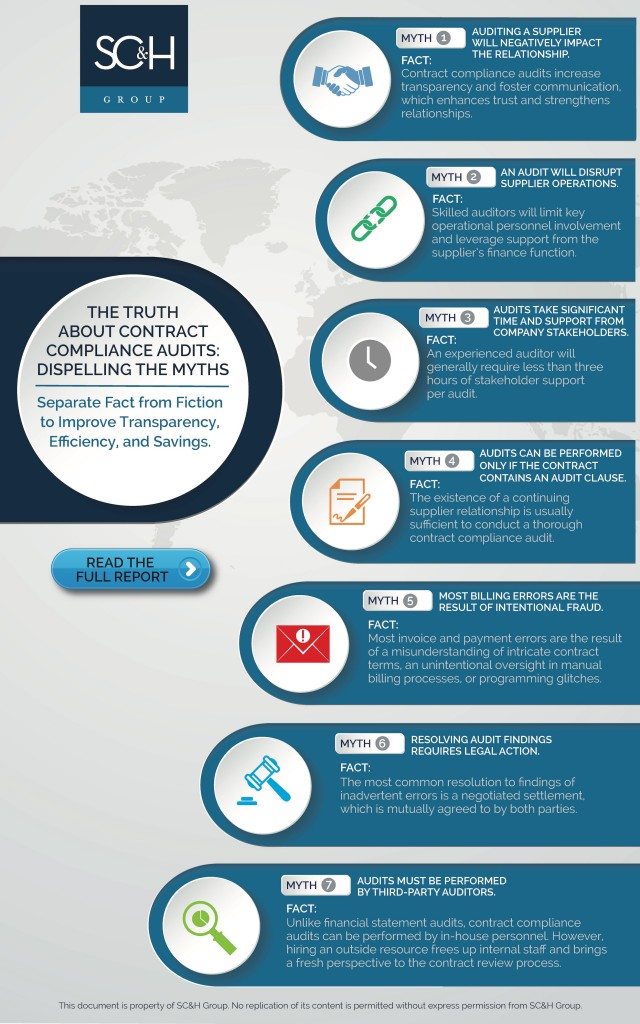 With today's rising competitive and cost-cutting pressures, a well-executed contract compliance audit can be an effective tool to help organizations:
Increase supplier transparency
Enhance alignment between contracts and operations
Improve communication and processes
Strengthen internal controls
Recover overpayments
However, procurement professionals are often hesitant to implement contract compliance audits. Why? Widespread misconceptions exist regarding contract compliance audit requirements, results, and benefits.
Here are seven common myths surrounding contract compliance audits:
Myth #1: Auditing a supplier will negatively impact the relationship.
Myth #2: An audit will disrupt supplier operations.
Myth #3: Audits take significant time and support from company stakeholders.
Myth #4: Audits can only be performed if the contract contains an audit clause.
Myth #5: Most billing errors are the result of intentional fraud.
Myth #6: Legal action is required to resolve audit findings.
Myth #7: Audits must be performed by third-party auditors.
Which myth is holding you back from realizing the substantial short-and long-term benefits of a contract compliance audit?
Our report, The Truth About Contract Compliance Audits: Dispelling the Myths separates fact from fiction, and provides the reality of each myth. By overcoming these misconceptions, procurement professionals and senior executives can work together to improve supplier transparency, efficiency, and savings.
If you'd like to speak with our contract compliance specialists about how audits can help your organization, please contact us here.