OneStream Software has quickly revolutionized the Corporate Performance Management space with its innovative platform. The following key elements represent why OneStream has become such a force in this space and why SC&H has partnered with OneStream.
Unified Platform
The OneStream XF SmartCPM™ Platform is a one-stop shop for many different finance, accounting, and operational needs including: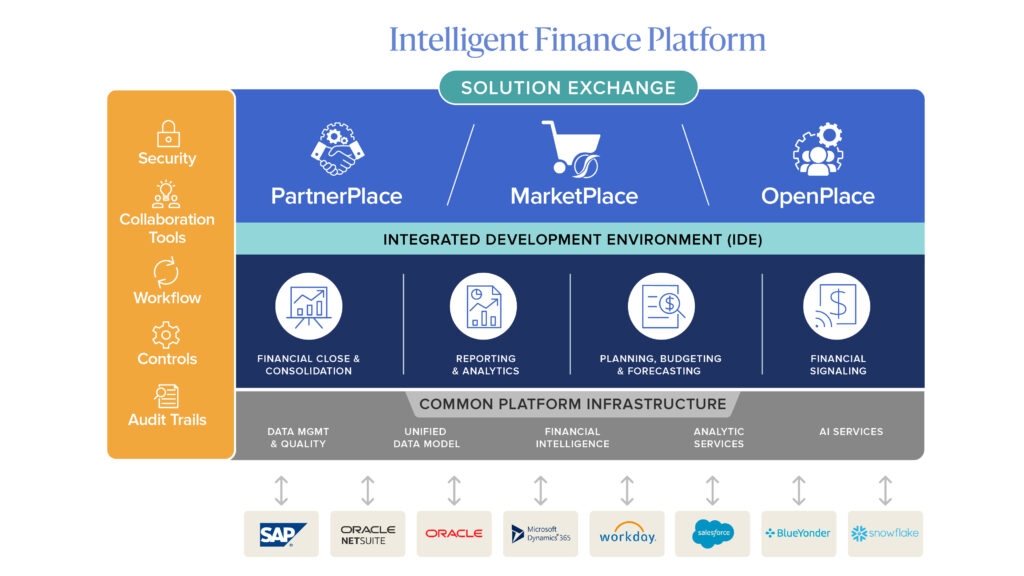 The unified platform eliminates the risks associated with managing and upgrading fragmented CPM applications. It also eliminates risks associated with complex data integrations and validation issues between antiquated and fragmented products.
Extensible Dimensionality™
Extensible Dimensionality™ is a unique differentiator for OneStream. It provides a mechanism to manage metadata at different levels of detail for various purposes within the solution. For example, any business unit can do the following:
Statutory Reporting – perform consolidations at a different level of detail than other business units or the corporate office while maintaining accuracy in the consolidation process
Budgeting and Planning – complete the budget/plan at a lower level of detail than the corporate budget requires while maintaining accuracy in the consolidation/aggregation process
Extensible Dimensionality™ provides the ultimate level of flexibility in designing and building a solution for your organization at any level while still maintaining the accuracy and traceability of the financial reporting process.
XF MarketPlace™
The OneStream MarketPlace™ provides each organization an opportunity to extend its OneStream investment with a variety of downloadable and configurable solutions. The list of solutions is constantly growing and includes a wide variety of options to add value to your deployment. Here are a few of the highlights:
Account Reconciliations
People Planning
Task Manager
Tax Provisioning
Thing Planning
Capital Planning
Reporting Compliance
Guided Reporting
While some of the solutions will require configuration, many are plug-and-play and function like an app download on your smartphone or tablet. Time-to-value in many instances is immediate and as the list grows this feature will consistently add value to your overall OneStream investment.
Industry Recognition
Over the last several years, the industry accolades for OneStream have been significant. From Gartner and Inc. to Deloitte and Capterra, OneStream is consistently recognized for the value provided by its platform and company. Most recently in 2019, OneStream was named a Gartner Magic Quadrant Leader for Financial Close and Consolidation, and in 2020 OneStream was named a "Best Workplace" by Inc.
The Inc. "Best Workplaces" recognition is determined by a survey of over 3,000 companies on topics such as trust, management, effectiveness, perks, and confidence in the future. SC&H is recognized as an Inc. Best Workplace (2018-2023), further articulating the alignment between our organizations and culture.

Customer Success and Referenceability
As a software company, OneStream's end-users are the lifeblood of its business model and mission statement. As such, OneStream takes a unique approach to customer referrals. An organization considering OneStream is given a list of every existing customer and can call anyone. The list includes the names of the customer including details about the system they replaced and the OneStream implementation. We have not found a single example of another software company that offers this approach to customer references.
Elevate Enterprise Reporting
and Analytics
Learn how to maximize your investment with a OneStream and Power BI integration.
Schedule a 1:1 Demo