Authored by Shane Cavanaugh | Financial Advisor, SC&H Financial Advisors, Inc.
What is Maryland House Bill 107, and why does it matter?
Maryland enacted new legislation in 2022 for homeowner and residential condominium associations, cooperatives, and other similar housing associations. Maryland House Bill 107 sets statewide regulations for reserve funding requirements and calls for these associations to conduct regular reserve studies to ensure compliance.
The current guidelines require that the reserve study be updated at least every 5 years. The impacted associations cover a variety of multi-unit dwellings and neighborhood associations which require compliance with the reserve study within 3 years following the delivery of results outlining annual funding requirement guidance.
Who does Maryland House Bill 107 affect?
We expect to see an impact on people who own condominiums, particularly in areas that are dense with multi-unit residential developments, such as Ocean City, Maryland, or the Delaware beaches. This can also have an impact on those who serve on neighborhood homeowners association (HOA) boards, who now find themselves with new responsibilities and regulatory timeframes in which to ensure compliance. The minimum common asset level for HOA's to be covered by the new bill is $10,000.
In either case, there may be a significant discrepancy between current reserves and the level the reserve study identifies as optimal. To maintain compliance with the new reserve requirements, HOAs, and condominium associations may find it necessary to:
Increase association dues temporarily or even permanently
Implement a temporary surcharge on dues to meet reserve requirement
Seek other alternatives to maintain compliance with the new reserve requirements
We see the potential for significant special assessments and large reserve shortfalls, which along with sharply increasing interest rates, may put even more downward pressure on housing prices and an increase in units coming to the market.
Are You Ready For a Better Investment Experience?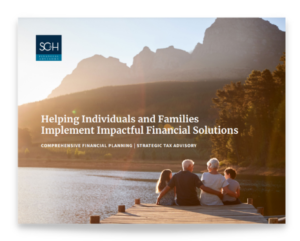 Download our Informational Booklet
When does enforcement of Maryland House Bill 107 start?
Some counties within Maryland have already been enforcing similar reserve requirements, but House Bill 107 now standardizes the law across the state. Prince George's County and Montgomery County were the first two jurisdictions to implement a similar code and therefore had earlier compliance deadlines of October 1, 2021, and October 1, 2022, respectively.
All other impacted Maryland associations must comply by October 1, 2023. At the time that this blog was written, the state has not yet outlined specific enforcement or tracking guidelines for House Bill 107, but we can expect HOAs and associations who miss funding or reporting deadlines to face fines and/or other state sanctions.
If you believe these regulations impact you, we encourage you to address these concerns with your HOA or condominium association board as soon as possible. For those who serve on HOA or condominium association boards, you should work to address these requirements very soon, as we expect that individuals and firms who are qualified to perform the required reserve studies may have limited capacity due to the volume of work required to meet the 2023 deadline.
If you have any questions or would like to speak with one of our team members, please do not hesitate to reach out to the SC&H Financial Advisors team.
---
Advisory Services offered through SC&H Financial Advisors, Inc. SC&H also offers advisory services through the doing business as name of SC&H Core. SC&H Financial Advisors, Inc. is a wholly owned subsidiary of SC&H Group, Inc.
The information presented is the opinion of SC&H Financial Advisors, Inc. and does not reflect the view of any other person or entity. The information provided is believed to be from reliable sources but no liability is accepted for any inaccuracies. This is for information purposes and should not be construed as an investment recommendation. Past performance is no guarantee of future performance.