Leverage the Power of Hybrid BSO for Crying Out Loud!
March 10, 2020 SC&H Group
EPBCS fans everywhere can rejoice — Hybrid mode is now available in the cloud! Last year, we published a blog post about Hybrid Essbase, and Hybrid in the cloud offers much of that same functionality. If you currently have an EPBCS application or are considering Oracle Enterprise Cloud, you can reap the benefits of Hybrid mode!
What is Hybrid BSO?
Hybrid BSO combines the full calculation abilities of the Essbase BSO technology with the dynamic sparse aggregation abilities of the Essbase ASO technology. This means that, in theory, both the calculation needs and the consolidated reporting needs in an EPBCS application can be met in one cube, creating a more agile application with a higher level of usability.
How to Convert to Cloud Hybrid BSO
Step 1: Convert application from PBCS to EPBCS
If you are looking to enable Hybrid mode for your PBCS application, you will first need to convert it to an EPBCS application. This can be done by navigating to the Overview page of the Application section, clicking Actions, and selecting Convert to Enterprise.
Step 2: Update Essbase and Enable Hybrid Mode
Once your PBCS application has been converted to an EPBCS application, you can enable Hybrid mode. If Essbase is not updated with the newest Essbase 5xx version, a Service Request (SR) will have to be submitted to Oracle requesting both the Essbase update and Hybrid mode enablement. If you already have the latest version of Essbase, navigate back to the Overview page of the Application section and click Actions, and then click Enable Hybrid Mode. It is highly recommended that an LCM backup be taken before enabling, as Hybrid enablement cannot be reversed once initiated. The only way to revert to the normal BSO/ASO model is to remove the Hybrid application and import an older snapshot.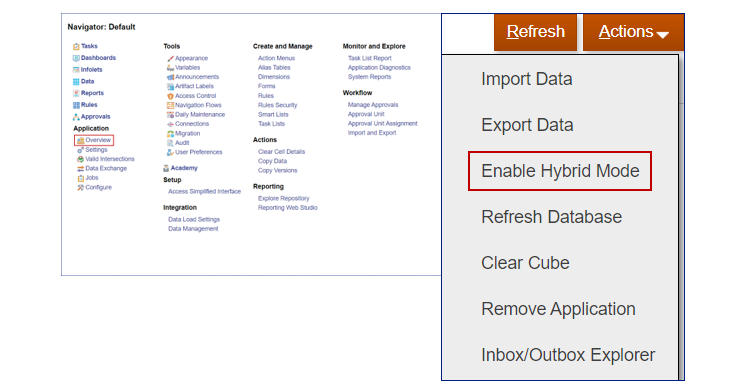 While the enablement process is running, you may receive a message box indicating that your application has errors and warnings. In the cloud version of Hybrid mode, certain validation thresholds and best practices must be met. The indicated thresholds vary but they usually address block properties, usage of certain calculation functions, and the number of members and dense dimensions. The enablement process will not complete until all errors have been resolved within the EPBCS application. While warnings do not impede the enablement process and are not required to be resolved, it is highly suggested that they also be addressed during this time.
A database refresh will automatically be initiated after successful Hybrid enablement and, upon completion, your application will officially be in Hybrid mode. To view all post-validation warnings, navigate to the Jobs page of the Application section. It is also recommended that an additional database refresh be manually initiated, as the first manual refresh after Hybrid mode enablement can take longer than a normal refresh.
Benefits of Converting to Cloud Hybrid BSO
Converting to Hybrid BSO may reduce data import/export times and improve cube refresh times. It may also reduce your database and application size, improve business rule performance, and eliminate the need for Smart Pushes.
We have put Hybrid BSO to test with one of our client applications that had 12 dimensions (including 9 sparse), in which a partially dynamic Hybrid design was deemed to be the best solution. After changing the parents in 5 sparse dimensions from Store to Dynamic Calc, we were able to improve sparse database refresh speeds by 66% and reduce data copy times by 30%.
The biggest win with Hybrid was eliminating the need for Smart Pushes. By enabling Hybrid BSO and writing a business rule to aggregate the remaining sparse dimensions, we were able to replicate the aggregation abilities of the ASO in the Hybrid BSO with a faster completion time than a typical Smart Push. This provided quicker access to Smart View queries and financial reports. Therefore, the ASO cube was no longer needed for consolidated reporting. Removing the members and data from the ASO helped to reduce the database refresh time by an additional 20%.
There are key considerations when utilizing Hybrid mode. Slow performance due to lack of Hybrid support for certain BSO calc functions and possible ASO member formula rewrites for the BSO are common obstacles when converting an EPBCS application to Hybrid mode. Additionally, you may not always be able to completely disable the use of the ASO cube for reporting. While the goal may be to transfer all ASO aggregation and reporting capabilities to the Hybrid BSO, not every application will have this capability. Applications vary, so testing different configurations is always a best practice.
Make the Change
Leveraging the full power of Hybrid BSO can take your reporting and analysis to the next level. Not only does it make your application more dynamic, but it could make it faster and more user-friendly. If you have been waiting for Hybrid mode to reach the cloud before jumping on board, there has never been a better time to make the on-prem to cloud transition! If you have any questions, feel free to reach out to our team!