Managing Your Projects Shouldn't be a Project: Configuring Oracle EPBCS Projects Module to Fit Your Business
May 21, 2018 SC&H Group
Anyone who has done financial planning in Excel knows that it can quickly become a burden and almost impossible to manage. This is not just the case for managing the P&L or Balance Sheet, but is also true for tracking projects. While at first it may be manageable to track projects in Excel, as the number of projects grows and the complexity involved in tracking these projects increases, this Excel process can get out of hand very quickly.
Enter: Oracle's Enterprise Planning and Budgeting Cloud Service (EPBCS) Projects module. This unique module is an organized and powerful engine to track, manage, and analyze projects of all types. The Projects module is highly configurable to meet your business's needs, while the out-of-the-box functionality allows for easy implementations, user friendliness, and powerful analysis.
Enabling Projects
Enabling and configuring the Projects module is really just a few clicks away. Simply select the desired options from the Enable Features screen and you're ready to go. Your selections will be used to create a module that is best suited to fit your business's needs. We will walk you through each of the selections and provide some guidance of what each entails.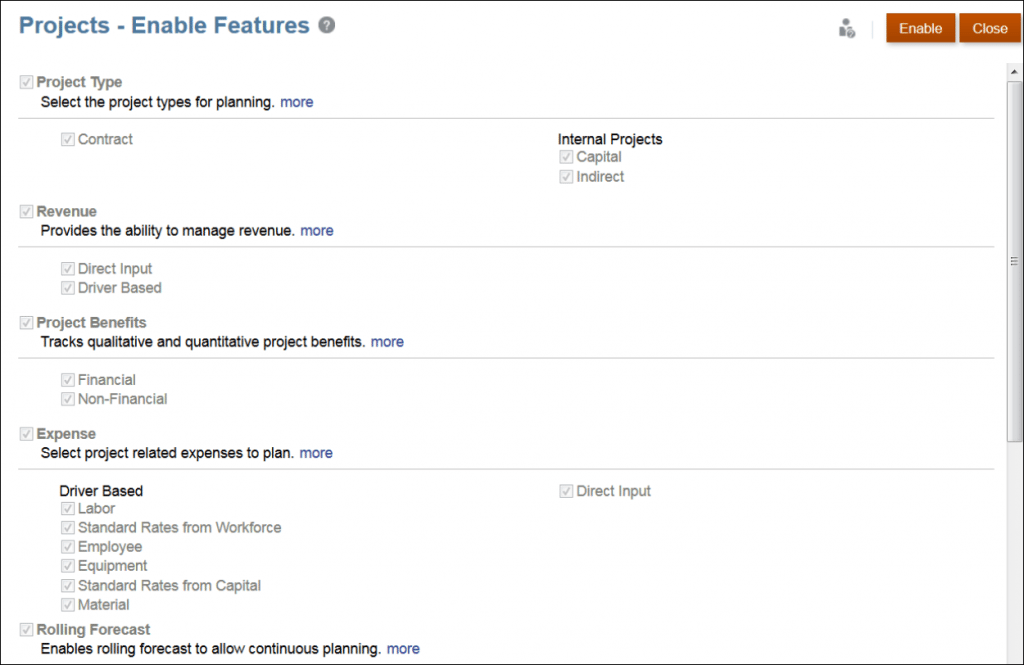 Project Type
The Project Types available in the Projects module are Contract Projects, Capital Projects, and Indirect Projects. Contract projects are further categorized by Cost Plus Projects, Time and Materials Projects, and Fixed Priced Contracts. You can enable additional projects types later, so only select the project types that you currently need.
Revenue
Revenue planning features are only available for Contract projects. Building up these projects can either be completed through Direct Input or a Driver Based model that utilizes revenue drivers and global assumptions.
Project Benefits
Project Benefits features are only available for non-revenue generating projects:, such as Capital Projects and Indirect Projects. While a project may not directly generate revenue, you can still analyze its benefits – both financial and non-financial – to help justify the need for the project. For example, let's say your company redesigns its website. A non-financial benefit of that project could be the increased customer satisfaction from your more user friendly website.
Expense
Similar to Revenue planning, Expense planning can be done through Direct Input or a Driver Based model. When only enabling the Projects module, you utilize driver based expense planning for Labor and Materials. In order to use other modeling, such as Standard Rates from Workforce and/or Employee Level Detail, the Workforce module must be enabled. If you are interesting in incorporating  Standard Rates from Capital and/or Equipment Detail, the Capital module must be enabled.
Rolling Forecast
The Rolling Forecast functionality can be used monthly, for 12, 18, or 24 months, or quarterly for 4, 6, or 8 quarters. When the Time Period is updated, the Forecast Range will update accordingly to allow for a smooth rolling forecast process.
Map/Rename Dimensions
This section allows you to add custom dimensions to the application, map existing dimensions to the Projects module, and rename base dimensions. You should only enable the dimensions that you need for the best application performance and usability; however, once the Projects module is enabled you cannot go back and add any new dimensions.
The Project dimension stores the main project information and is organized by project type. Hierarchies for all project types, even those not selected, will be created so that you can utilize them in the future as your project tracking requirements expand.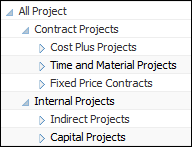 Resource Class is used to manage different types of drivers. For example, if the Capital module is integrated with the Projects module, the Resource Class dimension will be populated with the Equipment hierarchy. Don't worry, even if the other modules are not enabled you can still manually load members to the hierarchy.
The Project Element dimension stores detailed line items of the revenues and expenses that build up a project's P&L.
The Program dimension, which is an attribute dimension, allows you to organize projects into different groups to facilitate efficient and effective reporting.
The Vendor dimension allows you to plan expenses for a project by specific vendors.
The Phases dimension allows you to plan for a project by its different project stages.
The Program, Vendor, and Phases dimensions can all be repurposed or renamed. For example, if you have an already existing Department dimension you can map the Phases dimension to Department. This allows you to continue to utilize dimensions that are important to managing your business.
Post Enabling
Once enabled, the application will automatically create metadata, web forms, dashboards, calculations, and reports based on your selections. If at a future time you decide to add additional features, the application will again create the necessary artifacts to meet your project planning needs.
Look out for another blog post on how to best utilize your now fully enabled Projects module, coming soon!