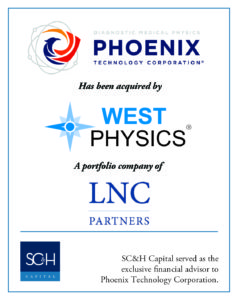 Transaction Marks the 4th Successful Engagement in the Medical Physics Industry for SC&H Capital
SC&H Capital, a leading investment bank specializing in M&A advice for middle market companies, is pleased to announce the acquisition of its client, Phoenix Technology Corporation, by West Physics.
Founded in 1973, Phoenix Technology Corporation (PTC) has been the premier diagnostic medical physics provider in the Southeast as a market leader and innovator in radiation safety related solutions. PTC's services include diagnostic imaging, nuclear medicine, shielding, and accreditation services for major hospitals, imaging centers, and private practices.  Led by Gregory Heathcock, the PTC team including Sandy Paige, Michael Cuddy, and Rosa McTee will all continue in their roles to lead the PTC business as part of West Physics.
"We are very excited to join forces with West Physics and continue to offer the highest level of quality technical medical physics services to our customers," said PTC's President, Gregory Heathcock. "The combination of Phoenix Technology Corporation and West Physics will undoubtedly be a win for our customers, as it provides us with expanded capabilities, expertise, and depth of experience, while allowing us to maintain our long-standing focus on excellent customer service.  We look forward to taking these combined capabilities to market to accelerate our growth potential."
"Given the ever-increasing level of sophistication and expertise demanded by hospital systems of their physics providers, this transaction significantly enhances the market position of the combined company," said Greg Hogan, the SC&H Capital Director who advised PTC in the transaction. "PTC is a well-recognized, high quality provider in the diagnostic physics market in the Southeast and the combination with West Physics, a leading provider of diagnostic medical and health physics services nationwide, creates a great opportunity for the continued growth of the combined entities."
"SC&H Capital's M&A experience and industry relationships were invaluable," said Heathcock. "Their knowledge of the medical physics M&A market helped our shareholders in selecting the best partner, negotiating the transaction, and getting through the diligence process.  Greg and his team led the way, and we could not be more pleased with the outcome."
Both PTC and West Physics are privately held.  West Physics is a portfolio company of LNC Partners. Terms of the transaction were not disclosed.
About SC&H Capital
SC&H Capital, an affiliate of SC&H Group, is an investment banking and advisory firm providing merger and acquisition (M&A), employee stock ownership plan (ESOP), capital raising, and business valuation solutions to middle market and growth companies nationwide. SC&H Capital delivers investment banking and advisory services across numerous industries including technology, healthcare, manufacturing, and government contracting to help owners achieve their exit planning goals and liquidity objectives. To learn more visit www.schcapital.com.