The Leach Wallace acquisition illustrates the continued trend of M&A in healthcare and healthcare-related industries, as well as the ongoing consolidation trend for engineering services firms.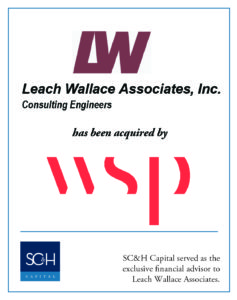 SC&H Capital, a leading investment bank specializing in M&A for middle market companies, is pleased to announce that its client, LeachWallace Associates, Inc. (Leach Wallace), has been acquired by Canadian based WSP, a leading global engineering and design firm.
This strategic acquisition by WSP creates the largest pure-play healthcare engineering practice in North America and expands WSP's geographical presence in the United States.
"The acquisition of Leach Wallace brings complementary engineering expertise which will cement WSP's offering in the healthcare market," said Matthew Roberson, Director with SC&H Capital.  "We designed and executed a robust process for Leach Wallace to find the best acquirer who shares the Firm's culture and focus on quality and customer service.  The transaction was a clear win for everyone."
"We hired SC&H Capital to help us find the best possible buyer that would meet a number of highly selective criteria established by Leach Wallace shareholders," said Robert Banas, President of Leach Wallace.  "SC&H ran a global M&A process that yielded multiple competitive options, allowing us to select the absolute best fit."
"Matt Roberson and his team understood exactly what we required in a partner, and delivered the M&A expertise, international buyer reach, and individualized attention we wanted in an investment bank," Banas continued. "We could not be more pleased with our selection of SC&H and the outcome they delivered."
Leach Wallace is a leading provider of mechanical, electrical and plumbing engineering design services focused on the healthcare sector. Since it was founded in 1990, Leach Wallace has built a network of key healthcare clients by providing personalized solutions on each engagement and has built an unparalleled understanding of the unique aspects of engineering design services specific to the healthcare industry.
WSP (TSX: WSP), headquartered in Montreal, Canada, is one of the world's leading professional services firms, with approximately 48,000 talented people globally and 9,500 in the United States.  WSP provides engineering and design services to clients in the Transportation & Infrastructure, Property & Buildings, Environment, Power & Energy, Resources and Industry sectors, as well as offering strategic advisory services.
SC&H Capital served as the exclusive financial advisor to Leach Wallace.
About SC&H Capital
SC&H Capital is an investment banking and advisory firm providing merger and acquisition (M&A), employee stock ownership plan (ESOP), capital raising, and business valuation solutions to middle market and growth companies nationwide. SC&H Capital delivers investment banking and advisory services across numerous industries including technology, healthcare, manufacturing, and government contracting to help owners achieve their exit planning goals and liquidity objectives.
Securities offered through SC&H Capital Corporation, member FINRA/SIPC.
Media Contact
Contact our media representative below for information regarding SC&H's services and our areas of expertise.
Elysia McEwen
Account Executive