Tyto Athene significantly expands its Intelligence Community service capabilities
SC&H Capital, a leading investment bank specializing in M&A advice for middle market companies, is pleased to announce that it exclusively advised Island Information Technology Consultants (IITC) in its acquisition by Tyto Athene, a portfolio company of Arlington Capital Partners.
IITC is a leader in the field of large enterprise Unified Communication and collaboration services specializing in all areas of Audio, Video, Streaming, VTC, Telephony, and Instant Messaging / Chat Services that empower people to communicate effectively and seamlessly. The Company is renowned for providing mission-critical unified communication solutions to the US Intelligence Community.
IITC was founded in 2004 by Dennis and Patti Powell. The leadership team, including Matt Vorsteg, Director of Operations, and Matthew Graham, Director of Business Development, will continue to lead the IITC business as part of Tyto Athene.
"IITC is a high-growth company that capitalized on the market's focus on unified communication as a means for improved collaboration and decision making in complex environments. Tyto's acquisition of IITC validates the value of companies in a leading market position serving key customers," said Matthew Roberson, Director with SC&H Capital. "IITC broadens Tyto's portfolio of capabilities and customer access, while enhancing its mission focused culture."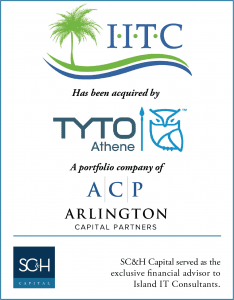 "SC&H Capital's M&A expertise and insight proved invaluable in helping us negotiate this very complicated transaction," said Dennis Powell, CEO and Co-founder of IITC. "From helping us establish a sound valuation, to navigating the landscape of the marketplace, to helping us select a good partner in Tyto Athene, they were there every step of the way. We couldn't have selected a better partner than SC&H."
"I've known the SC&H Capital team from prior deals, and knew that this team was perfect to advise IITC. Their market insight, strategic thinking, and negotiating expertise were critical for us to achieve this success," said Matt Vorsteg, Director of Operations at IITC. "We are thrilled with the outcome the SC&H team delivered."
Tyto Athene is a full-service systems integrator focused on helping clients accelerate their ability to make decisions by providing ubiquitous and secure access to enterprise information throughout their operating environment.  Tyto Athene is backed by Arlington Capital Partners, a $2.2 billion middle market private equity firm.
About SC&H Capital
SC&H Capital, an affiliate of SC&H Group, is an investment banking and advisory firm providing merger and acquisition (M&A), employee stock ownership plan (ESOP), capital raising, and business valuation solutions to middle market and growth companies nationwide. SC&H Capital delivers investment banking and advisory services across numerous industries including technology, healthcare, manufacturing, and government contracting to help owners achieve their exit planning goals and liquidity objectives. To learn more visit www.schcapital.com.
Securities offered through SC&H Capital Corporation, member FINRA/SIPC.