SC&H Capital, a leading investment bank specializing in sell-side M&A and ESOP advisory services, is pleased to announce the successful acquisition of its client, Insight Policy Research, Inc. ("Insight") by Westat.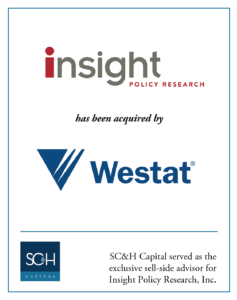 Insight has been one of the most trusted social policy research organizations for more than 20 years. The company's mission is to improve the lives of historically marginalized individuals who face disparities in access to quality healthcare, nutritious food, education, and employment. Insight provides expertise in quantitative and qualitative research, program evaluation, data science, technical assistance and training, and policy support. Founded in 1963, Westat is an eminent leader in research, data collection and analysis, technical assistance, communications, and evaluation that helps government and private sector clients accelerate advancements in health, education, transportation, and social and economic policy. 
"We are excited to join the Westat family and extend our longstanding work improving the lives of people in historically underserved and economically disadvantaged populations. We look forward to offering our clients an even broader range of capabilities and services," said Bryan Johnson, Co-founder of Insight. "As Insight grows beyond our small business roots, I am confident that the entrepreneurial spirit that has defined us will be welcomed and encouraged at Westat," added Co-founder, Anne Peterson. "I want to thank SC&H Capital for advising and guiding us during the entire transaction process. Their ability to help us work through challenging issues was key to reaching a successful closing." 
"We were honored to have had the opportunity to advise Anne and Bryan on this important transaction," said Greg Hogan, Managing Director at SC&H Capital. "Combining forces with Westat represents a great opportunity for Insight to broaden its service offerings to existing customers and expand its reach to new customers. We look forward to the company's future success in the market."   
The transaction was led by Greg Hogan, managing director at SC&H Capital. Offit Kurman served as Insight's legal counsel. The terms of the transaction were not disclosed.   
About SC&H Capital 
SC&H Capital is an investment banking and advisory firm specializing in mergers and acquisitions (M&A), employee stock ownership plans (ESOP), distressed M&A, and business valuations for middle-market companies nationally. SC&H Capital delivers services across numerous industries including technology, healthcare, manufacturing, business and professional services, and government contracting. We are recognized for delivering relevant market insights and tailored solutions to help owners achieve their true strategic value. To learn more, visit www.schcapital.com.