Transaction is the latest cross-border divestiture executed by SC&H Capital
SC&H Capital, a leading investment bank specializing in M&A advisory for middle-market companies, is pleased to announce the acquisition of its client, Glow Networks, Inc., a subsidiary of CSS Corp, by Altruist Technologies Private Limited.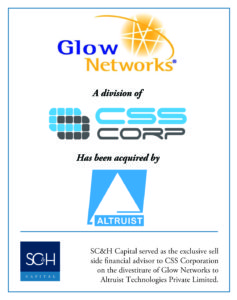 Glow Networks is a leading provider of end to end optical networking solutions and wireless services to telecom OEMs and service providers in the United States and Mexico.  Key service offerings include field support, network design, installation and integration, and validation services.  The buyer, Altruist Technologies, is based in India and is a provider of value-added services to carriers around the globe.
"SC&H Capital provided excellent support and advice to CSS in connection with the divestiture of Glow Networks," said Manish Tandon, CEO of CSS Corp.  "They executed an extremely efficient and effective process to fully survey the global market of potential buyers.  Their efforts allowed our Board to evaluate multiple options and execute a transaction that accomplished the goals of CSS and the team at Glow Networks."
"This transaction is a great example of how the global nature of M&A markets is extending down into the middle-market.  Sellers must evaluate international buyers to ensure optimal outcomes, " said Greg Hogan, a Managing Director at SC&H Capital. "We were very pleased with the opportunity to assist the Board of CSS and the Glow Networks team and look forward to their continued success."
Terms of the transaction were not disclosed.

About SC&H Capital
SC&H Capital, an affiliate of SC&H Group, is an investment banking and advisory firm providing merger and acquisition (M&A), special situations, employee stock ownership plan (ESOP), capital raising, and business valuation solutions to middle-market and growth companies nationwide. SC&H Capital delivers investment banking and advisory services across numerous industries, including technology, healthcare, manufacturing, and government contracting, to help owners achieve their exit planning goals and liquidity objectives. To learn more visit www.schcapital.com.