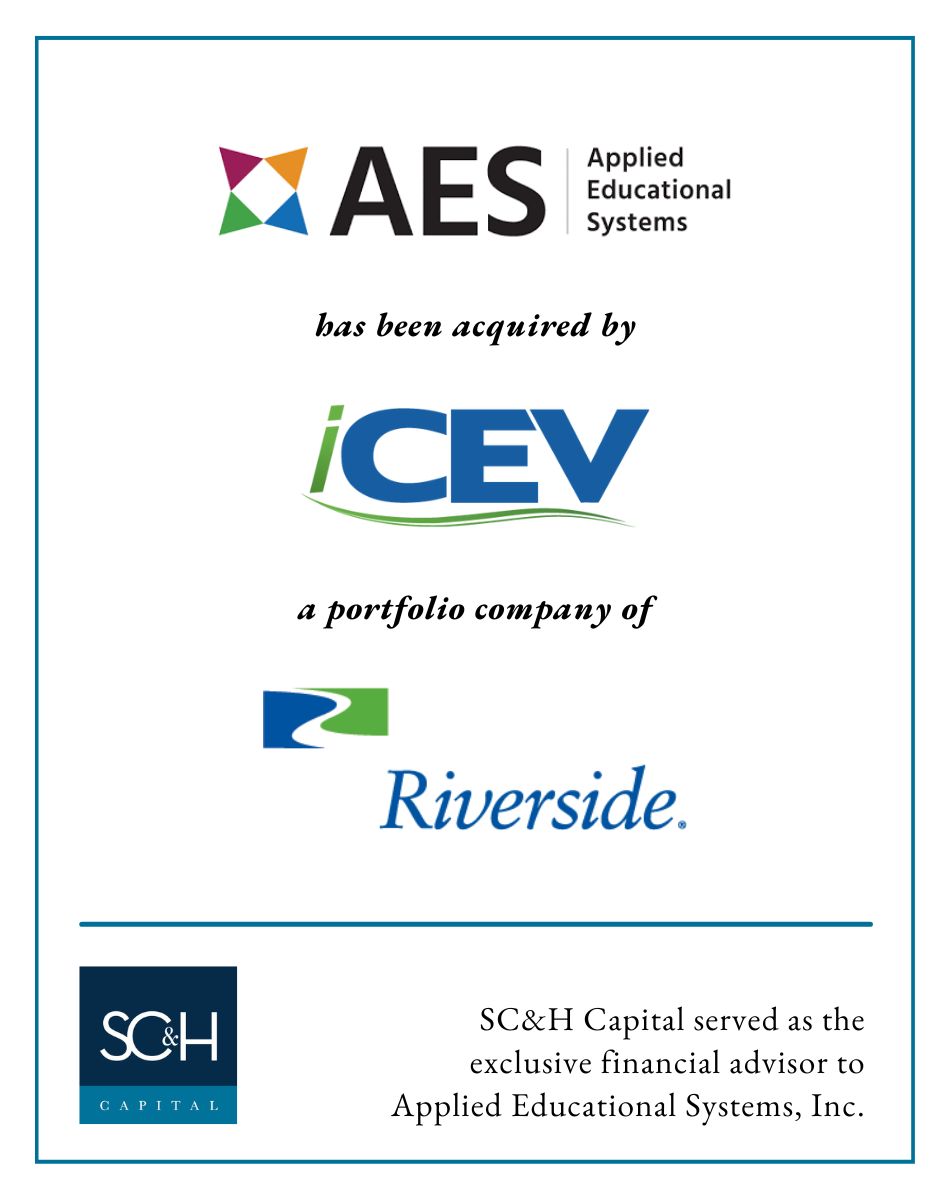 SC&H Capital, a leading investment bank specializing in M&A advisory for middle-market companies, is pleased to announce that its client, Applied Educational Systems ("AES"), has been acquired by iCEV Multimedia ("iCEV"), a portfolio company of The Riverside Company.
"From the outset, SC&H Capital brought a clear understanding of our business as we see it and designed a process that best positioned our SaaS platform in the market," said Jim Schultz, CEO of AES. "Their team served as a true partner to ownership and management, guiding us through the process towards a great outcome for all stakeholders."
AES is a leading provider of digital career and technical education (CTE) content for K-12 schools and career centers. The company has developed a proprietary SaaS platform and learning management system through which it delivers its health sciences, business education, computer applications, and career readiness curricula.
The AES platform was built from a unique blend of management expertise in CTE education, software engineering and development, SaaS principles, and e-Learning instructional design. Today, AES' products are in 2,000 classrooms globally and have served more than 2.1 million students since its inception.
"SC&H provided invaluable guidance throughout the process from the planning and positioning stages to negotiations and the deal closure," said Alex Schultz, Director of Business Operations and Strategy. "As an outcome, we've gained partners in iCEV and Riverside who we're confident will help us accelerate and expand our impact on teachers and students."
"It was a pleasure working with AES on this transaction," said Craig Bowden, Principal at SC&H Capital. "The AES leadership team is an outstanding group of professionals, and we look forward to seeing them continue to grow alongside iCEV in the rapidly evolving CTE software and content space."
iCEV is the most comprehensive online resource for CTE educators and students for several major subject areas, including agricultural science, trade and industrial education, business and marketing, career exploration, family and consumer science, trade and health science, law enforcement, and STEM education.
About SC&H Capital
SC&H Capital is an investment banking and advisory firm specializing in mergers and acquisitions (M&A), employee stock ownership plans (ESOP), distressed M&A, and business valuations for middle-market companies nationally. SC&H Capital delivers services across numerous industries including technology, healthcare, manufacturing, business and professional services, and government contracting. We are recognized for delivering relevant market insights and tailored solutions to help owners achieve their true strategic value. To learn more, visit www.schcapital.com.