SC&H Capital, a leading investment bank specializing in sell-side M&A and ESOP advisory services, is pleased to announce the successful recapitalization and sale of its client, Healthcare Management Solutions, LLC ("HMS" or the "Company"), to an employee stock ownership plan (ESOP).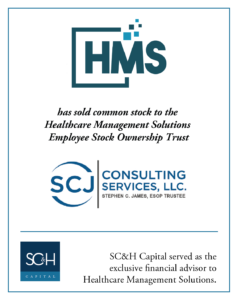 HMS is a provider of IT-enabled healthcare services in the most critical areas of the state and federal healthcare mission. The Company specializes in surveying and inspecting healthcare facilities throughout the United States. Numerous federal and state agencies, such as the Centers for Medicare & Medicaid Services, rely on HMS' expert healthcare quality assurance services to ensure facilities are providing patients and residents with quality care in accordance with federal and state regulations. HMS has over 180 employees located around the country and offices in West Virginia and Maryland.
"I couldn't be happier about transitioning HMS to an employee-owned company. Our employees have always been the heart and soul of what we do for our customers, and I am thrilled to give them the opportunity to benefit from the future success and growth of HMS," said Leah Heimbach, President. "Our long-standing relationship with SC&H Capital and Greg Hogan established trust in their process and expertise, and their guidance in evaluating and executing the ESOP transaction was invaluable in reaching a successful outcome for the employee-owners of HMS."
"The ESOP sale and recapitalization represents the culmination of our sustained relationship with Leah and HMS," said Greg Hogan, Managing Director at SC&H Capital. "We were honored to advise on the transaction and help Leah to make a confident decision that, as the Company experiences continued success, will benefit the HMS employee-owners."
The transaction was led by Greg Hogan at SC&H Capital. Ed Renenger and Paul Fusco of Stevens & Lee served as legal counsel to the company. Financing for the transaction was provided by Firstrust Bank. The terms of the transaction were not disclosed.
About SC&H Capital
SC&H Capital is an investment banking and advisory firm specializing in mergers and acquisitions (M&A), employee stock ownership plans (ESOP), distressed M&A, and business valuations for middle-market companies nationally. SC&H Capital delivers services across numerous industries including technology, healthcare, manufacturing, business and professional services, and government contracting. We are recognized for delivering relevant market insights and tailored solutions to help owners achieve their true strategic value. To learn more, visit www.schcapital.com.