KeraLink International Acquired by CorneaGen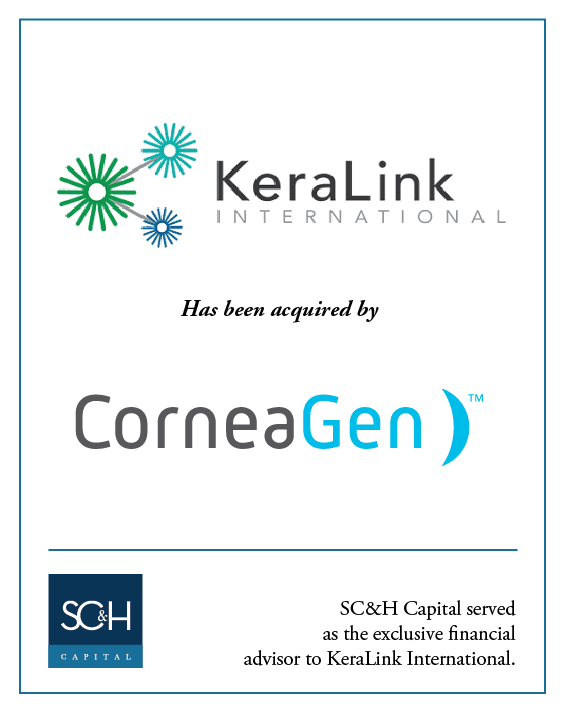 TRANSACTION LEADERS
"

We're grateful to SC&H Capital for helping us and, way more importantly, helping people around the world. This important sale will help us to maintain and build upon our record of successfully treating patients. KeraLink's history in this field is unrivaled, and this deal will provide the resources to do even more to restore sight to the blind."

Douglas Furlong

CEO

KeraLink International
Headquartered outside of Baltimore, Maryland, KeraLink International has provided the highest quality ocular donor tissue to patients in need of sight-saving cornea procedures for over 50 years.  The Company, as part of its strategic plan to focus its operations internationally, divested its domestic operations across six locations in the US to CorneaGen. KeraLink International will maintain its international arm, with an established presence in 17 countries, consistent with its global mission to make vision-restoring corneal transplants possible throughout the world.
Through its international presence, KeraLink realized the tremendous need for transplantable cornea in developing countries, with an estimated 10 million people around the world affected by treatable corneal blindness with little or no access to cornea care or transplant services. To better address this need, KeraLink's board decided to pivot its focus and internal resources from domestic to international operations, requiring the financial and operational assistance of a strategic partner.  KeraLink engaged SC&H to develop and execute a targeted solicitation process to find the optimal strategic partner, one that shared KeraLink's mission and could provide the resources to fund the Company's global vision through an acquisition of the domestic operations.
SC&H worked with the Company to develop a highly targeted list of the most likely strategic acquirers and customized marketing materials that would properly position the Company in discussions with each potential partner.  In addition to facilitating discussions with each partner, SC&H managed the exchange of information, negotiation of offers, and due diligence/closing process with KeraLink's eventual partner, CorneaGen.
KeraLink chose to partner with CorneaGen on the strength of the strategic fit and like-minded vision. CorneaGen acquired all of the Company's domestic eye banking operations and assets, subsequently creating the largest eye bank by volume in the United States.  Most importantly, the partnership enabled KeraLink to strategically redirect its resources to its international operations in order to help fulfill its mission of making vision-restoring corneal transplants possible throughout the world.