Helping Southern Maryland Hospital Enhance Quality of Care and Employment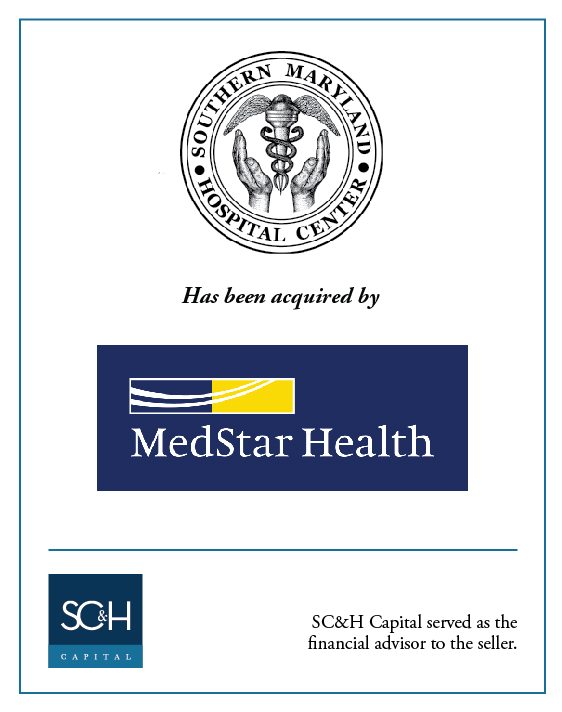 TRANSACTION LEADERS
Transaction Highlights
SC&H Capital served as a financial advisor to Southern Maryland Hospital in its acquisition by MedStar Health, a not-for-profit regional health system. MedStar annually serves over a half-million patients, and operates a network of 10 hospitals and 20 other health-related businesses across Maryland and the Washington D.C. region.
In addition to acquiring the hospital, MedStar committed more than $100 million in upgrades and expansion over the next five years as a part of the transaction, allowing Southern Maryland Hospital to keep pace with other hospitals in the area.
SC&H Capital helped Southern Maryland Hospital's founding family and management team by providing strategic advisory services that led to the sale process. SC&H Capital also provided strategies for growth, tax planning, and identification of service lines. The team performed business valuations of 15 entities and completed the financial consolidation of 18 entities.
About Our Client
MedStar Southern Maryland Hospital Center is a 208-bed full-service acute care medical center with approximately 60,000 emergency room visits and 15,000 admissions each year. The center not only offers specialty services to treat illnesses and injuries, but also promotes wellness and community health programs.
Client Experience
"SC&H Capital cared about our objectives, and applied its expertise to the details—including financial analyses and demographic analytic studies—to demonstrate how to best serve this community's healthcare needs. From its thorough data preparation to its role in increasing buyer interest, SC&H Capital has been a close and trusted partner throughout this process."
-Michael J. Chiaramonte, President, MedStar Southern Maryland Hospital Center