SC&H Capital Advises ASTECH Engineered Products, Inc. in Sale to Avem Partners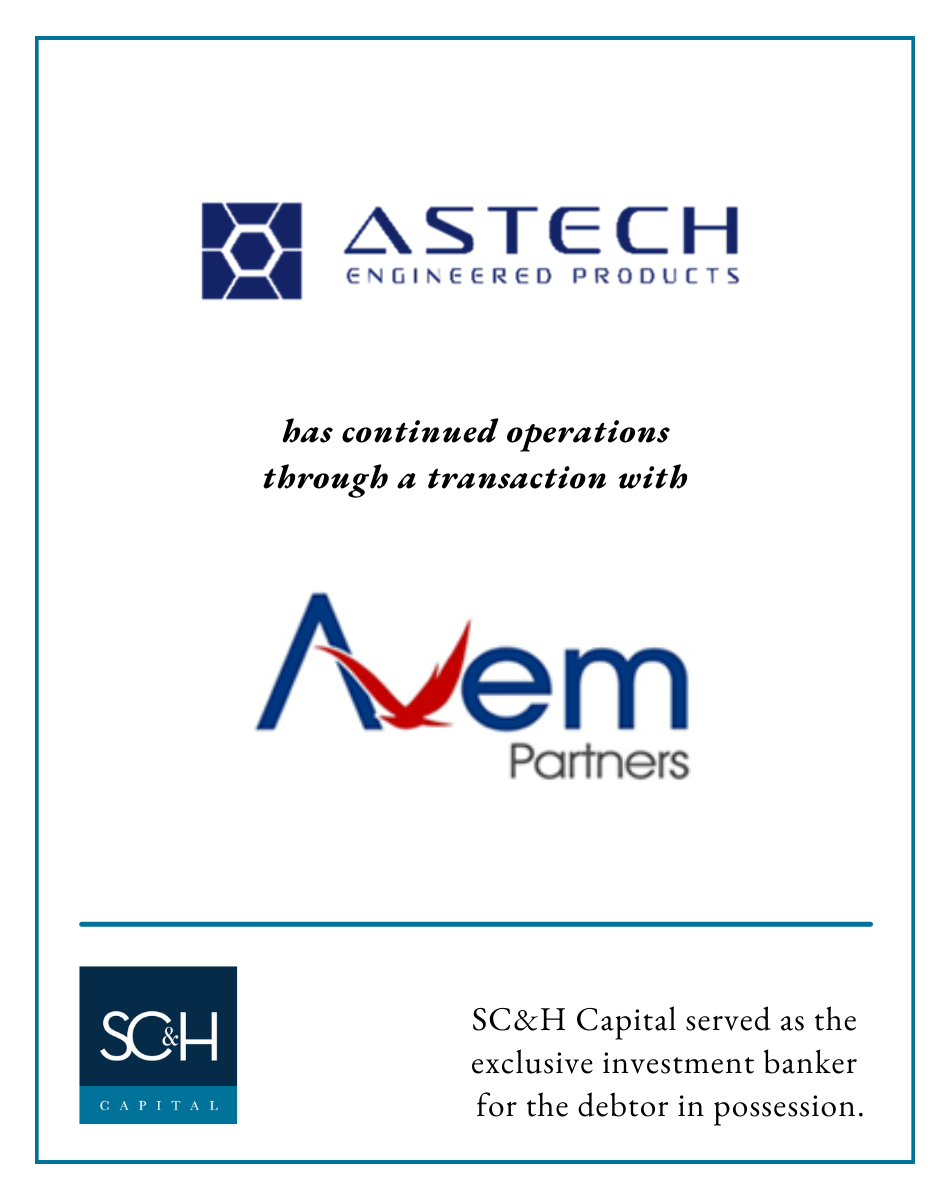 TRANSACTION LEADERS
"

I want to express my personal thanks to you for all you and the SC&H team did to bring the sale to a successful close. It was great to work with you and bring this home.

Dave Richeson

Executive Chairman

ASTECH Engineered Products, Inc.
ASTECH Engineered Products ("ASTECH" or "the Company") is a premier supplier of safety-critical aerostructures to the global aerospace and defense industry located in Southern California. Throughout its history, the Company has leveraged its unique technology to establish long-standing relationships with some of the largest OEMs in the aerospace industry including Boeing and Pratt and Whitney. For almost two decades prior to its divestiture, ASTECH operated as a division of a large aerospace company. New ownership immediately faced operational challenges due to unprofitable contracts and an inability to raise debt financing due to the unique nature of the products it manufactured. As a result, the Company was forced to file Chapter 11 to renegotiate existing contracts.
After months of unproductive negotiations and an eventual shutdown in production for one key customer, SC&H Capital was retained to restore faith with key customers and facilitate a sale of the Company. The situation was further complicated because the key customer whose production had been shut down secured a new lease on the facility as the Company's existing lease was expiring in a few months. This meant that a single customer essentially had blocking rights on any sale since they had long-term control over the facility. SC&H immediately negotiated an agreement that would provide a sublease for a qualified buyer and allow for a fair marketing process to occur.
SC&H launched a global marketing process that quickly produced 67 interested parties, 10 of which conducted site visits to the Company's facility, and four groups submitted bids for consideration as the stalking horse. Because of the lack of profitability with the existing contracts, SC&H conducted substantial negotiations with the key customers to reach contractual pricing concessions and financial support for the buyer to enter into the sublease. Ultimately, Avem's offer was accepted and supported by all parties as it allowed the Company to continue production and employment of over 100 individuals.