Unity Support Solutions, Inc. has continued operations through a transaction with LMT Mercer Group, Inc.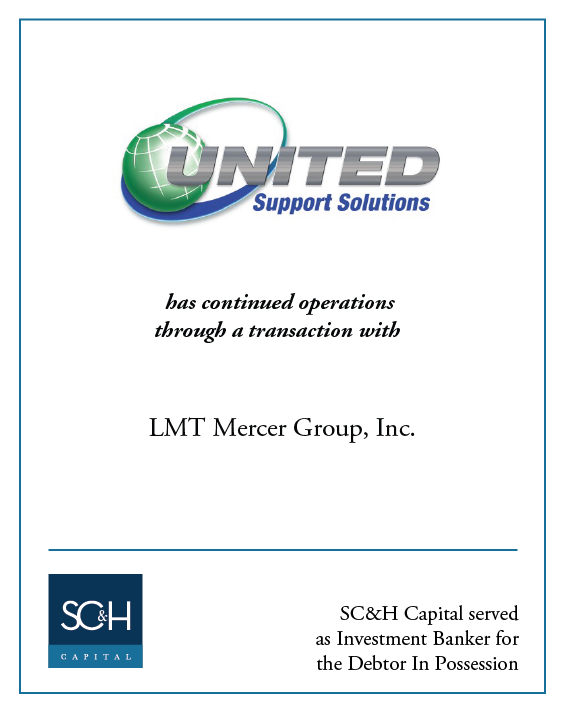 TRANSACTION LEADERS
UNITED SUPPORT SOLUTIONS, INC. – Founded in 1980 as a small silk-screening business, the Company quickly expanded into precision fabrication, machining, and finishing. This growth put them in a position to successfully win a five year, $37.4 million government contract. Unfortunately, after investing close to a million dollars for the new contract, sequestration hit and the contract was pulled. This led to a significant cash constraint, and combined with a reduction in revenue, it became untenable for the Company to continue operations under its existing debt structure. The Company was forced to file for Chapter 11.
Prior to the filing, the Company had been exploring options to partner with another group or sell the business. An offer which became the stalking horse was obtained, but without subjecting it to a market test to prove whether it was the best option available, the creditors were unwilling to agree to the sale. SC&H Capital was retained and given 30 days to market the business to either find a competing bid or prove the stalking horse was the highest and best offer available.
After completing an exhaustive marketing process, SC&H Capital negotiated a qualifying bid in excess of the stalking horse's bid and conducted an auction between the two groups. After active bidding and an increase of 41% to the initial stalking horse bid, the competing bidder was deemed the highest and best bid. The bankruptcy court approved the sale and closing occurred two weeks later, ensuring going concern value was retained and recovery for the estate was maximized. The offer maintained operations in place and provided continued employment for over 60 people including ownership.