Helping Bowles Fluidics Corporation to Accelerate Growth Initiatives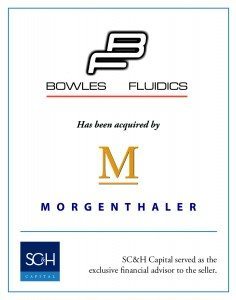 TRANSACTION LEADERS
Transaction Highlights
SC&H Capital served as the exclusive financial advisor to Bowles Fluidics Corporation in its acquisition by Morgenthaler Private Equity (MPE), a leading manufacture investment firm with approximately $3 billion of equity under management. MPE focuses on family and founder-owned lower middle market companies in high value manufacturing and proprietary business services.
Bowles Fluidics Corporation had been majority-owned by one family for over 50 years. As a result of diverse investment objectives of multi-generational owners, the family decided to sell the business. The Board of Directors selected SC&H Capital as their M&A advisor to offer expertise and guidance throughout this sell side transaction.
SC&H Capital contacted a highly targeted list of buyers approved by management, and evaluated multiple highly-competitive offers. The Board selected MPE to partner with the existing management team; MPE would preserve the culture of the company and maintain its presence as a Maryland manufacturer.
As stated by Matthew Roberson, a Principal with SC&H, "The sale to MPE will allow Bowles to accelerate growth initiatives while reinforcing the Company's deep commitment to providing the highest levels of product quality, innovation, and service."
About Our Client
Bowles Fluidics Corporation is a premier developer and manufacturer of innovative and proprietary fluidic nozzles and related fluid distribution assemblies. A family operated business for over 50 years; Bowles' products are used by leading companies in the automotive and non-automotive markets including Ford, GM, Toyota, Toro, and Delta Faucets.
Client Experience
"The SC&H Capital deal team did a phenomenal job for the Bowles shareholders. They worked with the Board to understand our transaction objectives, and provided senior level, hands-on-guidance and M&A expertise through the entire process. The Bowles management team and Board of Directors were thrilled with results that far exceeded our expectations."
-Eric Koehler, CEO, Bowles Fluidics Corporation