Gaspari Nutrition, Inc. has continued operations through a transaction with Allegro Nutrition, Inc.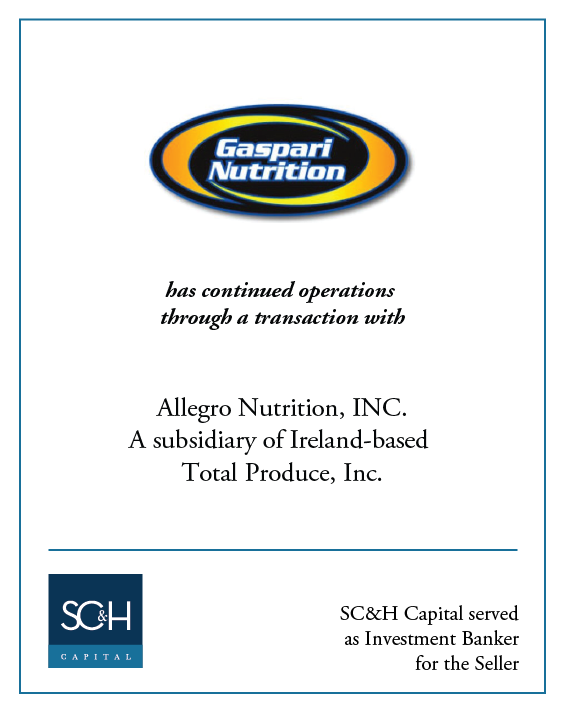 TRANSACTION LEADERS
Gaspari Nutrition, Inc. – With sales falling rapidly, this premium sports nutrition company faced imminent closure or an involuntary bankruptcy filing due to creditor pressures. SC&H Capital was retained to facilitate a sale of substantially all of the company's assets. In order to obtain continued funding from the senior lender, SC&H immediately brought in a Chief Restructuring Officer which allowed for continued operations. The senior lender then provided debtor in possession financing when the company filed chapter 11 to bridge the period until a sale.
SC&H conducted a comprehensive marketing process, which produced an array of potential international buyers and investors, including multiple strategic and financial parties. Allegro Nutrition, an Irish company, submitted a formal bid to be subjected to higher and better offers at a going concern auction. After 50 bids were made, the price of the company had increased by 104%, with Allegro emerging as the winning bidder and a South African investor group as the backup-bidder.
As part of the transaction, Gaspari's founder was able to retain a 30% equity stake and continue his employment with incentives to earn additional equity. Gaspari continues operations today, now with proper funding, capitalizing on its strong brand presence and the growth of the sports nutrition industry.