Bartlett Management Services has sold 30 Kentucky Fried Chicken franchises to EYM Foods II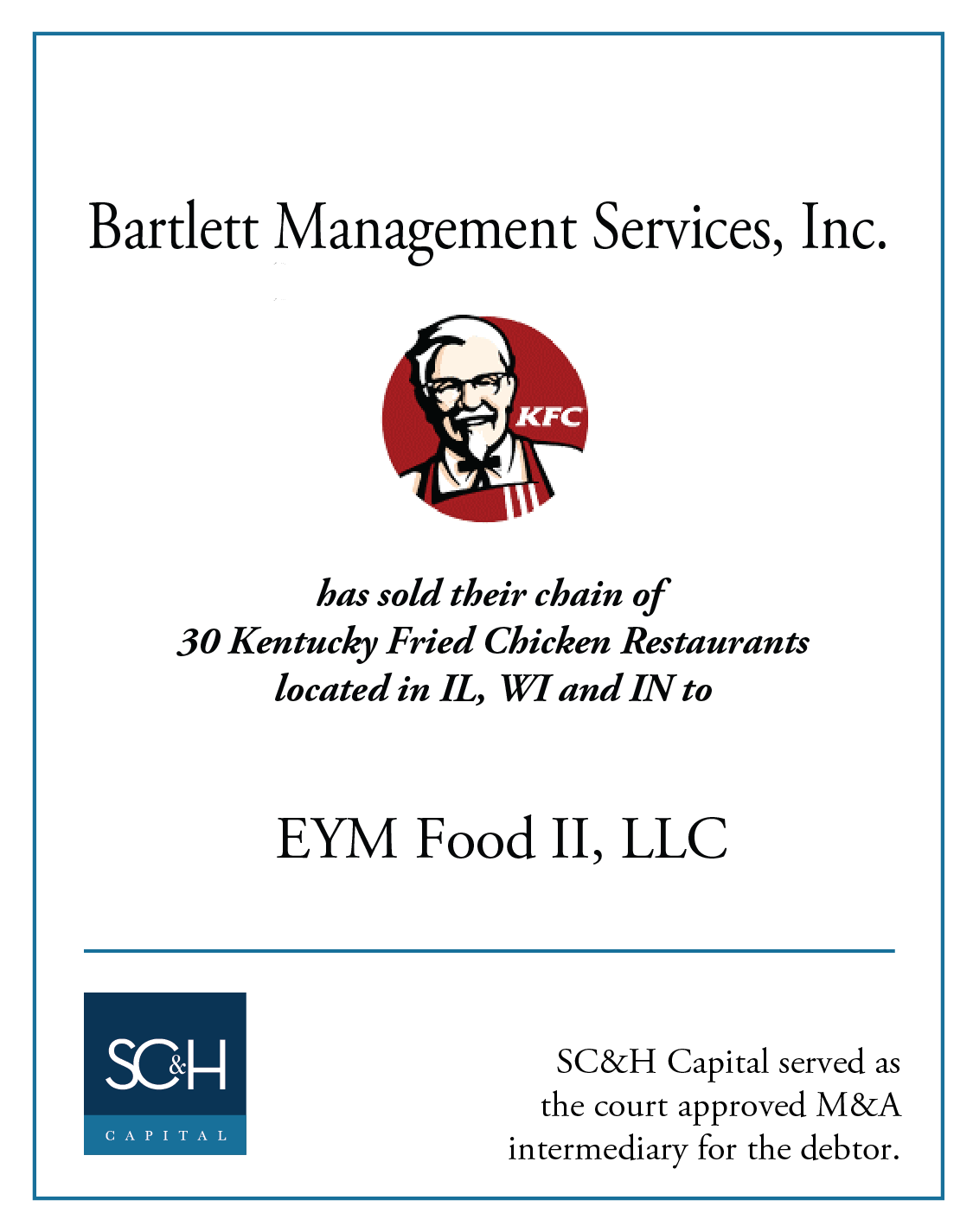 TRANSACTION LEADERS
Bartlett Management Services, Inc. – This group's 30 Kentucky Fried Chicken franchises were struggling to operate as a result of several expensive equipment leases, an onerous management/advisory agreement, and a number of unattractive property leases. Combined with a decline in revenue and an inability to sustain positive cash flow, the company sought chapter 11 bankruptcy protection and retained SC&H Capital.
SC&H conducted an exhaustive marketing process that resulted in dozens of groups conducting due diligence and engaging in significant discussions about the opportunity. In order to become a qualified bidder, interested groups were required to not only show financial wherewithal to purchase the operation, but they also had to be qualified by KFC Corporate to be a franchisee. SC&H also had to negotiate revised building leases, with 13 landlords, acceptable to buyers. Ultimately, 3 groups submitted offers by the bid deadline, and 2 of those groups were qualified by KFC Corporate to participate in the auction. After numerous rounds of bidding, EYM Foods II, LLC was deemed the winning bidder and proceeded to close and continue to operate the restaurants.
Note:  Many of the transactions featured herein and identified as "Special Situations"  were completed by the professionals referenced in the case studies while at Equity Partners before the firm joined SC&H Capital in January 2020. Because SC&H is the successor to Equity Partners, we have used SC&H throughout the case studies for consistency.