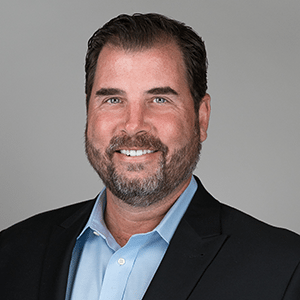 Jeff Bathurst
Technology Advisory
Jeff Bathurst's love for technology blossomed in the face of rejection. In college, he was determined to become an architect, but then his Drafting 101 professor pulled him aside and told him to rethink his major. "You can't draw and you can't print," Bathurst recalls with a laugh.
The leader of SC&H Group's Technology Advisory practice, Bathurst has spent more than 30 years at the forefront of innovation and technology. He has served as the Director of IT Infrastructure for a global financial firm and the Chief Technology Officer for a leading healthcare provider before joining SC&H in 2012.
His knowledge, experience, and reputation make him one of the best when it comes to advising and guiding clients on current and future technology needs, security implications, and strategic solutions.
In the latest installment of NETFORCE – a series exploring how top performers are navigating today's chaotic business environment to realize their true net force and accelerate forward – Bathurst discussed the importance our offerings, process, and people are playing in the continued development of the firm, and his practice.
What's your definition of a firm exhibiting NETFORCE?
A company accelerating with NetForce is one that remains conscious of the technologically connected world we live in, whether it be the gadgets and apps people communicate through, or the physical location employees are working out of – remote versus the office. This awareness highlights the consistent theme we see today – the need to evolve your business strategies to meet the expectation of excelled communication and relationship management.
Forward-looking firms are ones that recognize the need to evolve their own offerings, processes and people to make sure they're ahead of the game for their clients, and able to provide consultative advice and direction on what to do next. For example, we are starting to see companies procuring products and services; they don't own the technology anymore – this is how my practice was conceived.
With that, do you believe SC&H is a NETFORCE?
Yes, I do. We are a business advisory firm that provides nearly a dozen areas of business services, so we are the procured expertise that companies require. Instead of having a CIO, they come to see us. Instead of having a CFO, they come to see us. They want to sell the company, they come to see us. That is significantly different than a traditional tax and audit firm.
This flexibility of offerings, and our requisite employee skillsets have positioned us very well for the future. The idea of companies operating with everything owned in house is a thing of the past. Our dedication to solving the now, but preparing for what's next has been buoyed by a very intellectually curious group. We're not afraid to ask (and answer) the question of what's next – for our clients, colleagues and communities. We've done it in the past and will continue to do it in the future. We're not afraid to change, and we never will be.
The firm has indeed evolved, so where do you see SC&H heading in the next 10 years?
That's not a question I can answer because our world is going to change way too much in half that time. Internally, we traditionally build out five year plans, but as the pace of our business (and our client's) has accelerated, we've made conscious decisions to shorten our plans and revisit them more frequently to account for the rapid growth and constantly changing conditions. Services, products, organizations – they are changing that fast. Anything you put on paper now, in three years will no longer be applicable, or at least not a large part of it.
Tell us about Tech Advisory's offerings and process.
The Technology Advisory practice provides services – whether it's operating as a company's CIO, helping them with product selection, vendor assessments, or security readiness assessments. We also perform full IT assessments of organizations and provide an analysis of an organization's IT in terms of people, process, and technology.
We often find our clients are uncomfortable with the rate of change and overwhelmed by how much needs to be done in a shorter amount of time – they don't know where to start. They need someone they trust, which is where we come in as their trusted advisor. It all goes back to our recognition of the need to evolve. We help our clients meet and embrace their own evolution. I foresee this cycle continuing through the future.
Overall, our process has been and remains the same: we want to understand the structure of our client's business and assess their business strength. Step one will never change. The second step of our process will transition depending on the technology offerings available when we do an assessment. It's the innovation that's really the wildcard because you don't know what's going to hit the marketplace or how it will affect a client.
Our dedication to solving the now, but preparing for what's next has been buoyed by a very intellectually curious group.
Isn't that challenging work since technology is changing so rapidly?
Absolutely, in some ways we're asked to predict the future – but this is what we love to do. It's our #1 job to give our clients the peace of mind that we have their back and are keeping a pulse on the ever-evolving landscape, while they focus on operating and growing their business.
This is what I mean when I referenced innovation as the "wildcard" because technology changes so quickly. By the end of this time next year we are going to see new technologies that we have not even thought about. Look at virtual reality and how fast that is accelerating. Now, if you want to go buy a house you put on a set of headgear and they can put you in the house. You can actually walk around the entire house. There are realty companies that are doing that.
Technology can be seen as a threat or an opportunity – as a force, we choose to see the latter.
How is technology evolving, and what is its impact on business?
Cloud technology will continue to proliferate and grow until one of the major providers suffers a significant breach or outage. The day Amazon, Microsoft, or Google are breached the momentum of the cloud will take a big hit, and probably shift somewhere else.
But the mobile side of things has really stretched a lot of businesses. There used to be a definitive line between the consumer side and the business side of technology. That line is gone now. The expectations people have for the reliability and capability of their iPhone is being transferred to the business world, and most tech companies are ill-equipped to provide that level of performance. It's instances like this where organizations turn to SC&H for guidance.
Do fads play into any of this behavior or mindset?
The issue of consumer expectations crossing over into business expectations isn't really a fad, it's more of an unreasonable expectation they have for how technology should perform. But, there has been a lot of talk on key buzzwords – things people hear and assume its effects are imminent when in reality it is years down the road.
I'm sure you've heard about Blockchain. People think this is the next big thing. Well Blockchain is nothing more than data storage architecture with significant security components. Bitcoin initially used it for secrecy and security. We are uncovering there are other applications for this type of data architecture. It's nothing more than that.
Fads are more about headline seeking and things getting in the press. What people need to stay on top of is information security – that cat and mouse game is no fad.
How do you assess talent in the technology industry?
The industry, especially here in the Mid-Atlantic, is near full employment. It is a real challenge for companies to attract the right talent. Small to medium-sized businesses have a hard time with this because their needs are no less than enterprise sized corporations but they struggle to offer employees the same level of career trajectory.
Within my practice, we're constantly evaluating how we can set ourselves apart from the competition, and provide an experience that they can't find at other technology firms. People look for a workplace that is willing to make an investment in their employees. Very rarely do you see this present in one place. Especially for IT people because finding a job in technology is not hard to do.
The cloud has enabled a lot of businesses to enter the technology industry, and has shifted the requirements of a technology professional. The hard, technical skillset isn't needed as much anymore. The soft skills have become more important – like project management, business analysis, and communication and interpersonal skills. But above all, we are looking for people who can show they are flexible, not afraid of diving in, and have a real passion for technology and a willingness to learn.