A Special Holiday Message From SC&H Group [Graphic Recording]
December 15, 2016 SC&H Group
With the holiday season upon us, SC&H Group has created the following graphic recording to serve as a special message of gratitude to our clients, colleagues, and the community – all of whom have made 2016 a special year for the firm.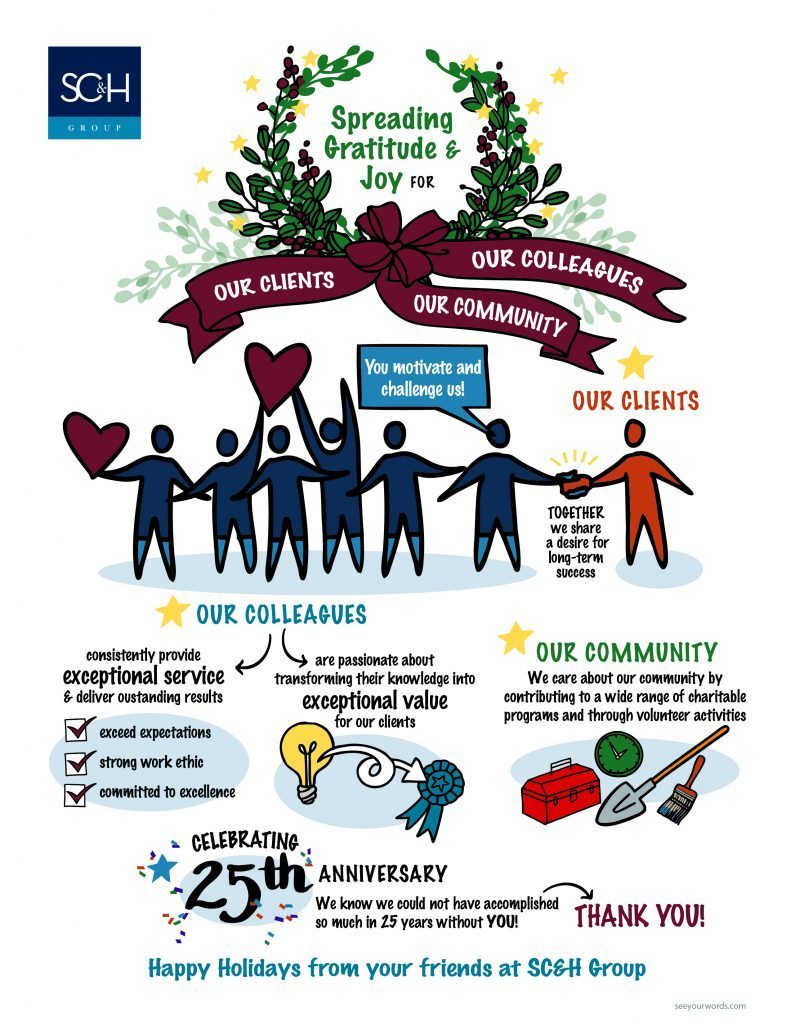 As we approach the end of 2016, SC&H Group would like to take a moment to wish our clients, colleagues, and community partners a safe, healthy, and happy holiday season.
This year marks our 25th anniversary. As we reflect on not only the past 12 months, but also our corporate history, we feel an immense sense of gratitude to those individuals who have contributed to our success.
We are especially thankful for our clients – you constantly motivate us, and challenge us to exceed your expectations. You have pushed us to provide you with outstanding service, and we are grateful for the opportunity to continue serving as your trusted business partner in 2017 and beyond.
We would also like to recognize our teams who are passionate about transforming their specialized knowledge into exceptional value for clients. With an unparalleled work ethic, and strong commitment to excellence, our employees' tireless drive has been the foundation for our award-winning workplace culture, and repeated recognition as a Top 100 accounting and financial services leader regionally and nationally.
Additionally, helping in the community has always – and will continue to be – a key component of SC&H Group's DNA. Since our inception, we have placed a premium on corporate responsibility by dedicating time and resources to improving the communities in which our clients and our employees work and live. We believe that our efforts ensure the long-term vitality of each of the regions in which we operate.
From our SC&H Group family to yours, happy holidays! We look forward to a productive, happy, and prosperous 2017 with our clients, colleagues, and community partners.
For more information about our tireless passion for serving clients, colleagues, and our community, please contact us here.