Why Contract Compliance Should Be Part of Your Corporate DNA [Graphic Recording]
March 24, 2016 SC&H Group
Third-party relationships are essential, so it is no surprise that organizations invest significant time negotiating their contract terms. However, once contracts are signed, many organizations do not proactively monitor compliance. The benefits of implementing a contract compliance audit process, as well as tips for strengthening supplier relationships, are featured below in our new graphic recording.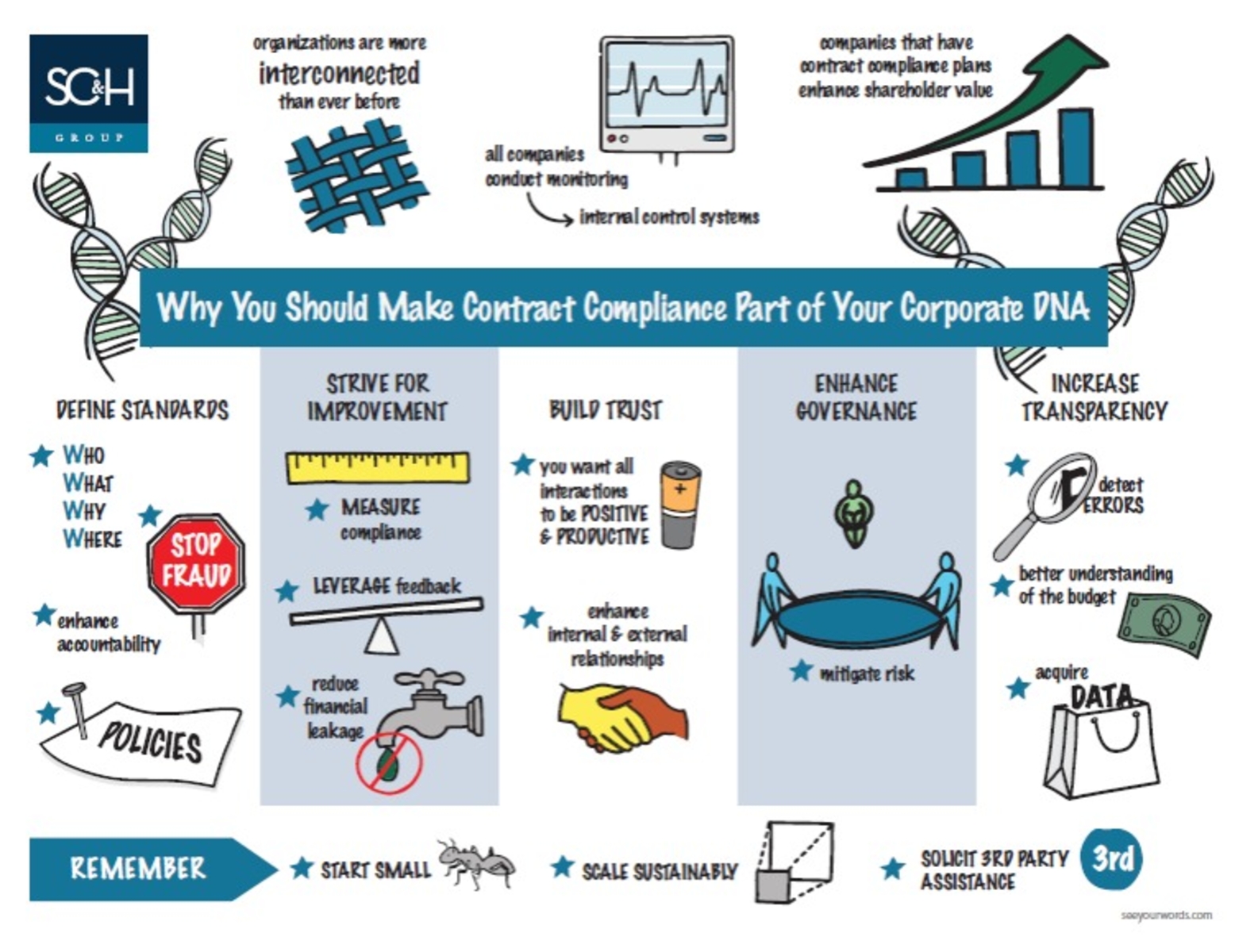 To successfully execute business objectives, today's organizations rely on third parties. Therefore, they must be diligent in ensuring that supplier contracts fully define risk, responsibilities, and compensation. But that's not enough. To avoid liabilities and lost profits, organizations must also ensure compliance.
Contract compliance is particularly important in regards to indirect spend, which is often fragmented across many subcategories and sourced by various groups. Thus, it is extremely cumbersome to match fees and spend data to contract terms—even when using the most robust accounting systems.
Fortunately, there is a solution. By establishing and optimizing a contract compliance audit program, organizations can enjoy various financial, operational, and strategic benefits:
Greater Accountability through Defined Standards. Contract audits can help to establish clearer processes, policies, checks and balances, and systems that strengthen contract management.
Improved Compliance and Performance. Contract audits provide the ability to review performance and improve feedback, allowing you to identify ways to mitigate financial losses associated with contract noncompliance.
Heightened Trust and Efficiency. By improving communication and transparency, contract audits strengthen internal and external relationships and trust. And with more productive relationships come enhanced performance and earnings growth.
Enhanced Governance and Risk Management. Audits allow you to uncover information and contract risks not visible during day-to-day activities, thereby minimizing financial leakage and improving shareholder value.
Increased Transparency. By enhancing transparency among stakeholders, audits can help you to align and validate expectations, reduce assumptions, and detect costly errors.
To implement an audit process, organizations should start small with a pilot program, thus garnering stakeholder buy-in for a broader initiative. Further, they should engage an independent auditor to leverage specialists and minimize the impact on internal resources.
Ultimately, the effects of a fully integrated process can be replicated across an organization to increase compliance, strengthen relationships, and boost short- and long-term margins.
Want more information about contract compliance audits and the benefits of adopting this powerful but often overlooked tool? In a recent webinar, Bill Adams of SC&H Group's Contract Compliance Audit team discusses how to implement a contract compliance audit process and manage an audit strategy with limited resources. Click here to listen today.
To learn more about how SC&H Group can help you cut costs and develop greater trust, transparency, and accountability with agencies and other suppliers, click here.