The Art and Science of Providing World Class Client Service at SC&H Group [Graphic Recording]
December 15, 2015 SC&H Group
SC&H Group partnered with Inavero, a third-party research firm, to execute its first Net Promoter® Score (NPS) client survey. The results defined SC&H Group as being "World Class" when it comes to client satisfaction. The art and science of how SC&H Group delivers top client service – as well as our insights and future plans – are visually featured below in our new graphic recording.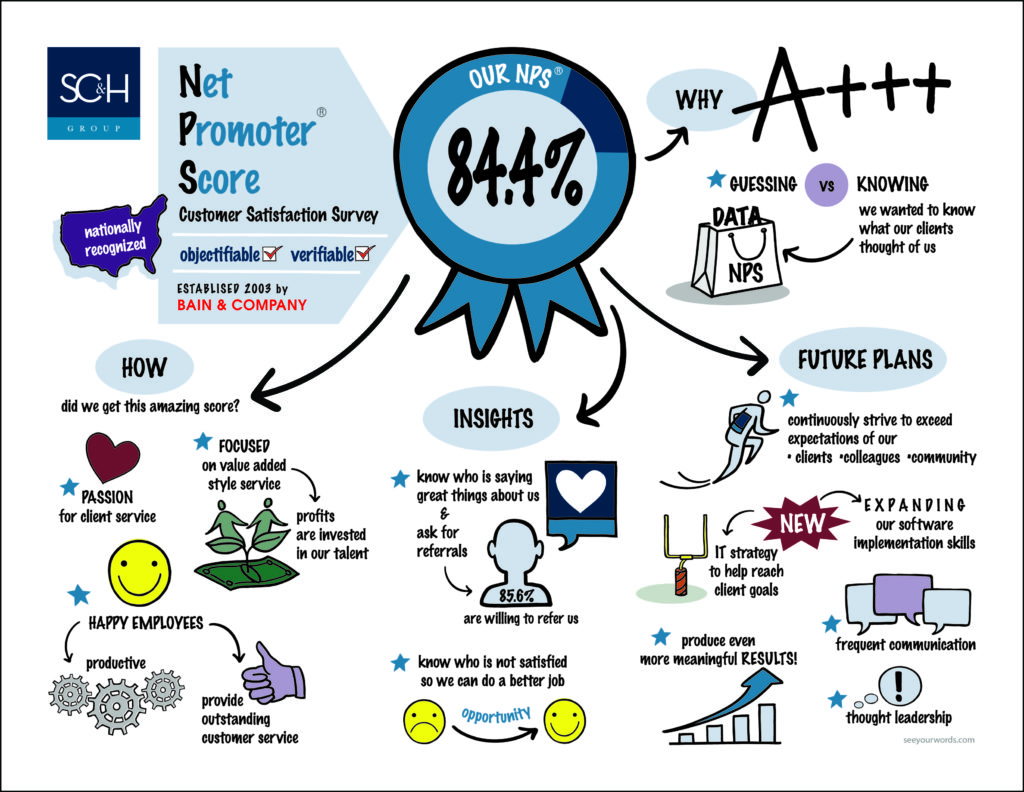 SC&H Group is an audit, tax, and consulting firm strongly committed to exceeding the expectations of clients, colleagues, and the community. Consistently providing exceptional service and delivering outstanding results have been a core part of SC&H Group's corporate DNA since the firm was founded in 1991.
The firm always wants to know how well it is doing in the eyes of our clients. Earlier this year, SC&H Group completed its first NPS survey to gauge client satisfaction. We wanted to see how clients really feel about our firm and the services we provide.
NPS was established by Bain & Company in 2003, and is a simple client satisfaction metric based on an 11-point scale survey question "how likely are you to recommend XYZ Company to a friend or colleague?". Survey respondents are broken into three categories, depending on the score they give: promoters, passives, and detractors. A firm's NPS is calculated by taking the percentage of promoters minus the percentage of detractors.
SC&H Group scored 84.4 percent, which is well above the accounting industry average of 31 percent. This score also defines the firm as being "World Class" when it comes to client satisfaction. Furthermore, 85.6 percent of those surveyed said they are very likely to recommend SC&H Group, compared to an accounting industry average of 51 percent.
Client feedback has a direct impact on the decisions we make as a firm. The NPS metric gives us a clear measurement of how effectively we deliver on our brand's promise of delivering powerful minds, passionate teams, and proven results on every engagement. It also gives us insight into what isn't working, and what needs to be done to keep clients happy, and make sure their experience is positive.
Even with a high NPS score, we continually strive to improve our client service as part of our commitment to clients, colleagues, and the community. In a recent podcast, Ron Causey, CEO and Co-Founder of SC&H Group, discusses the firm's NPS score, and why it's more than just a number to the firm. Click here to listen to this podcast.
If you would like to learn more about how SC&H Group's strong dedication to client service can help your company, please contact us here.