How to Leverage Sage Intacct's Revenue Management Module (Revenue Recognition) for SaaS Organizations
April 1, 2019 SC&H Group
Software as a Service (SaaS) is all the rage in the enterprise software world. Almost all modern Cloud-based financial systems operate under this model, which can benefit both the company as well as the customer.
For companies that sell subscription based software/services, properly recognizing revenue can be a manual and cumbersome task. In light of this reality, the Financial Accounting Standards Board (FASB) issued new standards to clarify revenue recognition practices—otherwise known as Accounting Standards Codification 606 (ASC 606). While they were announced in 2014, ASC 606 only recently became mandatory for all nonpublic companies effective for years beginning after December 15th, 2018. As a result, our Accounting Solutions team at SC&H has seen a substantial wave of efforts from our clients to become and remain ASC 606 compliant.
These organizations were manually posting journal entries to recognize sales revenue over often lengthy schedules—primarily due to existing system limitations. This naturally caused a major increase in staff hours required to post and review the entries, while exposing the P&L to errors and missed postings. But rest assured, there's now a more efficient way to transition from this manual process to a seamlessly automatic experience—leading to a significant decrease in hours spent managing the process, as well as a decrease in coding errors and reliance on spreadsheets.
Enter, Sage Intacct.
Both the Revenue Management and Contracts advanced add-on modules in Sage Intacct employ a slew of powerful features, including automatic deferred revenue schedules and GL postings. Built-in renewal and forecasting capabilities allows more time for data analysis, as opposed to time spent on preparing the data. Both modules are frequently updated with additional functionality every three months—which is free and automatic for all Sage Intacct customers.
While ASC 606 has a number of new revenue recognition requirements, here is one powerful feature in particular that can be enabled for Intacct's Order Entry module:
Company A offers a twelve month support contract for $12,000/year. The support contract is billed for the full $12,000 on March 1st, but revenue will need to recognize at $1,000/month over twelve months.
Since Intacct can automate deferred revenue schedules and GL postings, all corresponding journal entries can be prepared with the click of a button, and automatically post based on recognition date. This saves a great deal of time and efforts spent manually posting those entries. Screenshot example of the GL posting can be seen here: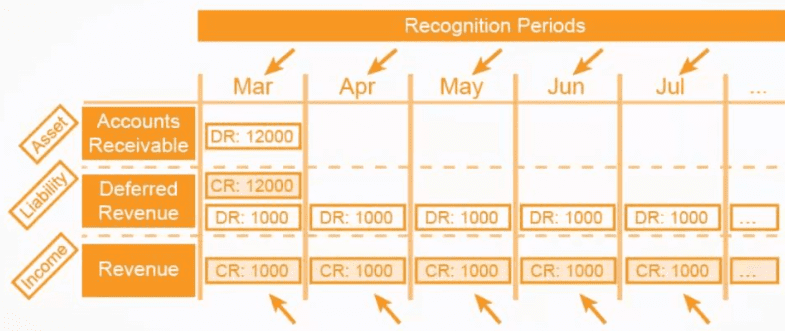 For high volume point of sale companies that process hundreds or even thousands of customer payments every month, we can take it one step further by integrating the credit card payment processor with order entry—automating the entire payment to statement (financial) process.
If your company is experiencing revenue recognition challenges, Please don't hesitate to reach out. We can help you right the ship and get back hours and hours of your time by transitioning from this manual process to a seamlessly automatic experience with Sage Intacct. Speak with a Team Member Today→