Interactions, value per visit, bounce rate, cost per conversion: Google Analytics captures incredible metrics like these but can be a little overwhelming when trying to make heads or tails of how an organization's website(s) and campaigns are performing. With having this information available at the tips of their fingers, marketing teams now more than ever need tools to easily digest large volumes of meaningful data to keep their heads from spinning. This is where using data visualization software comes into play.
As a business who uses Google Analytics, we decided to help out our marketing team with the massive amount of data on tap by connecting industry leading software to visualize it on an interactive dashboard. To give us the right canvas to work with, we asked our internal marketing customers for the question they wanted to answer, and not surprisingly they asked,: "Where on our website are users spending their time and what are they looking at when visiting?"
To answer this question, we connected Google Analytics to Tableau and PowerBI (in a comparison study). Both tools made a seamless connection to Google Analytics by prompting for login information at the click of a button. Once logged in, the data connector returned all possible website data, displaying dimensions and measures being captured for each respective site. This live connection provided real time data about our website to keep us up to date on how all our current campaigns are performing. After we decided what our business is looking to improve upon, we built visuals to easily track where we are excelling and lacking.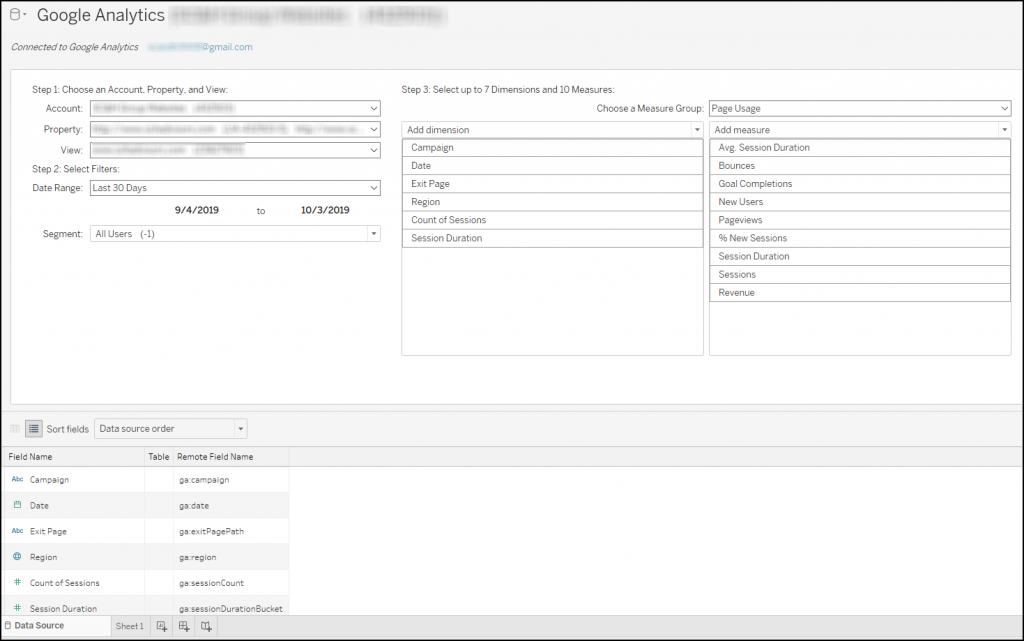 In our case at SC&H, we wanted to focus on session information such as how many daily page views occurred, how many times each user visited those pages, and how long they spent on each page or session. We also decided to take a look at the geographic location inside the United States where these users were located. This gave us a better idea of how to market to other regions as well as where potential leads and clients might reside. Another piece consisted of breaking out departments or service lines of our business. For example at SC&H, we offer many different services (Consulting, Tax, Audit, M&A Advisory, etc.), so having the ability to look deeper into the data to find how specific content for each of our business groups is performing is critical.
Analyzing all this data can help a marketing department decide what time of the day is best to post a blog or article. Knowing a website's geographic presence can also play a factor: For example, knowing we are on the East Coast and companies in the West Coast are viewing our page the most (which seems odd but with changes to Tax code, the hits on relevant content to that topic generate a good bit of traffic), the image below shows posts' peak viewing hours for that region.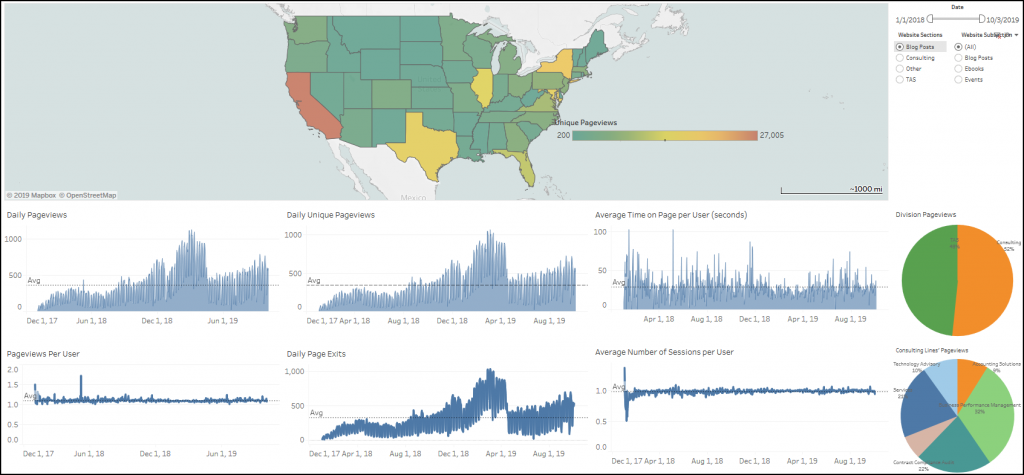 Overall, the use of Google Analytics can be a powerful collection method for large amounts of data, but if you are not pairing it with a visualization tool where it can be easily digested, a lot of insight can get lost in the mix. With such an easy connection process (both Power BI and Tableau proved equally simple), it is tough find a reason why any organization would not want to leverage the capabilities of these solutions to remove the guess work out of marketing strategy. So go on, give it a try! Give your teams the capability to review key metrics built off of readily available data that will allow them to answer the questions that come up in every staff meeting…and make more effective data-driven decisions as a result!
Interested in learning more about how your organization could benefit from data visualization–get in touch with our team.