Authored by Eric Charrette, CPA, MBA | Sage Intacct Manager, Accounting Solutions
As a professional in the nonprofit sector, you understand the importance of nurturing your donor base to foster lasting relationships. You also recognize that uncertain economic conditions accompanied by high inflation diminish the value of the dollar, which makes emotional, personable connections much more critical. Monitoring the trends of donations received and being transparent with your donors about the impact of their dollar can go a long way in optimizing and maximizing charitable giving. This is where outcome metrics become the lifeline between mission and money.
Build Donor Relationships with Data
A successful fundraising strategy begins with a powerful story. Whether you are looking to raise funds or acquire volunteers, a compelling story creates empathy and evokes action and emotion. Your story is the vehicle that will make donors care about the outcome of your mission and the role they can play to advance it.
You can elevate the story of your mission's outcome with the use of metrics. Data visibility is important to your donors. It will show them how your mission is progressing over time, that their money is truly making an impact, and builds transparency, credibility, and accountability.
What Are Outcome Metrics?
Outcome metrics are used to measure the financial and non-financial criteria that reflect how efficient the nonprofit is at reaching its goals. They can not only be used to show donors how the organization is performing but can also lead to more efficiency and growth in the future. Most nonprofits benefit by measuring outcomes using multiple dimensions for scorecards that reflect the outcome from many perspectives. Common metrics include:
Performance-based metrics: Program efficiency
Outcome-based metrics: Meals served, patients seen, etc.
Capacity-based metrics: Membership growth
Financial-based metrics: Budget to actual
Sustainability-based metrics: Energy consumed
What Metrics Should Our Nonprofit Track?
Defining and redefining outcome metrics should be part of your nonprofit's annual strategic plan and used to evaluate and realign your organization's goals. Metrics will only deliver value if they are tightly coupled to your core mission and goals. Whatever the mission of your nonprofit, it is important to define metrics that best show the impact and the efficient management of donor funds. Performance measurement should be a priority and a central component of your culture.
Three of the top metrics to start adding to your strategic plan include:
Program efficiency: How funds are used for overhead or for making progress
Revenue per member: How much revenue you are generating from each membership
Fundraising efficiency: How efficiently your organization raises funds
As you define these metrics, it is important to ask: What type of impact are we trying to make, and which numbers will help us and donors measure that?
Why is it Important to Track Metrics?
Overall giving trends continue to steadily increase year over year, which is great news for nonprofits, especially those that proactively leverage this donation trend.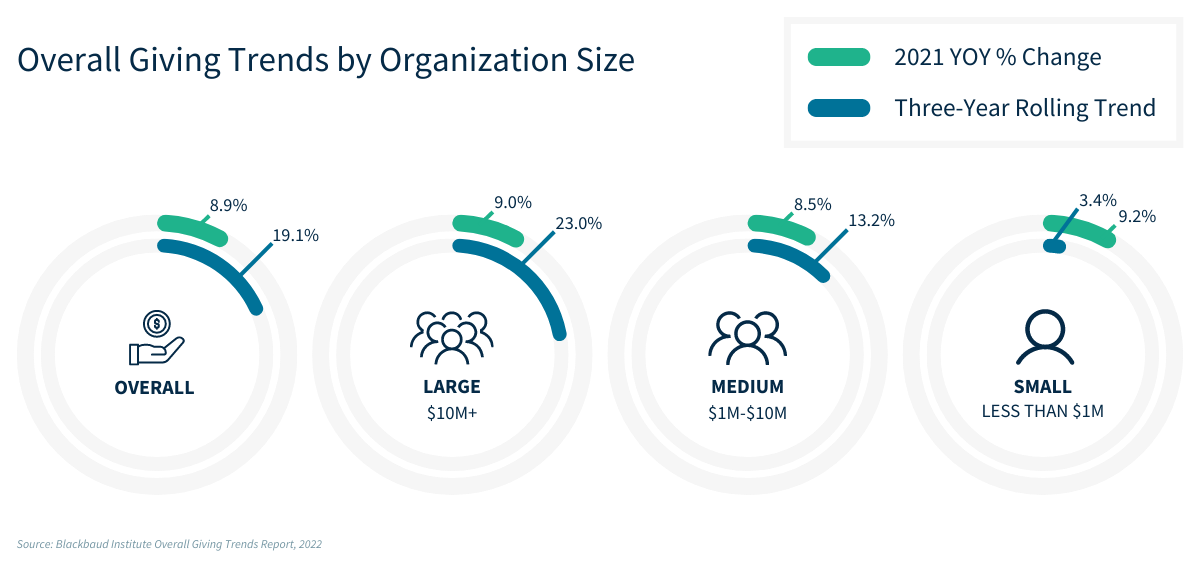 Visibility of outcome metrics is most critical for nonprofit leaders and donors for the following reasons:
Increase transparency: The story your metrics tell will help donors understand your mission, see it in action, and showcase the value of your efforts.
Support accountability: Donors and management will be able to track fundraising efforts that are working or not working, the results being achieved with donations, and make decisions about what needs to change or improve moving forward.
Understand where funds are used: Displaying the success of your nonprofit through data-driven reports can encourage new and additional funding from donors, foundations, and other benefactors. Donors want to know where their money is going, whether that be organizational growth, new locations, more nonprofit partnerships, or matching donations.
Become a better steward: Defining, tracking, and reporting outcome metrics will show donors that you are a good steward of their money and boost both your credibility and their confidence in your goals.
Nonprofits will see the best results when they measure outcomes across multiple dimensions. With a balance between financial-based outcomes and performance-based outcomes, leaders can see a complete picture of the organization which in turn makes for more informed and quicker decision-making.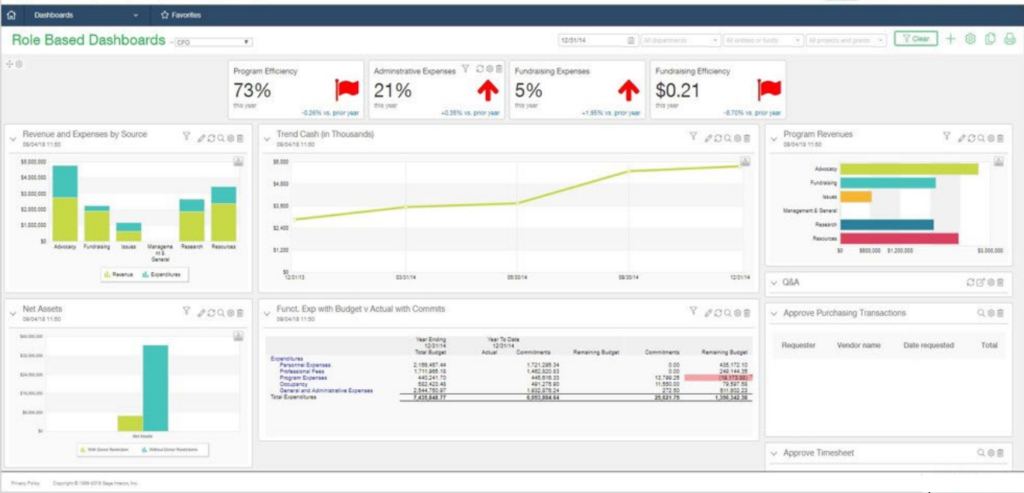 How Do We Automate Outcome Metrics in Sage Intacct?
With a modern, automated fund accounting solution like Sage Intacct, you can easily track, tag, calculate, and report on the metrics that matter most to your nonprofit and its donors like:
Financial key metrics (revenue)
Statistical key metrics (membership)
A combination of key metrics (donations per member)
Intacct's customizable dashboards deliver real-time reporting that will benchmark the financial health of your nonprofit and proactively manage locations, programs, members, and funds.

Sage Intacct offers the visibility, automation, access, and adaptability you need to grow your organization and succeed while removing manual reporting processes that slow you down.
Accelerate Mission Success with Modern Metrics
Learn how to utilize Sage Intacct to streamline grant, fund, project, and donor accounting
Booking a 1:1 Demonstration